Do you consider PrestaShop as a shopping cart for your new online store? Or maybe you're looking for an alternative to your current store engine? In any case, having a list of PrestaShop pros and cons will help you make an informative decision.
In this article, we've assembled PrestaShop advantages and disadvantages from official and local PrestaShop communities, review websites, and our own observations as a company developing the Store Manager for PrestaShop software for over 10 years. Hope this will be helpful in your decision-making. Feel free to add your thoughts in the comments below.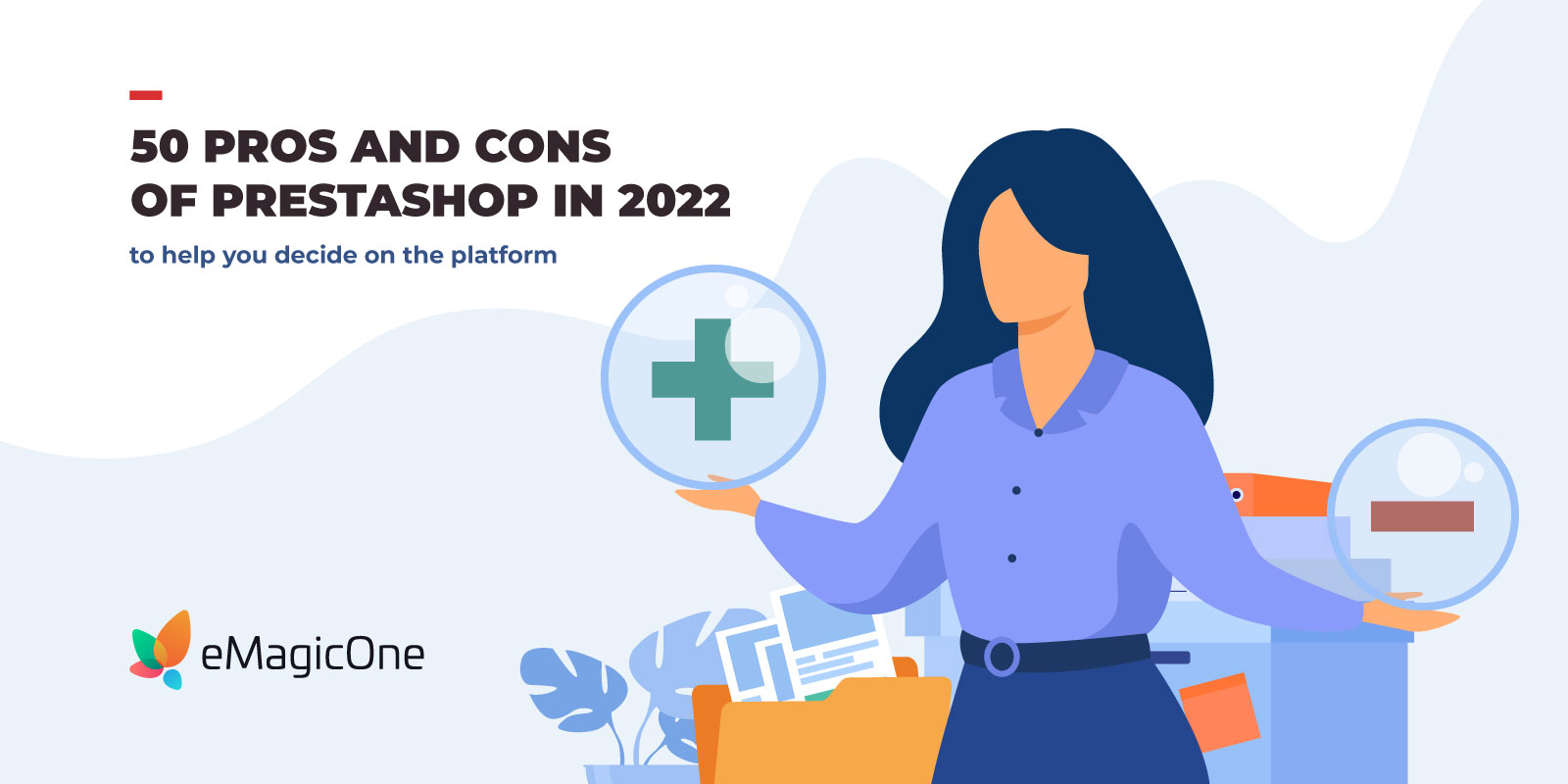 PrestaShop is tailored for eCommerce. PrestaShop is not a universal CMS, but an eCommerce platform tailored for selling online. It is focused on the shop, products, and payment/shipment options.


Ongoing development. New versions offering new features, improvements, and fixes as well as security updates are released on a regular basis.


It's 100% free. This is an undeniable PrestaShop benefit. Though you can expect to run into some costs developing your store (fees for site hosting, a domain name, SLL certificate, etc), PrestaShop is free to download and test. The real cost of operation will be discussed below.


It's an open-source software. This means you have full access to the store files and can customize your store as you wish. Also, you can create your own plugins to add up the needed functionality.


All the necessary eCommerce functionality comes out of the box. Another PrestaShop advantage is an extensive list of built-in features. Using the native functionality, you can:

Create product listings with different product types (simple, configurable), digital files.
Set up specific prices
Track inventory
Configure a one-page checkout
Configure taxes depending on the locations
Create coupons and discounts
Add/edit orders, apply discounts from the admin
Contact customers via email from the orders page
Manage credit slips (not all platforms have it)




Check the full list of features that PrestaShop offers.



Management of products with variations (color, size, custom ones). Each combination has its SKU that allows tracing its inventory and setting prices.


Mature product. PrestaShop has been in the market since 2007 and it still holds a place within the top 10 most popular open-source eCommerce platforms. That derives the following advantages.


Themes choice. PrestaShop offers thousands of elegant and responsive themes. A vast range of themes are free. Using the filtering criteria like industry, language, included functionality, merchant reviews, and others you can select the best theme for your business.


Module choice. Users can extend the software's built-in functionalities choosing among thousands of modules on the PrestaShop marketplace.


Global platform. PrestaShop has been localized to 65 languages. It supports multiple currencies, taxes, and shipping operators. PrestaShop translations cover texts in the front and back offices, message errors, PDF files, e-mail templates.


Developers at an affordable rate. The platform isn't a very specific one, so it can be managed by a middle or senior developer experienced in PHP, CSS, HTML. The rate of developers is lower compared to other platforms of the same level of feature-set and flexibility.


One of the most user-friendly back offices. You can explore the back office look and functionality yourself with the PrestaShop online demo.


Multistore management. You can run multiple stores within one admin. Those may look different, have the same or different products, but the same admin panel to operate. PrestaShop makes it easy to create multi-shops for more than one country and more than one language. Multiple skins help to distinguish the shops.


Import capabilities. PrestaShop default import tool allows uploading products and their combinations, categories, customers, suppliers, and some other entities. In the earlier versions, imports were made using only .csv files. Starting version 1.7, it's possible to import other formats: .xls, .xlsx, .xlst, .ods, and .ots.


Native integration with Facebook & Instagram. Having set up the integration, you can display products and run ads on these platforms.


Integration with Google Merchant Center. This integration allows displaying PrestaShop store catalog in a free listing and running smart shopping campaigns. Product attributes such as price and availability will be automatically updated every day.


Billing systems/payment gateway support. PrestaShop comes with multiple pre-installed digital payment systems: Redsys, PayPal, Google Checkout, Authorize.net, Moneybookers / Skrill, and others. Thanks to this, you can control multiple currencies and add new forms of payment as appropriate to your business.


Large and multilingual community. PrestaShop runs a forum listed in multiple languages with more than 1,000,000 users. Besides, users can ask for advice and help from local forums, multiple FaceBook groups, and other external resources.


SEO-friendly. PrestaShop makes it easy to develop SEO-friendly URLs, change title tags, and other SEO-related attributes for product pages.


Customizable front. PrestaShop provides a possibility to fully customize store design.


Good management of customer data. You can collaborate with clients via email and through popular social media platforms. Good possibilities for communication with clients help you increase sales with Prestashop.


Works equally good for 1K as well as for 100K products. PrestaShop is simple enough to be set up for a small store. At the same time, its database is well optimized so it can power a store with a million of products with combinations.


Easy in day-to-day maintenance. With its user-friendly interface and built-in default features, PrestaShop is relatively easy to manage on a daily basis (compared to other open-source shopping carts like Magento).


Requires fewer server resources than other self-hosted e-commerce platforms. That implies that websites built with PrestaShop have a lower average speed of page load.


No free support. Since it's a free platform to run, you won't get a high level of support from PrestaShop itself. The support plans can be rather expensive.


Unpredictable cost of running. The initial cost would include:

Site hosting apprx. $100
Domain name (.com) $12.99/year
SSL certificate $17.95 /year
Theme (4-5 star rating, compatible with PrestaShop 1.7.8) apprx. $93.84




The complete price to use PrestaShop, though, will largely depend on your customization needs and development costs as well as additional functionality added via modules. Therefore, the final investment can be much higher than you had originally planned.



The upgrade process can be difficult. Though, they offer a migration and update plan for a fee.



How to migrate PrestaShop store – a step-by-step guide.



Not easy to set up initially. Installing PrestaShop involves such steps as checking system requirements, installing a local environment, configuring Apache HTTP, Nginx, and finally PrestaShop itself (check PrestaShop documentation for the complete process). Though most day-to-day operations can be handled on your own, you may also need tech assistance on more complex tasks.


Limited availability of free modules. Most modules, even vitally important ones, are paid. Check the modules list to find the one you need.


Expensive modules. The prices start from 69.99 and higher. Be ready to spend from 100 to 500 EUR on each module as a one-time payment and 30% of further subscriptions per year for vendor support.


Modules bought from the official marketplace come with a mandatory subscription. As a workaround, you can buy modules from vendors directly, thus obtaining a lifetime license with a one-time payment.


You need to have an experienced hosting provider or developer to make sure that you have the correct hosting package according to your store size and requirements.


A lot of preinstalled modules slow down store performance. As a default, the system installs so many plugins that do slow down the website and do not add vitally important features to the website.


Modules conflict. Plugins that you acquire for an extra charge often conflict with each other. This makes customization and further upgrade a challenge.


Deprecated ASM feature. Up to PrestaShop 1.6, store owners could rely on the Advanced Stock Management feature to manage their warehouses. In PrestaShop 1.7, however, this feature was practically removed. So now, users need to use some integration at an additional cost.


Import of combinations can be rather complicated. Combinations are product variations and the issues will relate to updating specific values per variation.


WebP images are not natively supported. If you stay up to date with SEO trends, you will need to convert your image to other allowed formats, modify the core of PrestaShop to upload WebP format or purchase a module as there isn't a free one.


Load time up to 2 seconds. It may be challenging to reach this goal if you miss it when choosing the theme and the hosting plan. Keep that in mind while developing and make it a KPI for your developer.

Still hesitant about if PrestaShop is the right solution for you? Have more questions? Share them in the comments below and we'll gladly assist you.
Store Manager for PrestaShop software can add the missing functionality without the need to install multiple modules.
Store Manager is made as a desktop application that holds multiple tools within itself. You just connect the application to your store database and have the entire toolkit at hand.
If you don't have Store Manager installed yet, download the
free trial
version and install it on your computer. Connect the application to your store database following the
instruction
.
Advantages of using Store Manager:
No modules conflict as all the multiple tools come within one application.
No need to reinstall modules after updates. After the update, you just connect Store Manager to your store database and continue working as before.
Native import/export functionality extended and simplified.
One-time payment starting at $249 per seat plus 12 months of updates included.
Free support via email, live chat, and phone.
Use Store Manager to intensify the advantages of the PrestaShop back-end administration omitting the downsides of modules. Try it free and feel the synergy effect on your own!
Have more pros and cons of PrestaShop? Please share them in the comments section below and we'll try to find a solution for you to eliminate those.
Step up PrestaShop advantages with Store Manager for PrestaShop
Try FREE
---


Related Articles: