eBay Integration for PrestaShop
* Available free of charge in Store Manager Professional and Business pack starting from v.2.59.0.2257.
Can be purchased for $169 to be used with Store Manager Standard Edition. Buy now >>
eBay Integration is a Store Manager for PrestaShop module (addon) which allows you to export products from PrestaShop store to eBay marketplace, update their details (price, stock, description), import eBay orders to PrestaShop. Expand your business possibilities stepping into a world famous marketplace.
Latest Version: v.3.17.0.2857 from 02/06/2023
Be sure to update your eBay Integration to the latest version which supports Bay Taxonomy API.
Extend update period
in case it has expired.
Online Documentation
Store Manager for PrestaShop is required. Addon cannot be registered with Store Manager key and vice versa
1 Addon license key can be used to register a corresponding addon on 1 PC and manage an unlimited number of websites (excl. standard version of Store Manager)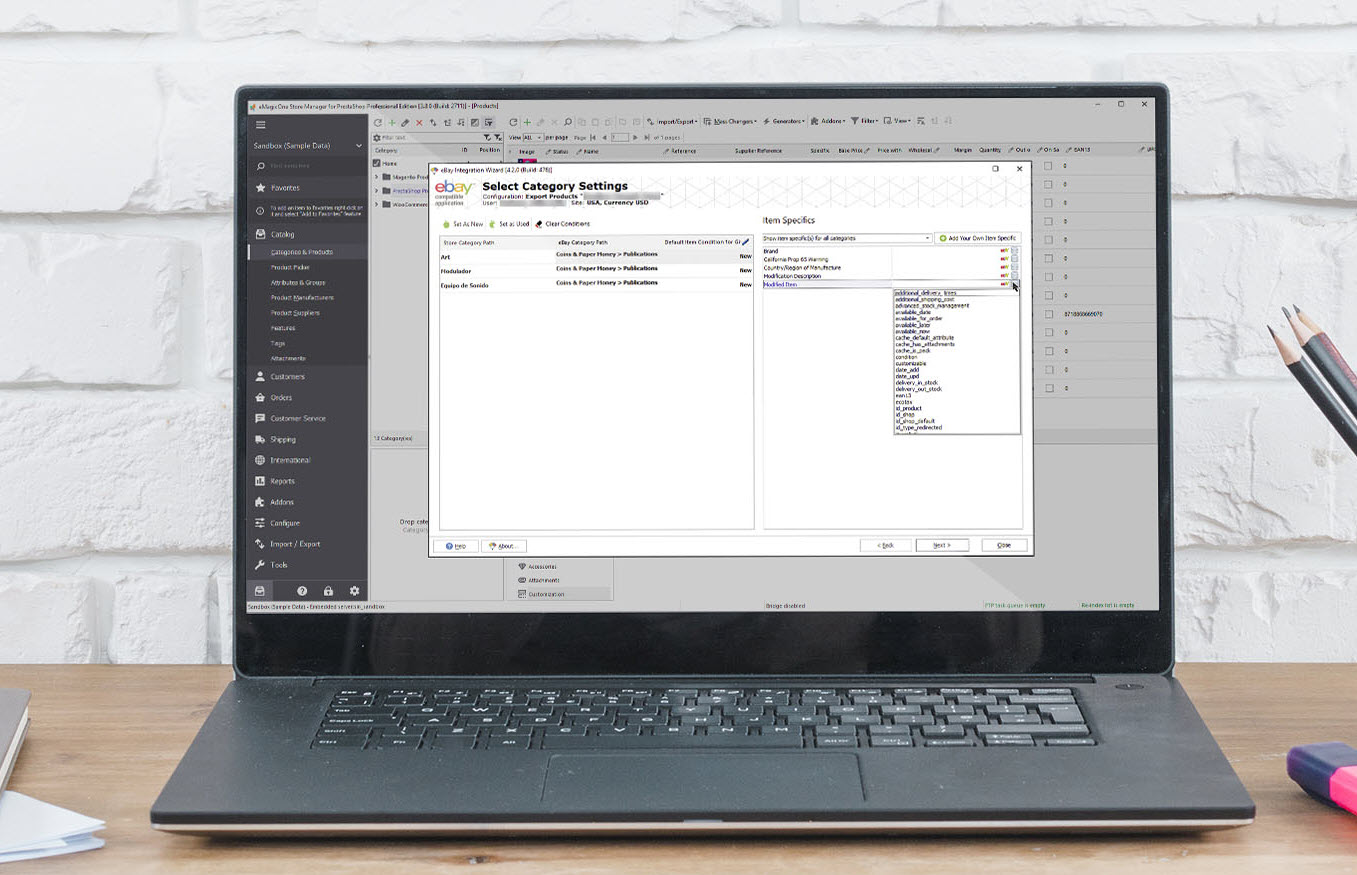 PrestaShop to eBay
eBay Module for PrestaShop is a great time-saving tool for your business that helps you expand revenue streams and find new customers, selling your products on the giant marketplace.
Export Products to eBay
Export products to eBay marketplace in a certain region (USA, United Kingdom, France, Germany, Italy, Spain, Australia, Austria, Belgium, Canada, Poland, Sweden, Switzerland, Hong Kong, India, Ireland, Malaysia, Netherlands, Philippines, Singapore)
Create and adjust export configurations
Export product with combinations to the marketplace
Assign PrestaShop categories to eBay categories manually or use automapping.
Configure fields to be exported (title, description, weight, images and others)
Use built-in scripting for a custom product presentation (textual and numerical macros are available)
Add export configuration to scheduler and get products uploaded to eBay automatically.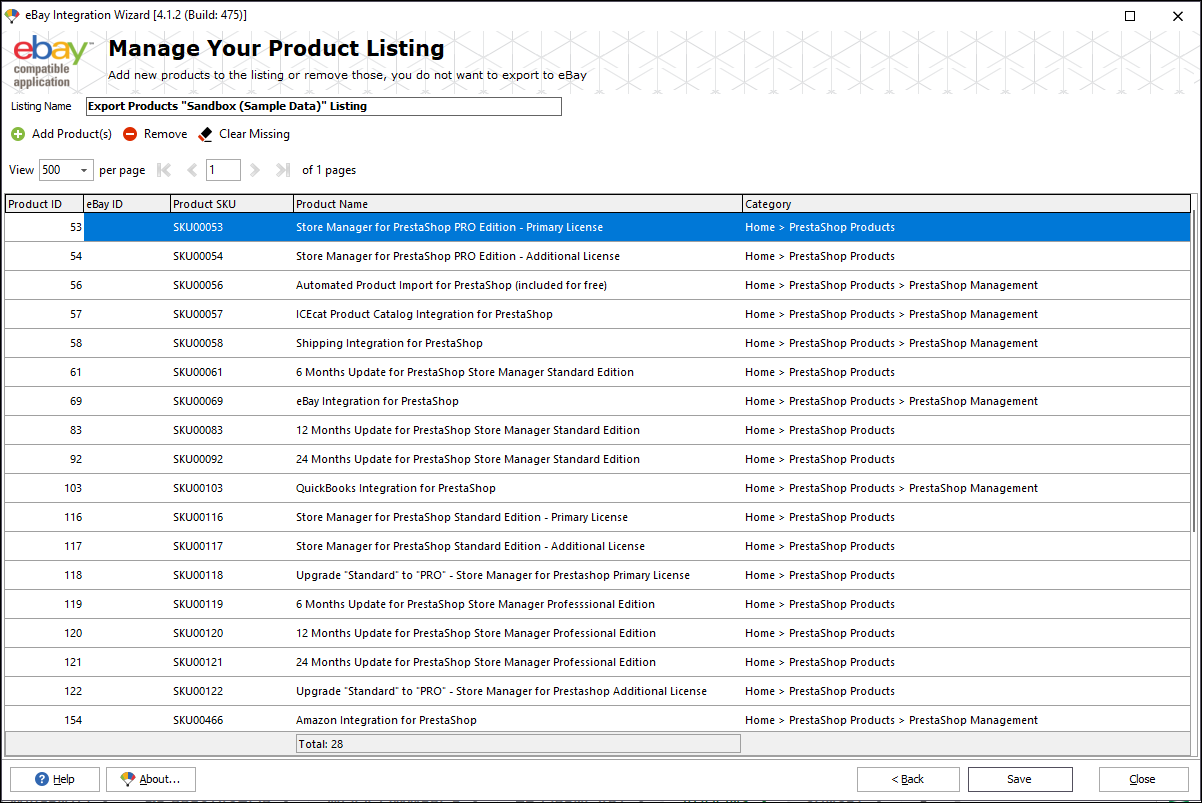 Synchronize PrestaShop Data with eBay
Update products you sell on eBay (price, stock, description, etc)
Create synchronization configurations to run updates easily
Schedule product synchronization to update products on eBay automatically
Adjust pricing options
Use built-in scripting for a custom product presentation (textual and numerical macros are available)
Import orders from eBay to PrestaShop store to keep data in one place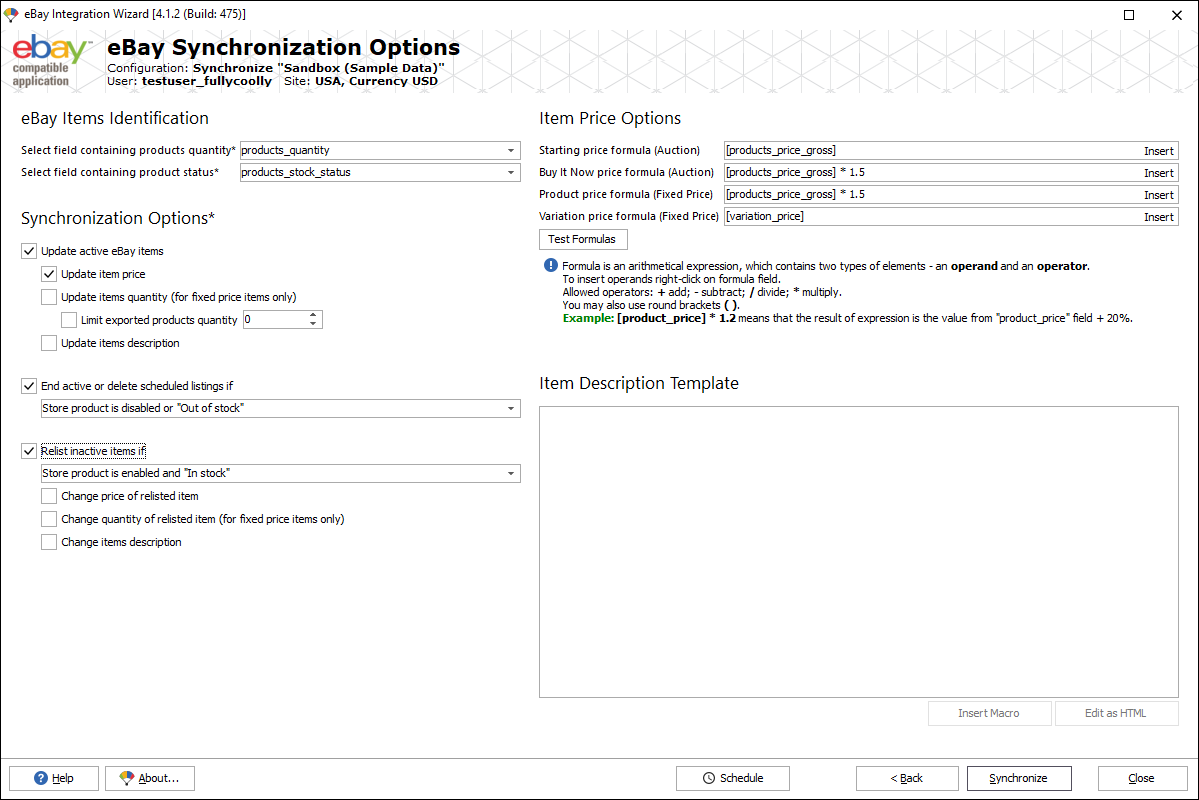 Adjust Auction Settings
Select Auction Type
Set auction Price Formula
Set auction Start and End Date
Select from the variety of Payment Methods
Choose Shipping Options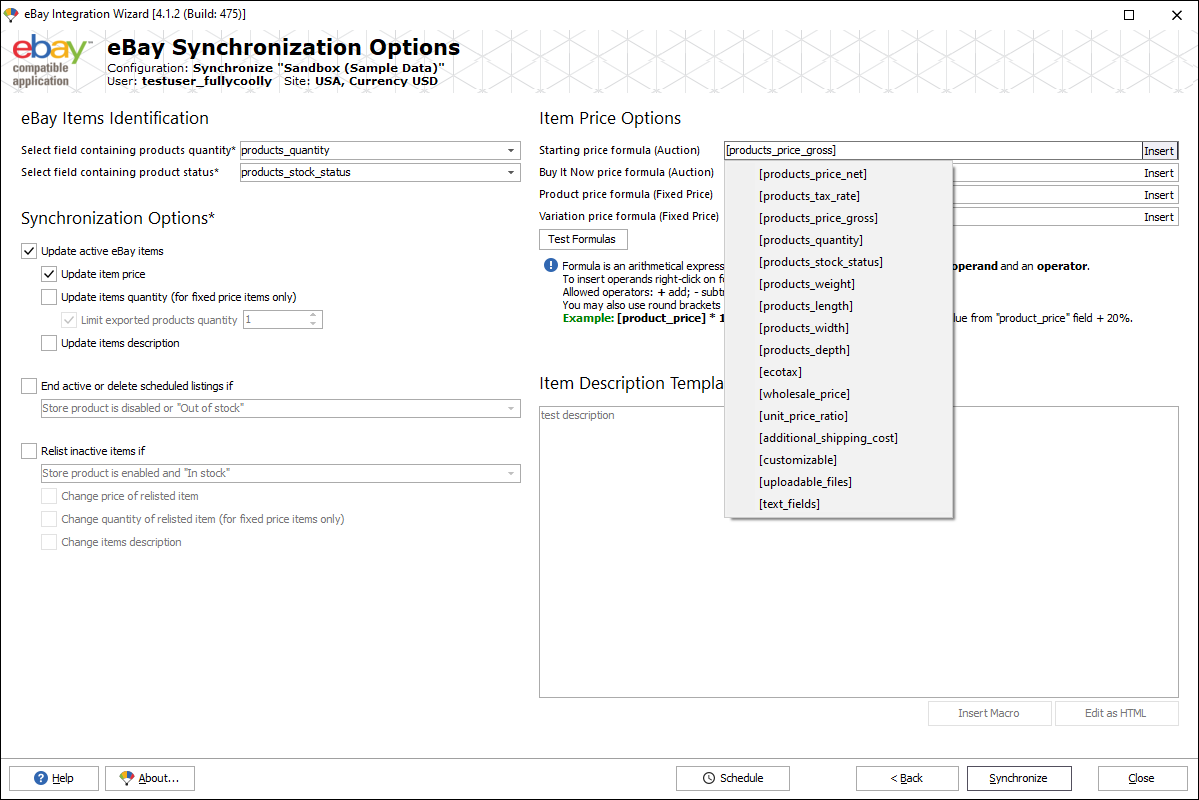 Review PrestaShop 2 eBay Import Results on eBay
Control the posting process and check results right in the addon
Anytime you want to update product info you can go back by pressing Back button
Sync your PrestaShop data with eBay unlimited number of times for better results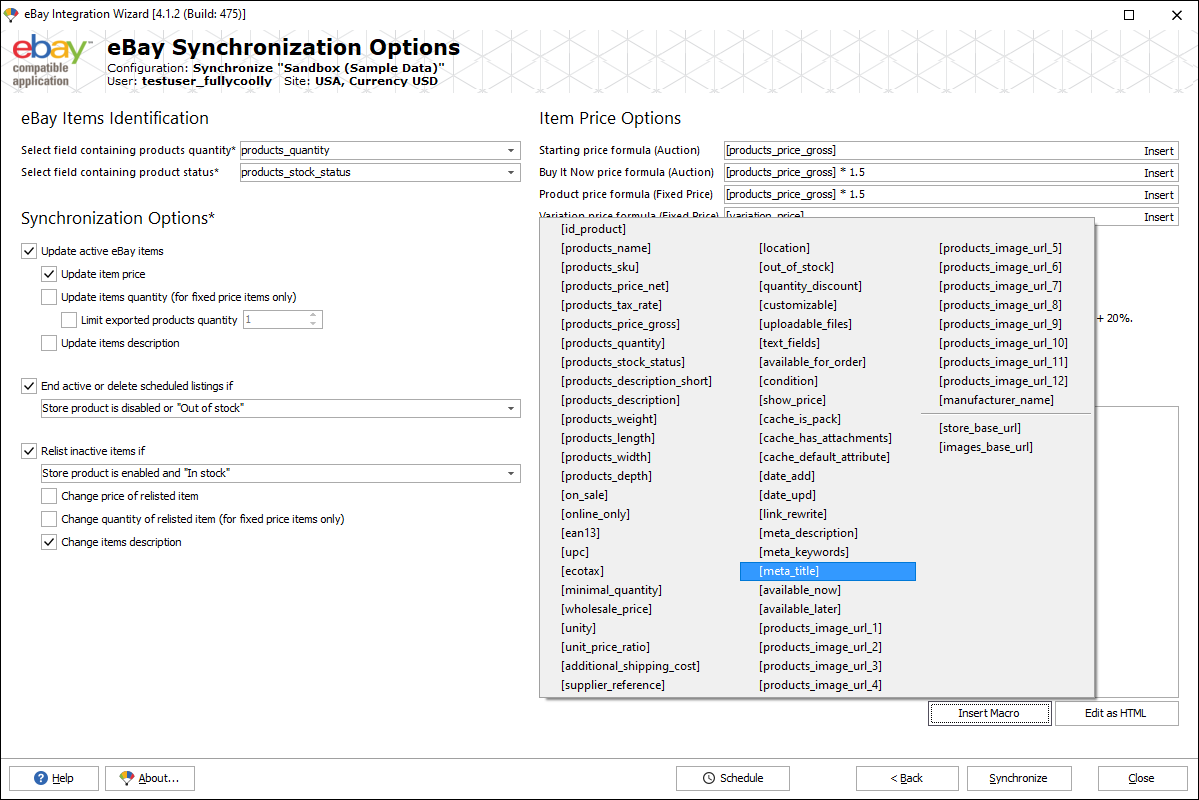 Save Time
eBay Integration extension allows you to import product listings, assign categories automatically and perform syncing of prices and stock in a short period of time.
Increase Revenue
If you're not selling on eBay yet, you have an opportunity to expand your revenue streams by selling your products worldwide.
One-time Payment
We offer our product with No recurring fees. You pay once and get a tool for lifetime integration. Get PrestaShop 2 eBay free of recurring payments.
eBay Reviews
"Amazing software ! Amazing Customer service"
★★★★★
Amazing software . We manage 5 shops with the manager and ebay shops . its simple to use and the customer service is amazing ! We have loose every day for years so many time to manage every single shop , now with the prestashopmanager it takes just some hour in the week, and we can concentrate in marketing and productiobn. if you want a software and a cusomer service team that really helps you , thank you need this software !
"
Absolute game changer!!
★★★★★
I ran prestashop for years using only the back office. After a while once i had alot of products, managing them became a nightmare. Any change accross multiple products became a chore that took hours. I tried the demo of store manager and the mountains of work that would take hours or weeks became tasks that could be done in 2 minutes or less. This software absolutely amazing. Extremely powerful and full of features to make managing your shop and products much faster. As an important bonus the tech support team is extremely helpful and responsive.
"
The first good thing is that the addon became free when I decided to buy it:)) I can massively edit listings in a few seconds (instead of few hours manually) and there are predefined templates for listings arrangement. Could have been good to change text fonts:)
"
Time-Saver for Marketplace
★★★★★
I'm using eBay addon for 3 years already, helps my company a lot. I saved a lot of time and money by buying it once.
"
Autoimport from Presta to eBay really saves me ofter, recommend it.
"
We use emagicone's eBay Integration addon with Prestashop and it works flawlessly. We had one issue which prompted me to write this review...I called support, they picked up the phone and fixed the issue before I hung up. You don't see support like that very often.
I highly recommend the product and company!"
Works good with eBay
★★★★★
After installing the eBay Integration addon I have had great success linking my website to eBay. This is a very easy and simple module to use compared to many others we have used in the past.
It saves a huge amount of time in synchronizing inventory between PrestaShop and eBay."
Rien d'autre a dire que Bravo!
★★★★★
Je suis Français, et je suis heureux d'avoir trouvé votre module. Merci à toute votre équipe pour avoir conçu ce logiciel vraiment utile! D'après plusieurs essais, je suis heureux pour découvrir qu'il est vraiment fiable et agréable à utiliser.
Il permet de diffuser en quelques clics votre catalogue produits en France et à l'international.
En multipliant nos canaux de diffusion nous avons optimisé l'ensemble de nos campagnes web. Les fonctionnalités proposées par emagicone nous ont permis d'améliorer nos performances sur chaque support."
Un modulo professionale per vendere su ebay
★★★★★
Questo modulo è indispensabile se si intende trasferire in pochi istanti i prodotti del proprio sito online su eBay.
Esso fornisce in realtà diverse funzioni:
1. Vendita sul proprio sito e-commerce dei prodotti presenti sul proprio account eBay
2. Vendita sul proprio account ebay dei prodotti in vendita sul proprio sito online
3. Sincronizzazione di prezzi, quantità ed altri parametri tra i prodotti del sito e quelli su ebay
La potenza dello strumento è notevole in quanto consente di sincronizzare le categorie del proprio sito online con quelle di ebay, sia automaticamente che manualmente: ovviamente si può decidere di vendere i prodotti di tutte le categorie o solo quelli di alcune.
Una volta selezionate le categorie di interesse, per ognuna di esse consente di impostare i parametri comuni dei prodotti quali marca , sistema operativo e così via.
Permette quindi di definire tutti i tipi di pagamento possibile, PayPal incluso ed impostare anche particolari condizioni tramite un messaggio da visualizzare.
La vera potenza di questo strumento è che permette di personalizzare ogni aspetto delle inserzioni, decidendo se si tratta di aste online o Compralo Subito, se si accetta una proposta di acquisto e così via.
Il prezzo di ogni singolo prodotto può essere inoltre modificato rispetto a quello del prodotto nel sito tramite una formula (ad esempio moltiplicandolo per una percentuale), e questo è utile per recuperare le commissioni che ci sono in eBay.
Infine questo stupendo modulo consente di impostare le informazioni sulle spedizioni nazionali ed internazionali, definendo i prezzi dei vari corrieri.
Il pregio è che sia il titolo che la descrizione dell'inserzione possono essere creati in base alle proprie esigenze, unendo ad esempio la descrizione del prodotto ad altre informazioni utili da mettere prima o dopo, come un logo, un numero di telefono o l'indirizzo del sito online.
Insomma un modulo indispensabile per che intende vendere professionalmente su eBay e far conoscere tramite eBay il proprio sito online"
This save us a lot of hours of work
★★★★★
We work with Store Manager uploading new products with massive csv files. And actually we use to upload and sincronize product with other plataforms like eBay. Also We use Store Manager for change or assign products to new categories.
"