PrestaShop LookBook (PDF Catalog) Creator
PrestaShop LookBook Creator is a perfect tool to generate printable brochures, flyers or lookbooks. Offer printable materials with new items or best sellers to your potential or existing customers!
Latest Version 2.11.0.1467 from 03/16/2023
Online Documentation
Store Manager for PrestaShop is required. Addon cannot be registered with Store Manager key and vice versa
1 Addon license key can be used to register corresponding addon on 1 PC and manage unlimited number of websites (excl. standard version of Store Manager)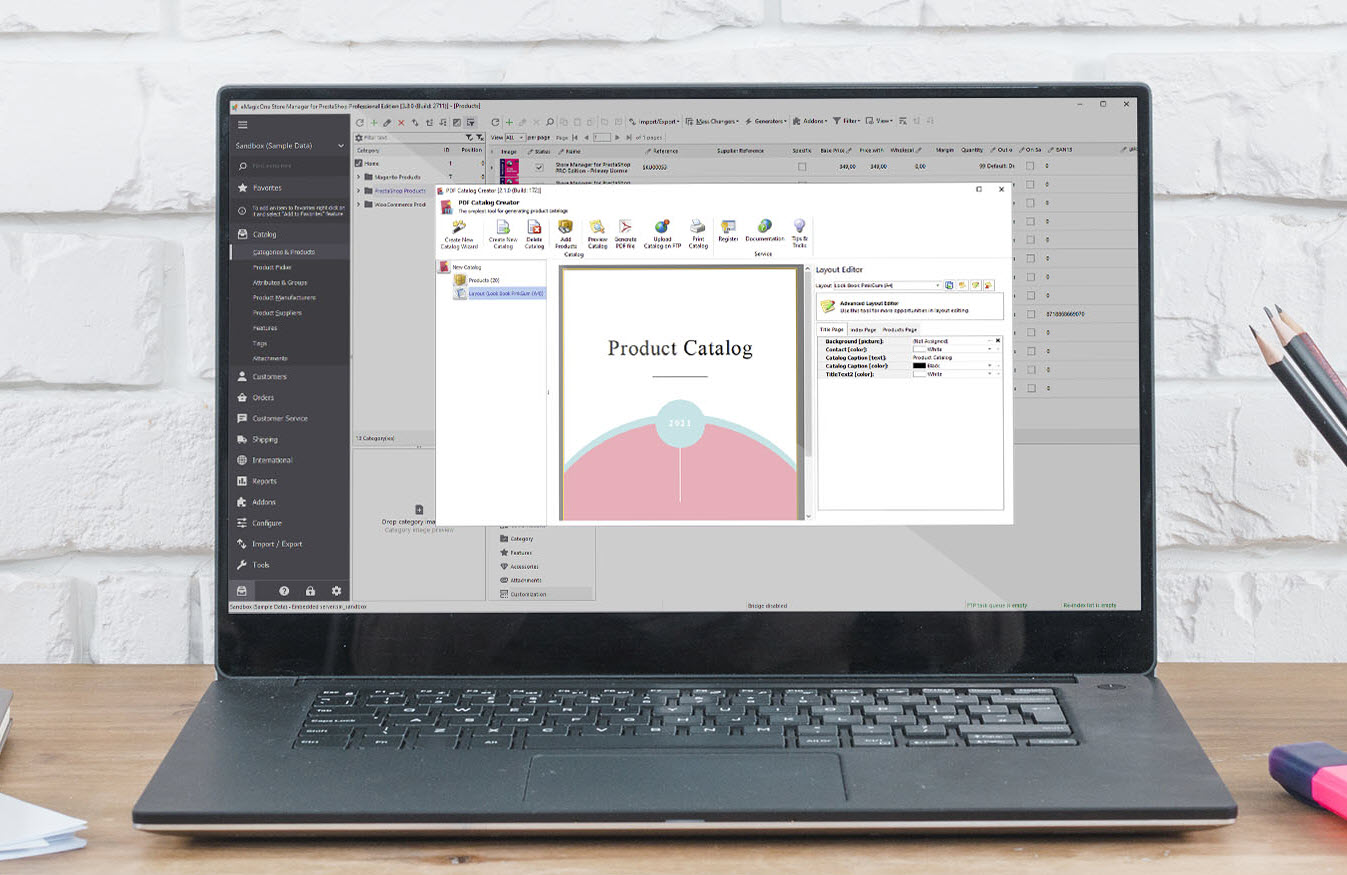 PrestaShop PDF Catalog Creator (Store Manager Addon) is a tool for simple and quick product catalog creation, which allows you to add product to your catalog, retrieve products information from PrestaShop create your own template or modify existing one.
LookBook Examples (Built-in Templates)

PrestaShop PDF Catalog Creator Features:
Build flexible PrestaShop PDF catalog for products, services or personal collections. Select products, prices, descriptions and images to make your unique catalog
Generate multiple PrestaShop catalogues – as many as you want, they all will be saved so you can use any of them later
Quick catalog update for new changes with one-button click
Delete the catalog that you previously generated
Select from few available templates or create some unique listings and offer them to your customers (live or printed version)
Flexibility
Generate multiple PDF catalogs with unlimited number of products with related information. Customize listings' appearance and items added according to your needs and taste.
Speedy Updates
Retrieve latest information on your products. Even the catalog was created long time ago you can synchronize information and have up-to-date data
Unique Design
Get complete control over the appearance of your printed listings. Create your own templates and change the size, colour and background or image of individual fields.
Simplicity
You can create catalog yourself – no special technical skills are required. Everyone from novices to professionals can use it.
Multi-lingual and multi-currency support
Creating the worksheet you can select the language and currency from the drop-down (if you have them at your store).
Product Position Change
Re-arrange the order in which products are displayed simply by dragging-and dropping.
Why you may need PrestaShop PDF Catalog?
You may need to make niche / client / event / seasonal catalogs, brochures and flyers and offer them to your customers on special occasions.
PDF Catalog Creator is Store Manager addon, that means, that it is a part of Store Manager (it is already built-in the software) and should be registered with a separate license key. So in order to use the addon you have to install and register Store Manager and set up all required settings first.
In order to make the process of catalog creation easier you may use Catalog Creator Wizard, which will guide you step by step through the catalog configuration.
System requirements:
PrestaShop 8.1.x, 8.0.x, 1.7.x, 1.6.x
Windows 10, 8, 7 32/64 / Windows Server 2008
1Gb RAM
1024×768 screen resolution and higher
Internet connection
LookBook Reviews
Absolute game changer!!
★★★★★
I ran prestashop for years using only the back office. After a while once i had alot of products, managing them became a nightmare. Any change accross multiple products became a chore that took hours. I tried the demo of store manager and the mountains of work that would take hours or weeks became tasks that could be done in 2 minutes or less. This software absolutely amazing. Extremely powerful and full of features to make managing your shop and products much faster. As an important bonus the tech support team is extremely helpful and responsive.
"
We have ordered and we use Store Manager and Catalog module since one month and we like it !
"
Must have for my business
★★★★★
The PDF module works fine and the support is great. They answer very quickly and do their best to understand your needs and provide a solution to make it work.
"
We were very impressed with the LookBook PDF but needed to small changes to a template to correspond our branding.
We requested eMagicOne to create this for us based on specifications we had, they exceeded our expectations with the time and accuracy that they accomplished the task."
Great piece of software
★★★★★
I bought the LookBook PDF Catalog Creator extension and I'm very happy with it. Worked great out of the box, and there were no difficulties customizing it to match our branding.
BTW their support is always able and willing to fix any issues that I have had. Fast turnaround on tickets, most time in the same day. I would highly recommend the product over all the others that I have tried."
PDF Catalog Creator Addon is a very easy to use tool that makes creating PDF-catalogues very easy.
It saves us lots of time and makes it possible for us to make unique catalogues for our costumers.
Highly recommended!
Michael E. Olsen
DTM TAG"