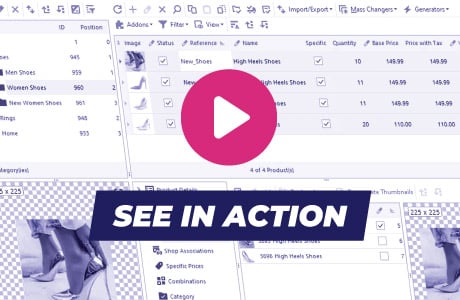 Product Information
Harness the power of store management and identify your business needs together in a single, easy-to-use Store Manager for PrestaShop. You save your time, sweat and money by simply allowing Store Manager to operate your business.
It is ultimately responsible for keeping all your store data at one place for easy and quick access. Consequently, you don't need to reinvent the wheel, since all the necessary resources are already at your disposal right here and right now. Keeping track of all your product information can give you a hard time. Store Manager for PrestaShop is initially designed to administer all the data storage in an Excel-like way, automate all the daily store routines and trace your customer activity. With the easy-to-use interface you can ensure proper display of inventory and handle all the basic operations.

Let's get started!
Complete this form and get a 30-minute demo today and get everything running by this time next week!
Once you submit the form we'll get back to you to schedule the call.