QuickBooks Integration for PrestaShop
QuickBooks Integration allows you to export your products, customers and orders from your Prestashop store to QuickBooks accounting and import products back.
Latest Version 3.17.0.2857 from 02/06/2023
Documentation for QuickBooks Online and QuickBooks Desktop
Store Manager for PrestaShop is required. Addon cannot be registered with Store Manager key and vice versa
1 Addon license key can be used to register a corresponding addon on 1 PC and manage an unlimited number of websites (excl. standard version of Store Manager)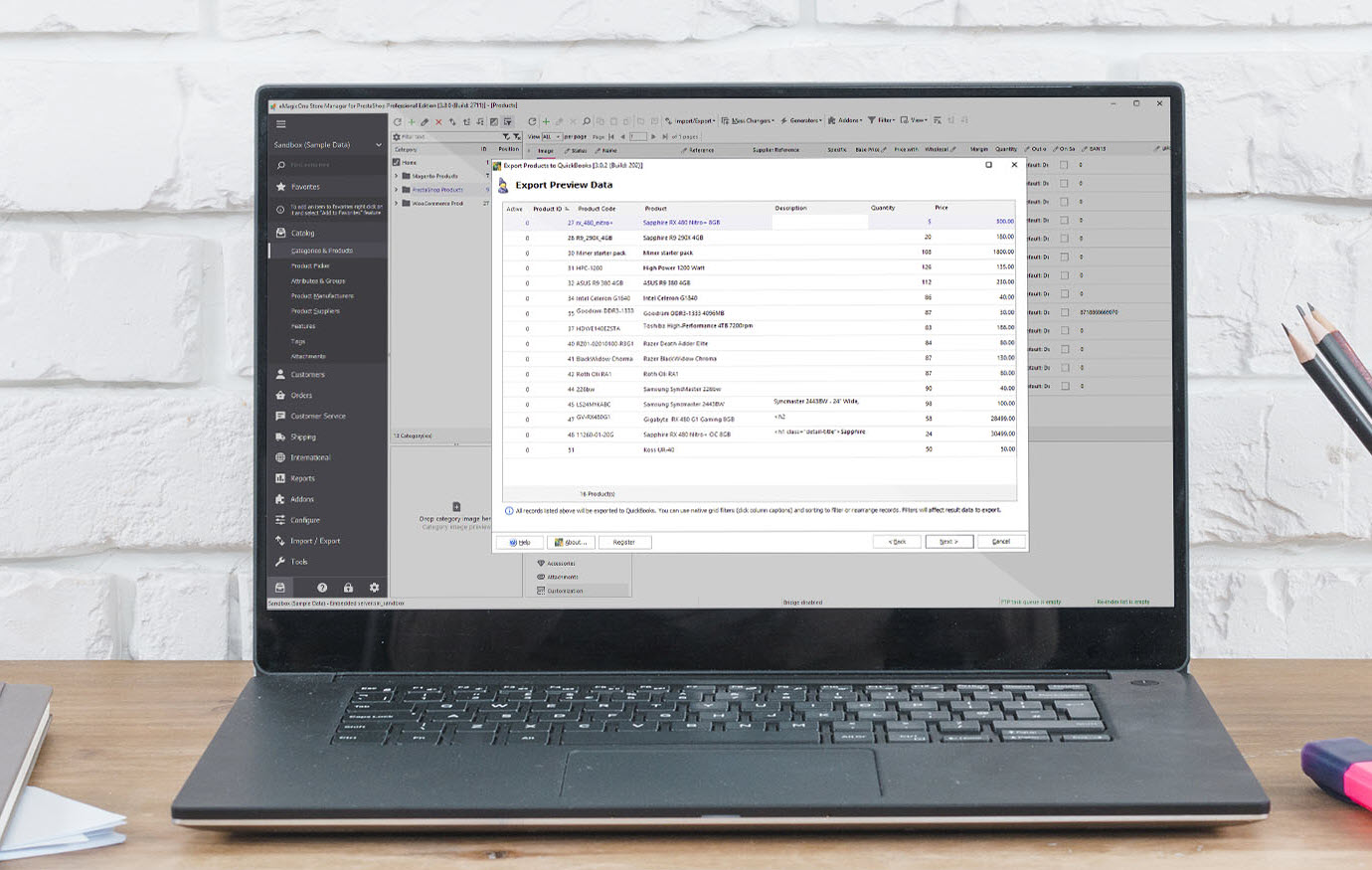 PrestaShop QuickBooks Integration (Import/Export) is a Store Manager for PrestaShop addon which allows you to export/import your PrestaShop products, export customers and orders from your store to QuickBooks – well-known, powerful accounting software.
QuickBooks is a set of software solutions by Intuit Inc. designed to manage payroll, inventory, sales and other needs of a small business. The software's features include marketing tools, merchant services, product and supplies, training solutions. Each solution is developed according to different industries and their needs.
PrestaShop QuickBooks Integration Addon can help you synchronize product and customer information between your online store and your accounting package, thus ensuring that order data are correctly assigned to the proper accounts.
Export products from Store Manager to QuickBooks
select the type of entry you want to create: Inventory, Non Inventory, Service or Other Charge entries
modify the existing products only, create new ones only or do both – chose the corresponding option
map QuickBooks and store products to avoid duplicates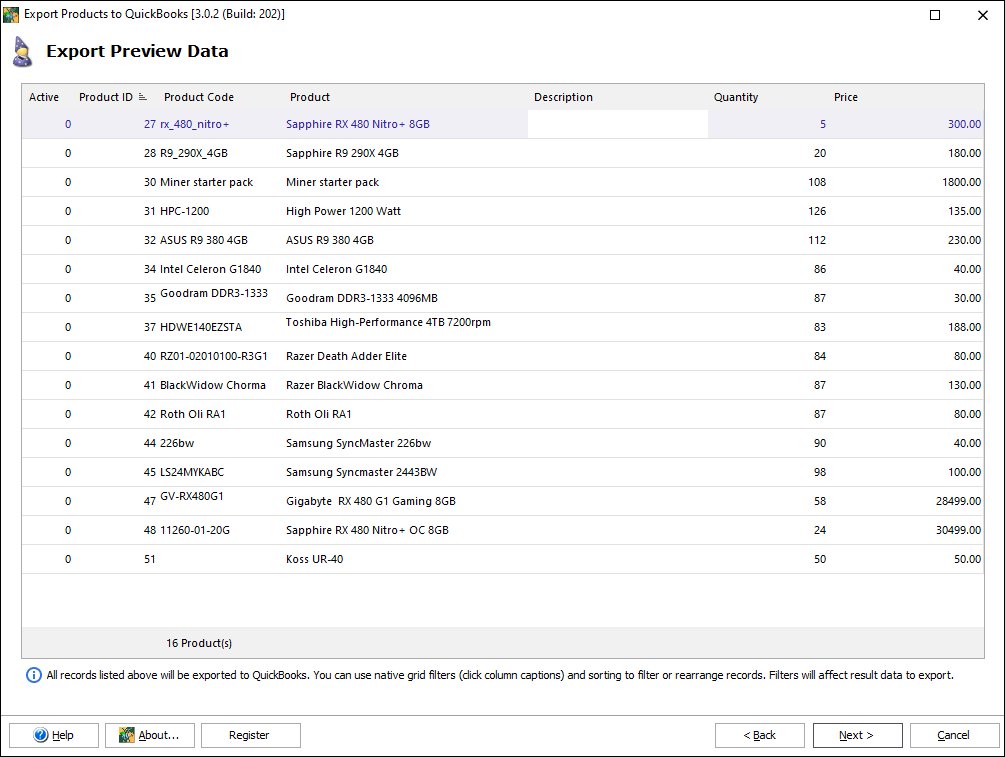 Export Customers from Store Manager to QuickBooks
map QuickBooks and store customers to avoid duplicates
filter customers to be exported (filter customers by first name, last name, company, etc.)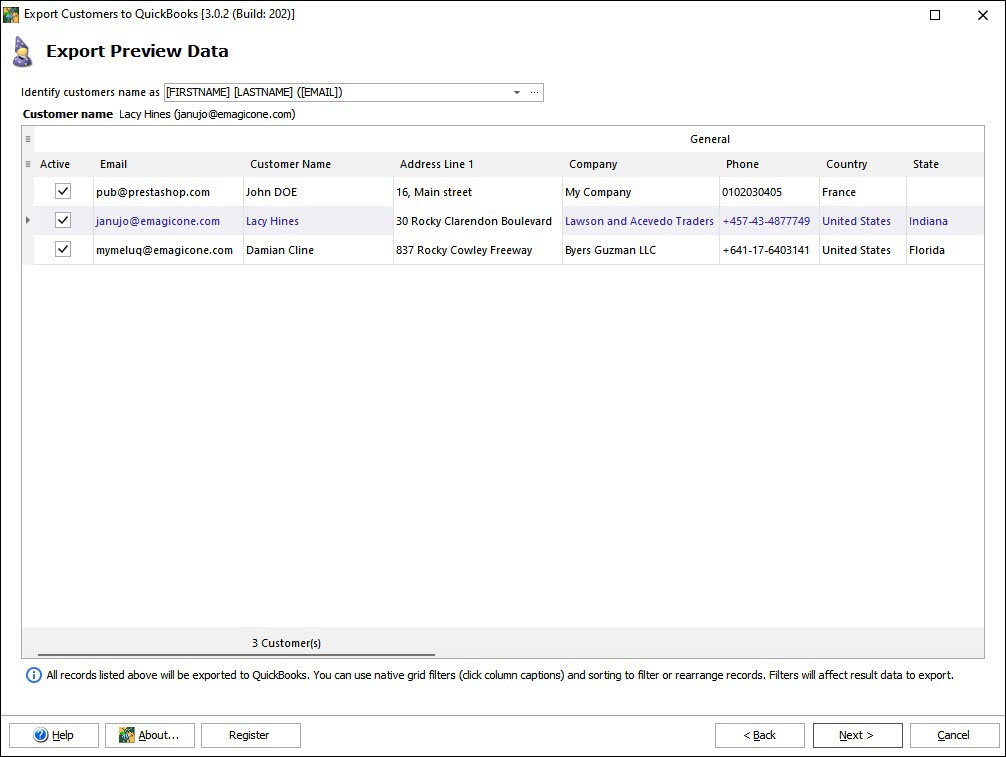 Export orders from Store Manager to QuickBooks
create sales orders, sales receipts or invoices – suitable for limited versions of QuickBooks
export received payment transactions
filter orders to be exported (filter orders by data, order id, status, etc.)
create refunds
export taxes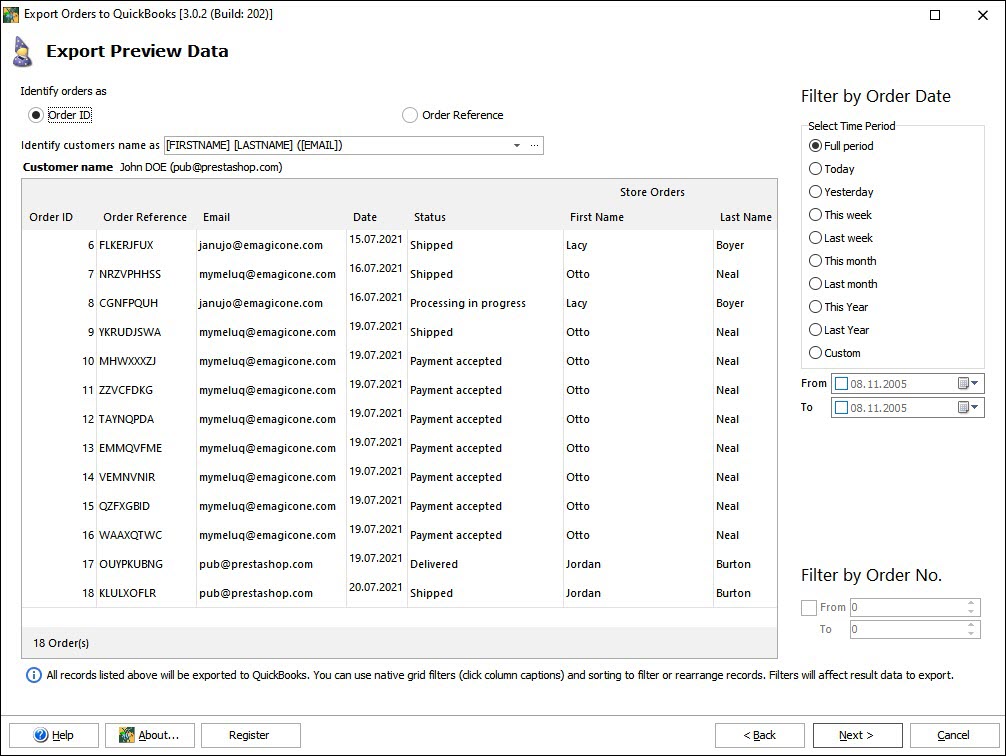 Import products from QuickBooks to Store Manager
create new products
update stock/price
optionally update name, price, quantity and description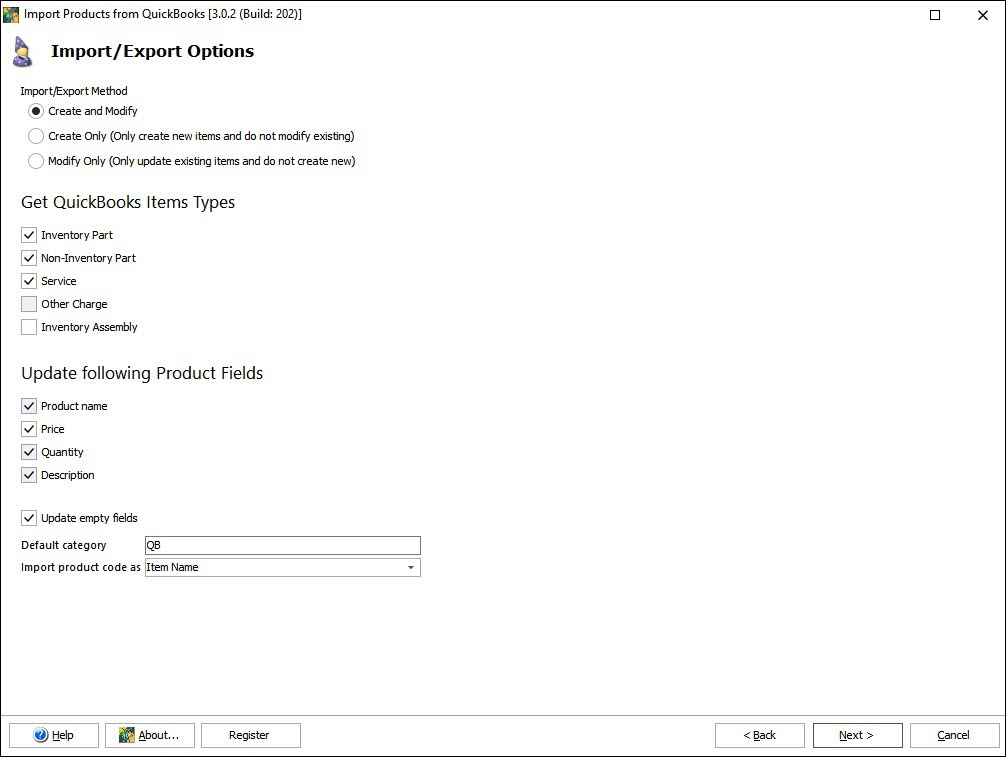 Automate Tasks
Create cron jobs to synchronize products, customers and orders on schedule
Indicate time data synchronization between Store Manager and QuickBooks will be performed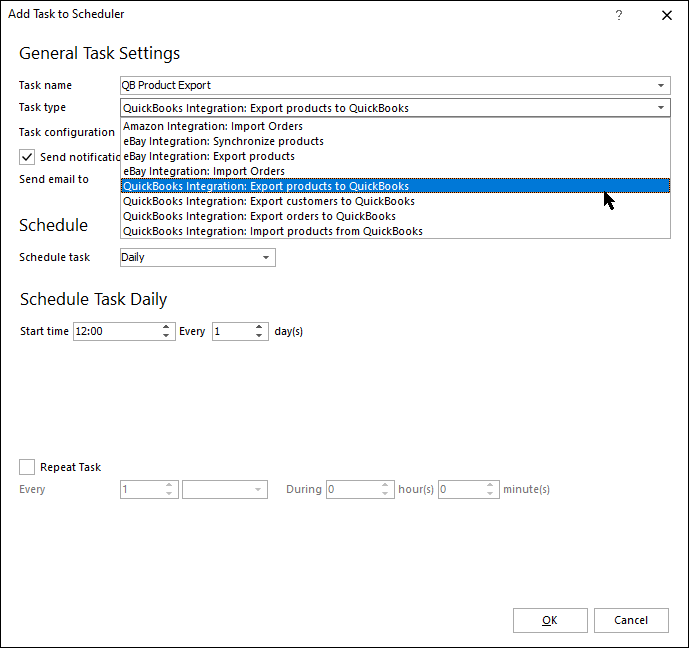 QuickBooks Online USA, CA, UK, AU
QuickBooks Desktop USA version: 2008, 2009, 2010, 2011, 2012, 2013, 2014, 2015, 2016 (Pro, Premier, Enterprise), 2017 (Pro, Enterprise), 2019 (Pro, Enterprise), 2020 (Pro, Enterprise)
QuickBooks Desktop Canadian version: 2010 (Pro, Premier), 2016 (Pro, Premier , Enterprise), 2017 (Pro, Enterprise), 2019 (Pro, Enterprise), 2020 (Pro, Enterprise)
QuickBooks Desktop UK version: 2010 (Pro, Premier), 2019 (Pro, Enterprise), 2020 (Pro, Enterprise)
QuickBooks Desktop Australian version: 2010 (Pro, Premier), 2019 (Pro, Enterprise), 2020 (Pro, Enterprise)
Demo version includes all features of thе full version with the only limitation that it will process 5 records only.
Get QuickBooks Integration (Import/Export) addon for PrestaShop right now to export your products, customers and orders from your online store to QuickBooks easily. Invest in your business today to get more profit tomorrow!
QuickBooks Desktop Integration Screenshots
QuickBooks Online Integration Screenshots
Complete and Accurate Integration
Ensures complete and accurate export of customers, products and orders
Reduce Errors
Avoid duplicate data entry and other problems arising from manual data entry
Save Time, Increase Speed
It greatly reduces the time spent on data synchronization. Export your customers, products and orders to QuickBooks in a timely manner
QuickBooks Reviews
Absolute game changer!!
★★★★★
I ran prestashop for years using only the back office. After a while once i had alot of products, managing them became a nightmare. Any change accross multiple products became a chore that took hours. I tried the demo of store manager and the mountains of work that would take hours or weeks became tasks that could be done in 2 minutes or less. This software absolutely amazing. Extremely powerful and full of features to make managing your shop and products much faster. As an important bonus the tech support team is extremely helpful and responsive.
"
QuickBooks is inexpensive, effective, efficient, simple, and streamlined.
★★★★☆
This module is working just fine and it is really easy to set it up. We had a little problem with invoices and taxes, but it was solved quickly and very professionally by the support. This addon imported over 2000 orders into quick books in less than an hour.
"
What an amazing and powerful product
★★★★★
I don't think I've ever felt excitement when using a Prestashop module before, but I feel it a lot when using QuickBooks Integration. Instead of feeling like it's a good module, but you still wish it could do this or that – this module delivers almost everything you want, and it adds a bunch of extra goodies all over the place.
"
With great pleasure, I recommend eMagicOne with their QB Integration addon and all the services they provide.
We have been using QB Integration addon for more than a year now in our online store running on Prestashop. The application came along as a result of a lack of features in other apps I found on the market. Other apps in addition to being very expensive and with no choice but a monthly subscription, were not fulfilling our company needs. eMagicOne has created the perfect tool for our company allowing for a simple, automated workflow and synchronization between our store and our QuickBooks file."
Who said that acccounting should be complicated?
★★★★★
I had a battle every time I pushed data to my accounting. Glad that I've met eMagicOne. They've done all tech work for me and I can make same operation with presaved configs in few clicks. Tool is worth trying - free version is here, so you can give it a try same as I've done before purchase.
"