Oftentimes online shoppers run through online store pages impatiently on purpose to find necessary products. They would prefer to have everything at disposal and bypass monotonous website browsing. To fit with customer demands and improve PrestaShop product search you should configure layered navigation in PrestaShop.
PrestaShop layered navigation provides shoppers with a comfortable and quick way to search catalog by using filters on category page. Customers, in their turn, can search by various criteria (product attributes, price range, manufacturer, weight, condition, etc) and make their purchases within short span of time.
It is important to understand how layered navigation works and what settings should be determined for filters to be available at PrestaShop frontend. These things are covered in the tutorial below.
PrestaShop Layered Navigation Block Required
Product filtering at the frontend is available only if Layered Navigation Block module is installed and enabled.
Take to note, in PrestaShop 1.6.x this module is enabled by default, whereas PrestaShop 1.5.x has it prepackaged, though not installed.
1) Access Layered Navigation Module
Log in to your store admin panel and navigate to 'Modules and Services' in the left menu.
Specify module name in search line to access PrestaShop Layered Navigation Block.

Press 'Configure' button to access module settings.
2) Creating Filter Templates
In order to display filters at the front-end, you should first create the template, specify what product characteristics will be used for filtering, select filter style, etc. Let's create template and see how it is done.
Press 'Add new template' button at initial addon page.
Input template name. It will be shown in backend only, so you can choose any you like.

Decide on categories, layered navigation filter will be displayed for.

Layered navigation block, modelled according to your filter template, always displays at category page.

We are going to create test template that should display in 'Cosmetics' category only and select this category respectively.

Enable fields that will be available for customers in layered navigation, define filter style, either it is checkbox style, drop-down or radio button.

We are going to offer PrestaShop features in layered navigation as well as product manufacturer, so that shoppers will be allowed to quickly access eyeshadows choosing this or that option in layered navigation.

We enable 'Product Manufacturer', 'Feature:Composition', 'Feature:Color' and 'Sub-categories filter' in our store backend.

We would like product manufacturer options to be represented by radio buttons, and respectively change style for this filter.

Save template.
Let's check category page at the front-end. Now you can see PrestaShop features in layered navigation. Product manufacturer is also available.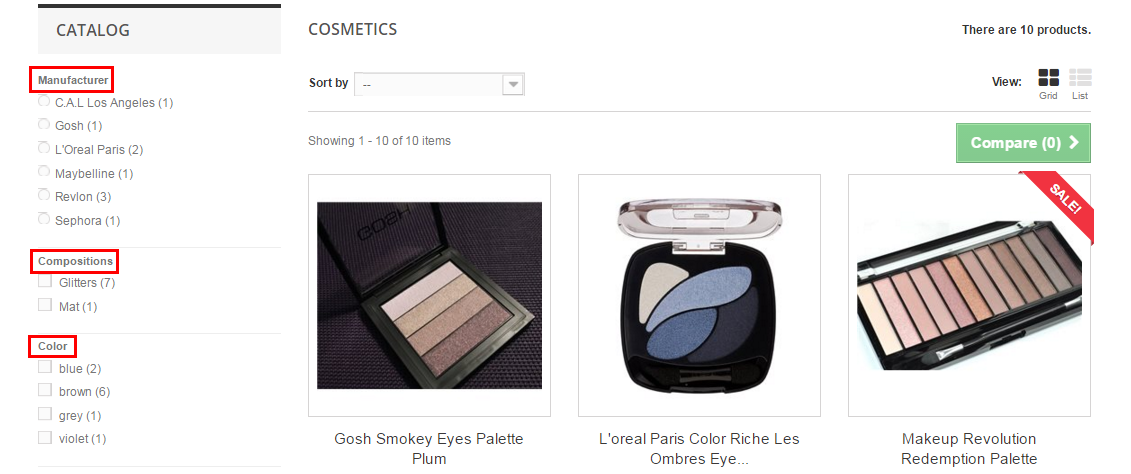 When you check box for definite PrestaShop feature, fox example, 'brown' color, PrestaShop filter will be applied and all the products, having 'brown' feature value assigned, will be returned.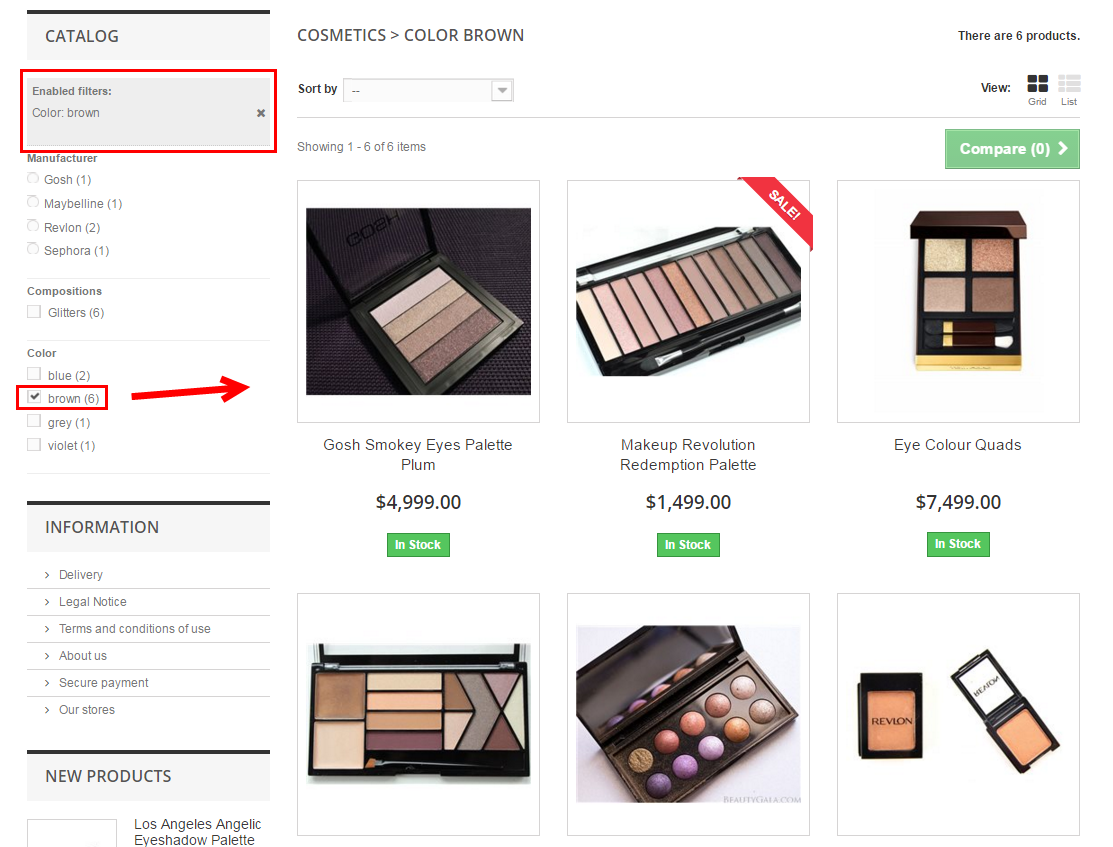 Things to Check If Filters Do Not Display at Frontend
check what category you have chosen in Layered Navigation Block and make sure it contains products
check whether products in the category have features, manufacturers, attributes assigned (if you use them as filters in layered navigation)
rebuilt all indices
re-install the module – open Modules -> Layered Navigation -> click 'Uninstall' and install the module afterwards
Simplify user navigation and increase sales at your PrestaShop website with PrestaShop layered navigation.
You, as a store owner might be interested in comprehensive backend product search and filter to simplify catalog handling. Store Manager for PrestaShop offers this kind of functionality.
Related Articles: