Selling goods online you have to be prepared that they will be accessible to lots of people all over the world. This is undoubtedly, positive factor, since the wider client-base you have, the bigger are the chances that you will get multiple orders. However, in case a potential buyer cannot recognize the product because it is in unfamiliar language, he/she will definitely won't risk to place the order without being 100% sure that everything is done properly and money are not wasted.
Make Your PrestaShop Speak Other Languages
Languages are very important for creating good relations between you and your customers and making positive impression when the shopper gets to your web-site. Prestashop allows you use more than a single language for your customers to view your store. This way no matter of the region your customers are from or they are staying at the moment, they will be able to see the items in their native language. There is no need for you as store owner to create multiple stores for different regions, as PrestaShop enables you to sell globally and with ease.
In meantime the buyer simply is changing the store language, the task for store owner is more complicated, since there is the need to add product-related details in the languages you have at your store.
Import CSV of Products Data in Multiple Languages
The fastest way of appending any store data, and multi-lingual details are not exception, is via PrestaShop import using Store Manager for PrestaShop.
Haven't used Store Manager for PrestaShop yet? Start your 30-day free trial!Download now!
File
In case you have text values in your .csv file in multiple languages, lets say product name in English and another column with product name in French, then you have to enable your default language (let it be English in our example).

Upload
After that import goods using Import Wizard of Store Manager. You can run it from product toolbar or from context menu.
You can find step-by-step PrestaShop import instructions at:
www.prestashopmanager.com/useful-articles/prestashop-product-management-articles/prestashop-import-products/
Settings for Product Details in Different Languages
Pay attention to the step of assigning columns of your file to .csv fields.
You have to assign columns in default language to default database fields and the fields where information in particular language listed, map to the database fields that correspond to the needed language.
Using our example, column with product name in English should be assigned to database line Product Name and the column of your file with item's name in French should be linked to the database field – Product Name (FR). The same concerns all the fields that you have in different languages in your file.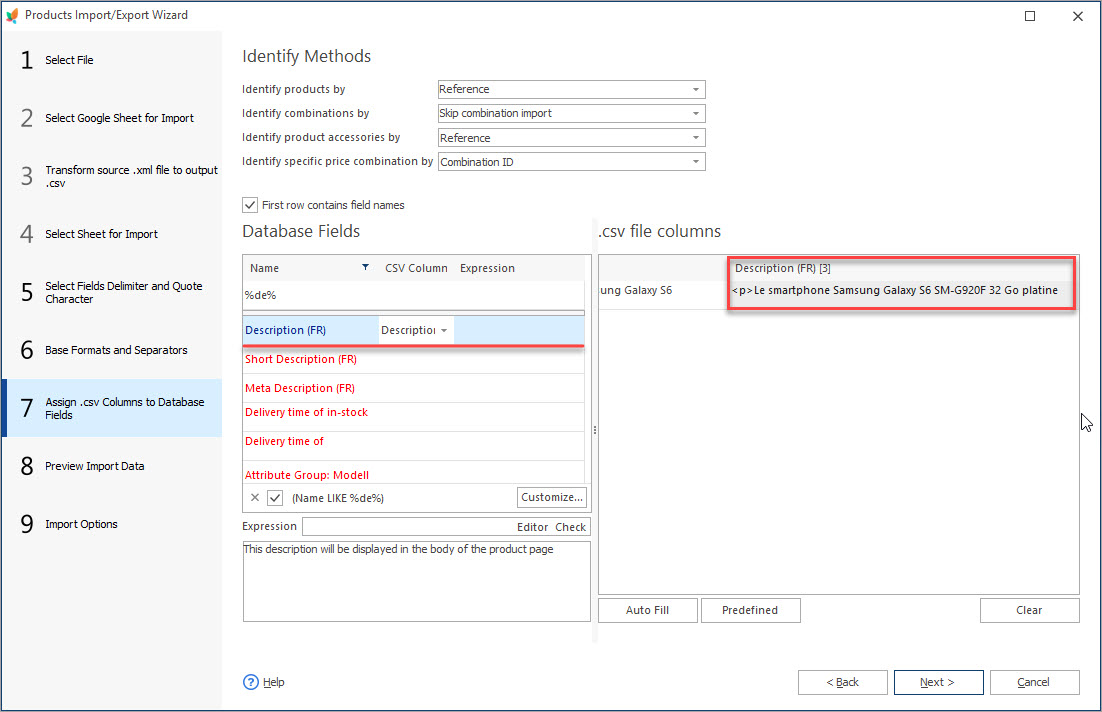 The fields that have numeric values are usually the same for different languages, so there is no need to repeat assigning them again.
In case your supplier provides you separate files with information on products in different languages, you have to import first the one that contains details in default language and then upload the rest of files with info in other languages. Please note that in case you uploaded previously the information in default language, you just need to assign while import fields that will serve as identifiers (Reference, ID or Name+Reference) and text fields in appropriate languages.
Make your PrestaShop store "speak" other languages and you will reach wider audience!
Get FREE Store Manager for PrestaShop and use it to import products Import Now!


Related Articles: