Creating positive shopping experience is one of the tasks, merchants should cater for to make website popular and PrestaShop customization is the way to attain it. When adding customization fields to PrestaShop products, you enable shoppers to tailor purchase according to their needs. They add desired specifications to the merchandise, available at your shop and both sides are the gainers: customers get the products they need; you get a sale and increase profits.
So, you have decided to update existing products attaching customizations to them, but it will take ages once you prefer doing it manually on per product basis. It would be nice to automate the process and ascribe custom fields to required items en masse. Store Manager helps bypass this routine and instantly generate PrestaShop customizations for myriad of selected records.
Product Customization Generator is responsible for this. It can be easily accessed, is flexible and approachable in usage. Everything is arranged within one window and you do not need to switch between tabs or perform extra manipulations.
What Should Be Done In Order to Bulk Generate Customizations?
Hover over product catalog and choose the entities PrestaShop customizations should be attached to
Launch generator tool in the way you find to be the most convenient:
hit "Generators" button on the product toolbar and select "Product Customizations Generator" option from the drop-down
or select "Product Customizations Generator" in product context menu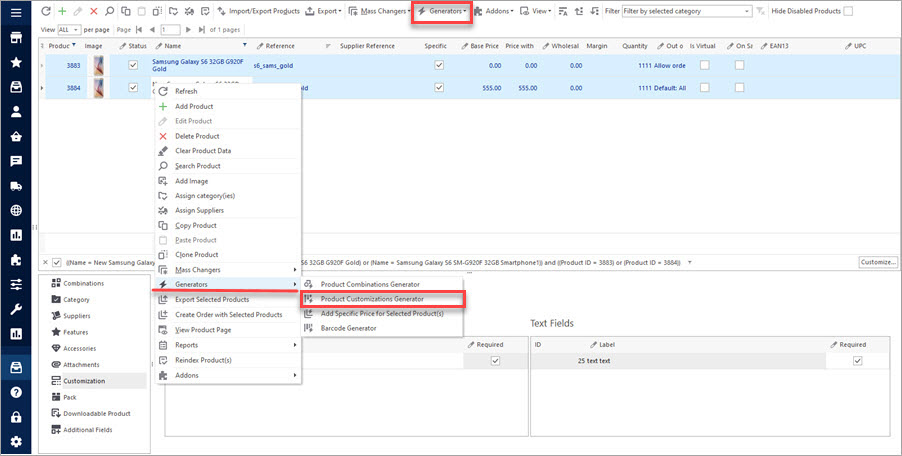 go to product lower grid, switch to Customization tab and you will find the Generator on the toolbar here
Specify customization details in the window that have emerged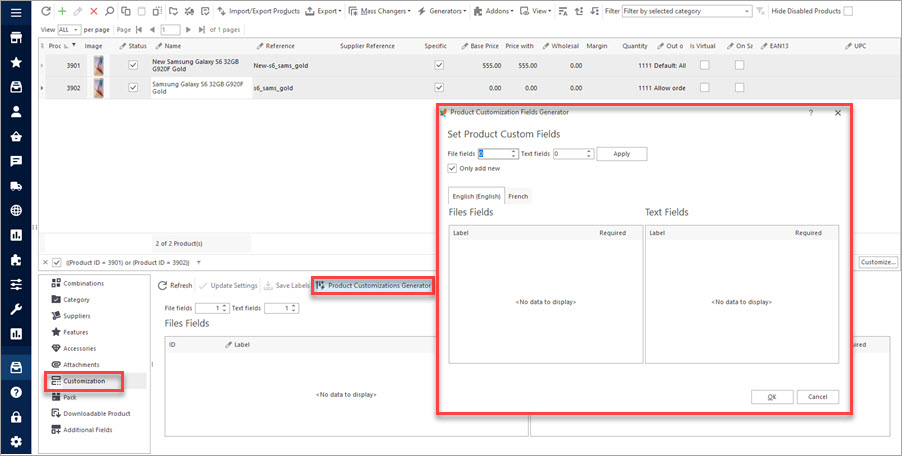 Designate number of file, text or both fields, you are going to generate. If, for example, no text fields are planned to be created, leave 0 for it. Click Apply and configure labels for the fields to be created. If some are required and customers are obliged to determine them before accomplishing the order, mark them as Required. After you confirm generating, the process will start and desired PrestaShop customizations will be added to selected entities
We are going to generate customizations for two test products – iPhone covers so that shoppers can leave some photo or engraving to be printed on the cover. These are not required, so customer can accomplish the order not configuring the customized fields.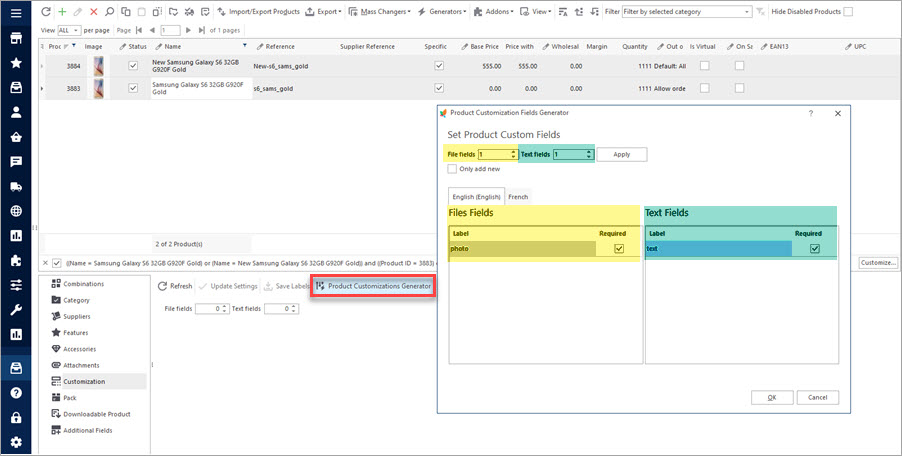 Consider "Only add new" option in the generator window. You might select multitude of listings to add custom fields to. Some of them might have, for example, 'photo' file field, other might not. But the matter is, none of them have 'engraving' text field assigned, so you want to ascribe 'engraving' to all and 'photo' only to ones missing it. If you check "Only add new" box, 'photo' file field will be added as new to all products, including merchandise that already have it ascribed. If you want to avoid duplicates, leave this field unchecked. As a result all existing custom fields will be replaced with the ones, you have just configured.
Resort to Store Manager to simplify PrestaShop catalog management using its advanced functionality and innovative practices.


Related Articles: