How to Import PrestaShop Product Attachments
Creating customer-oriented product listings is occasionally impossible without providing more detailed information about the product. There might be a plenty of reasons to implement such a practice: product manuals, digital instructions, demos, technical documentation, etc and you can cope with this task using PrestaShop attachments option.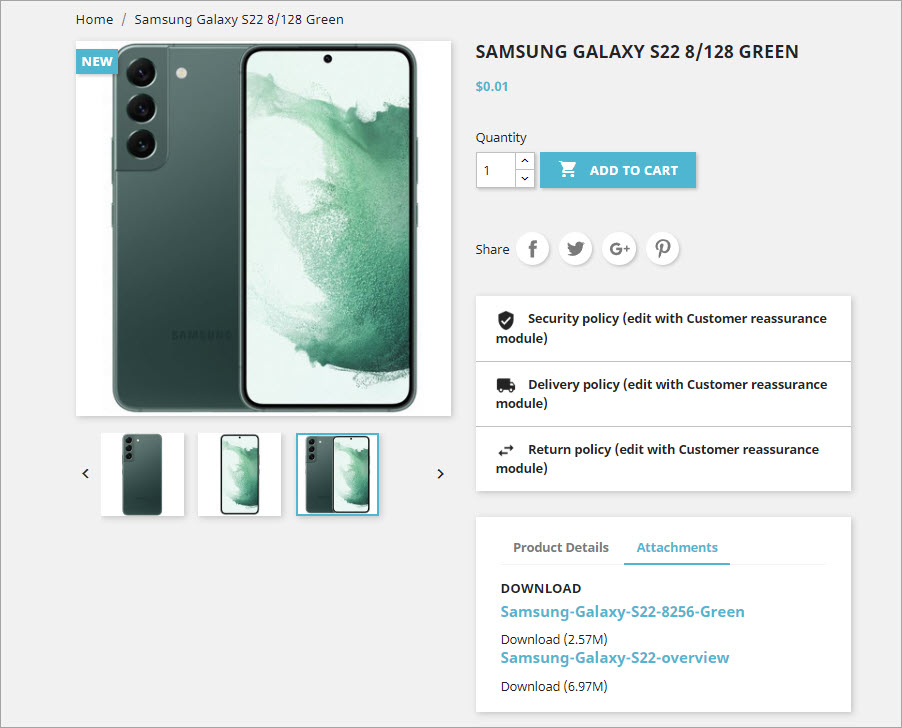 Attachments, you ascribe to products, display on the storefront, and are accessible to shoppers regardless of whether they are purchasing or simply viewing this item. Since you might have abundance of PrestaShop attachments that should be assigned to abundance of items, the idea of doing it in bulk have definitely crossed your mind. And this idea can be easily fulfilled with Store Manager for PrestaShop.
Right after Store Manager for PrestaShop v. 2.27.1.1575 rolled out, merchants got the possibility to bulk add new attachments and assign existing ones to products via import. This will surely save you tons of time and accelerate catalog handling. Below in this post you can find detailed tutorial on how to import PrestaShop attachments.
Method #1: Import New Attachments to PrestaShop
You might need to add absolutely new PrestaShop attachments to your existing products or upload new attachments with new products simultaneously. Beside necessary product details, you should consider ones, related to attachments. In order to create attachments in the process of import, you should include their details in the import file, like attachment name, filename and description. This is a screen capture of our test import file, used to create attachments and assign them to existing at the store merchandise.

Attachment Name – this name will display for customers at the frontend
Attachment Description – short overview of your PrestaShop attachment that will display for visitors
Attachment File – actual file, your users can download with extension, e.g .pdf, .mp4, .png etc.
Take into account, if one product has multiple attachments, their details take separate rows in the import file under product raw. Consider this rule when you need to assign two, three, five, ten or any other number of attachments through import.
To import PrestaShop attachments you should configure import settings, that is assiduously described in this post – How to Import CSV Files to PrestaShop. One more point to be underlined is that you should enable attachment import and specify what folder source files are stored at your computer. Don't miss these configurations on 'Select Field Delimiter and Quote Character' step of the import wizard. If you skip this, attachments will not be created and linked to products respectively.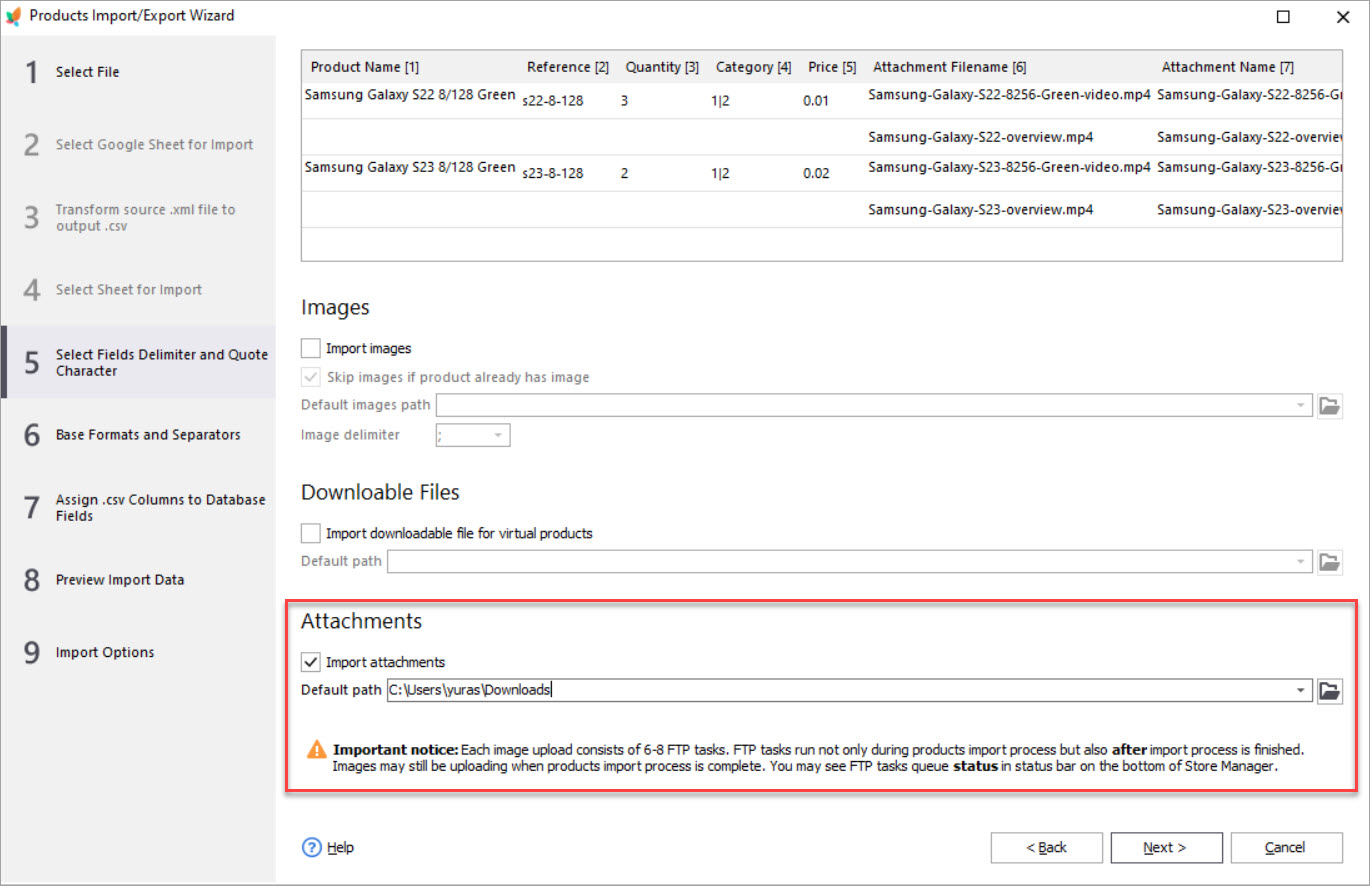 Once import of PrestaShop attachments is completed, you can check whether additional files have been assigned to required products.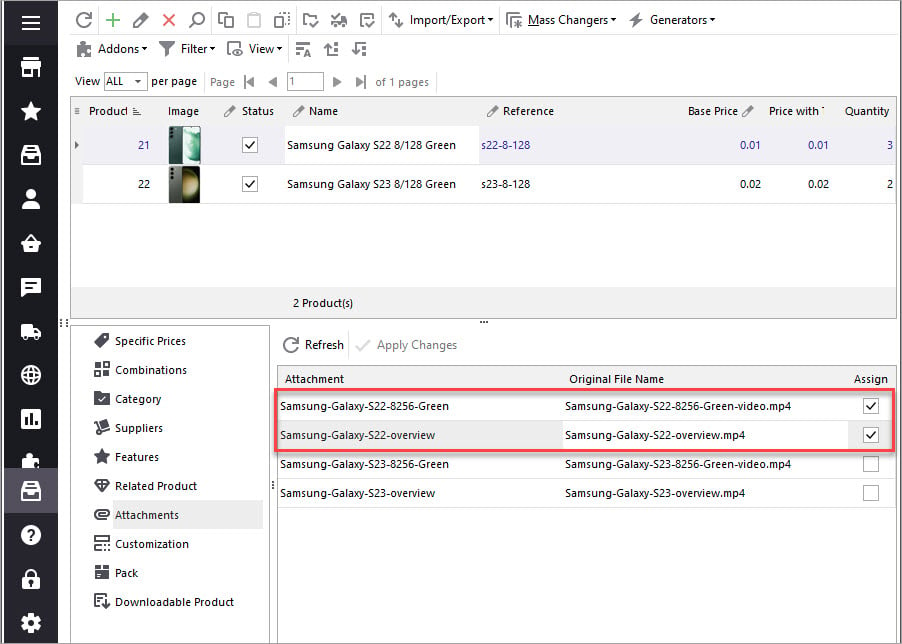 Method #2: Assign Existing PrestaShop Attachments
Suppose you have created additional files in PrestaShop, but they are still not ascribed to products. You can associate them to multiple products at once through import. Concerning attachment details, it is required to have their names in the file to get them assigned to products. When speaking about the product details, everything depends on whether you are updating or creating items.

We update existing PrestaShop products and our test file contains minimum product details. Whenever you are creating products, provide all the necessary info to make the listing prominent.
You can assign attachments using this method (having attachment file name in the import file) only if they already exist in Store->Attachments section of Store Manager application. They already exist in /download folder on FTP and now you simply link them to desired merchandise.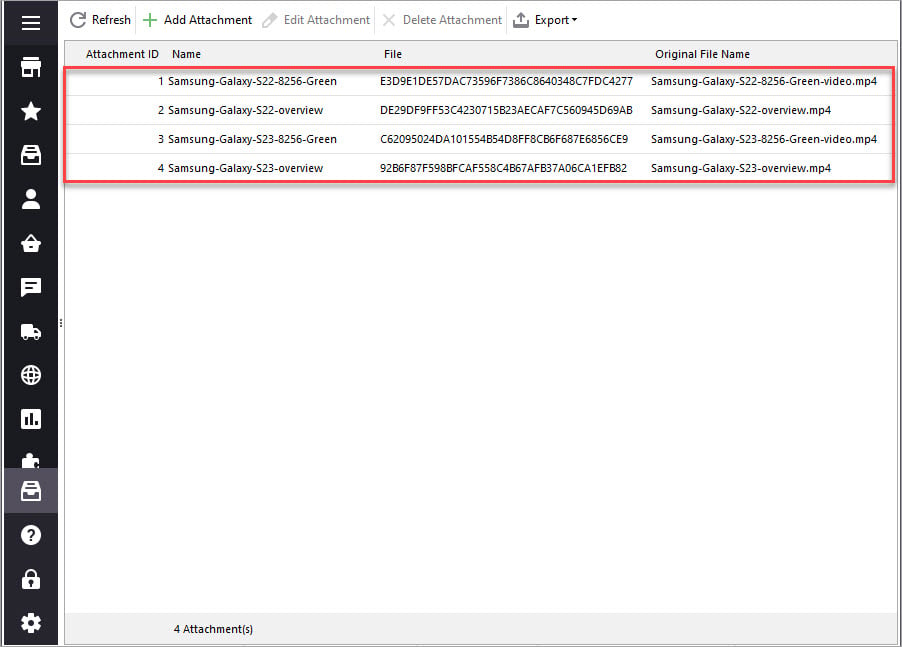 Having additional files arranged in the spreadsheet, you can fulfil ordinary import like it is outlined in this article – How to Import CSV Files to PrestaShop
Store Manager for PrestaShop provides you more flexible and approachable way to handle attached documents. Now you can massively assign attachments to all necessary products via import and avoid adding them on per-product basis.

Import PrestaShop Attachments FREE with Store Manager Import Now


Related Articles: