You have a great opportunity to work with Store Manager for PrestaShop in your native language. eMagicOne is constantly working on adding new languages to Store Manager to make your job more convenient and effective.
In this article, you can find tips on how to download property language file to Store Manager for PrestaShop.
You can download necessary language translation for Store Manager for PrestaShop here.
If you didn't find proper language in the list, we invite you to join Store Manager for PrestaShop translation project and get Primary license for free.
If the language you need is available in the current list, please click on appropriate language flag: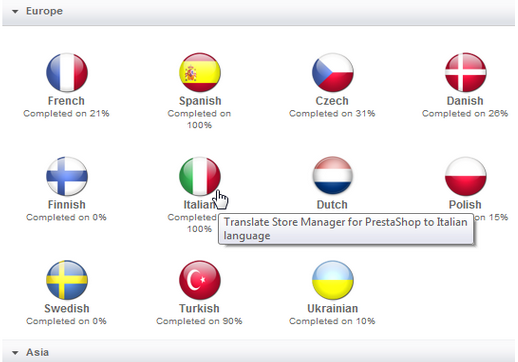 After that you will be redirected to translation page of the language you have chosen before. Here you can see translation status and download a necessary file.

100% progress means that translation process is completed. Pay attention to the red color strip at progress section. It means that text was not approved by moderator and may contain some mistakes. Green color of the strip signifies that text was approved by moderator and it is ready for download.
Now you can click at "download" button and save zip-archive with a translation file. Please, unzip it and copy to root folder of your Store Manager for PrestaShop.
For example – c:Program FileseMagicOneStore Manager for PrestaShop

Now you need to restart your Store Manager for PrestaShop. After that select appropriate language in "language selection list".

NOTE!  If you find any mistakes in translation, we invite you to sign up at Store Manager for PrestaShop Translation Project and suggest your translation variant.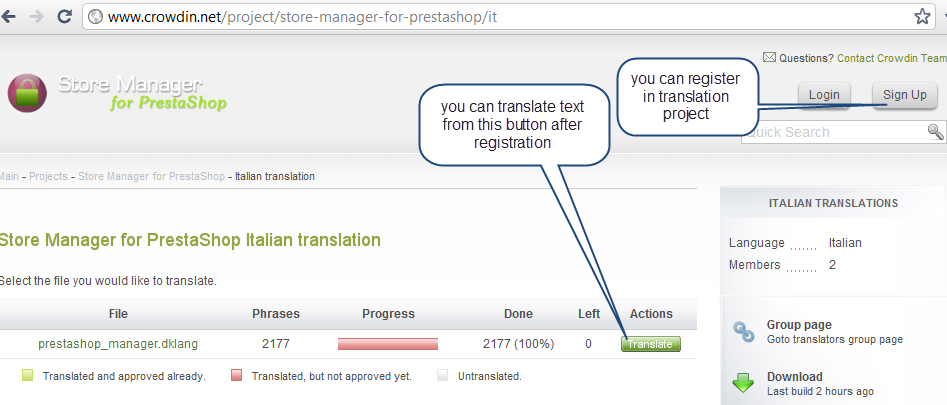 If you have any suggestions on Store Manager for PrestaShop translation, you're welcome to contact with our Support Team.