Sometimes you might find yourself in a frustrated situation when PrestaShop carriers, though having been configured in the back office, do not display at the checkout. Instead of desired carrier selections, this page displays the "There is no carrier that delivers to the address you selected" or "The product selection can not be delivered by the available carrier(s). Please amend your cart" error messagess. It may also happen that some shippers are excluded from the list.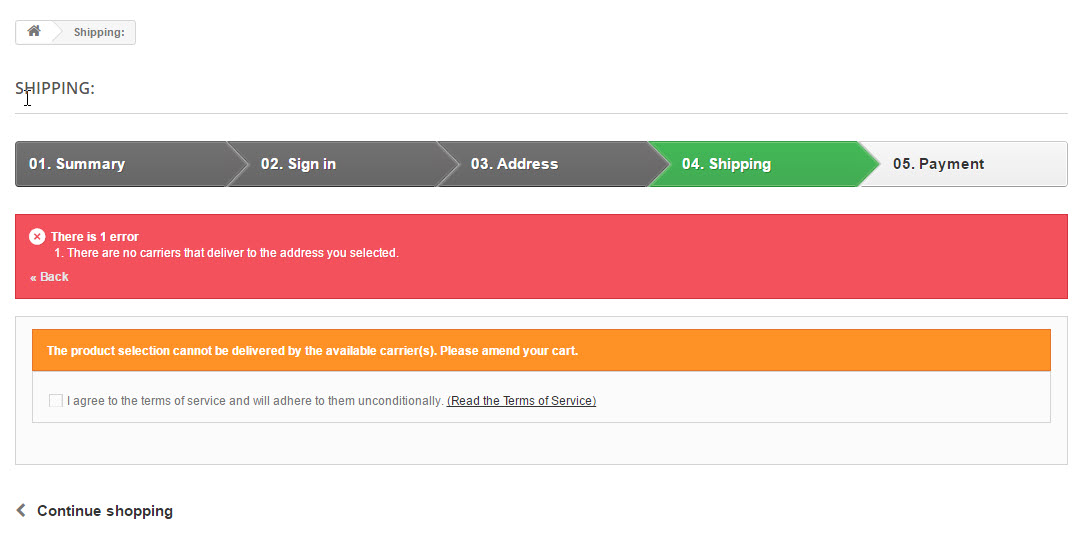 What do you do if such an issue occurs? What could prevent the carrier from being available? Below you will find possible reasons and what to fix if PrestaShop carriers do not display at the shipping configuration step.
1. A Carrier Is Inactive
PrestaShop carrier status is the first thing you should consider. Logically, being disabled, it will not be available for shipping. Check the status in the carrier grid and, if it is disabled, click the icon to activate it and get displayed for clients.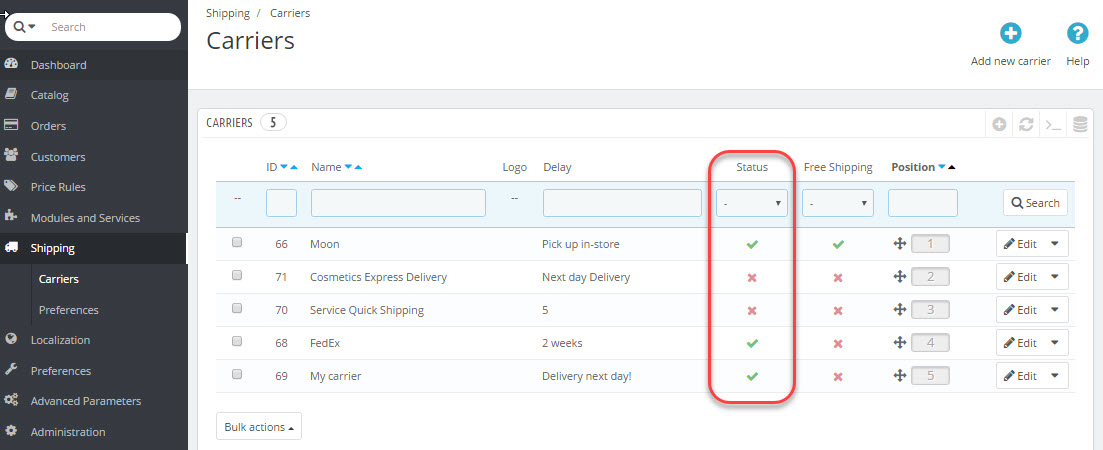 2. Incorrect Zone Assigned or Country Disabled
Zone association is among the first things to check if a created carrier does not show for a specific shopper. When configuring PrestaShop carrier, you are supposed to assign this very carrier to a zone where parcels can be delivered. If the carrier is not assigned to the zone that a customer's address belongs to, then it will not show as delivery method at the checkout.
If zone associations match but PrestaShop carrier still does not show, you need to check whether necessary countries are enabled for this zone. Navigate to Localization->Countries, select a corresponding zone from the dropdown and check inactive countries.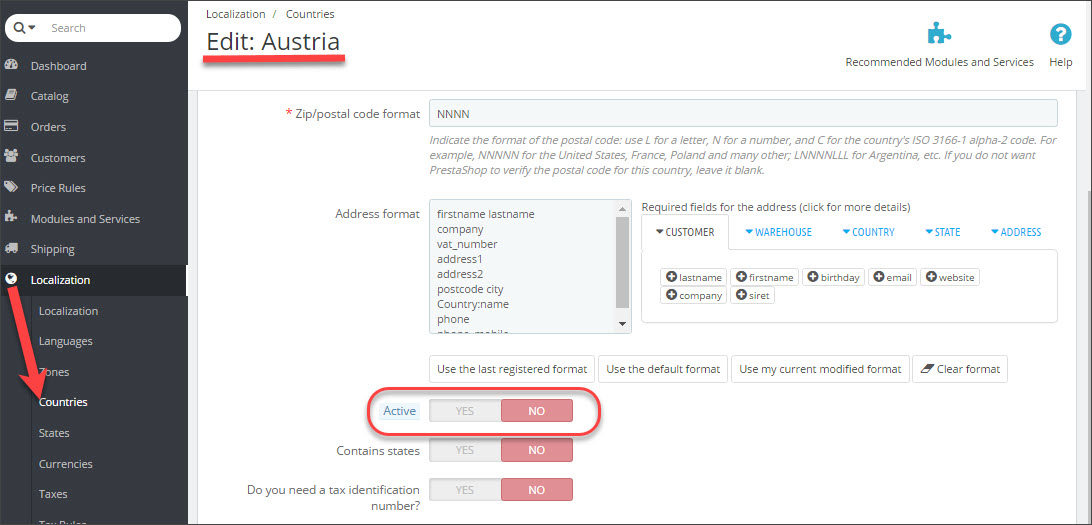 3. A Carrier Is Not Allowed for a Customer Group
This detail might easily be overlooked, since you can have hundreds and thousands of customers belonging to various customer groups. If some customer belongs to the group that is not served by the current shipper, it will not be offered as a delivery method for this customer.
Consequently, customer group association matters and you should check:
Which group current shopper belongs to (Customers->Edit Customer->Group Access).
Which groups the carrier works with (open carrier in edit mode->open Size, Weight and Group Access tab->check Group Access).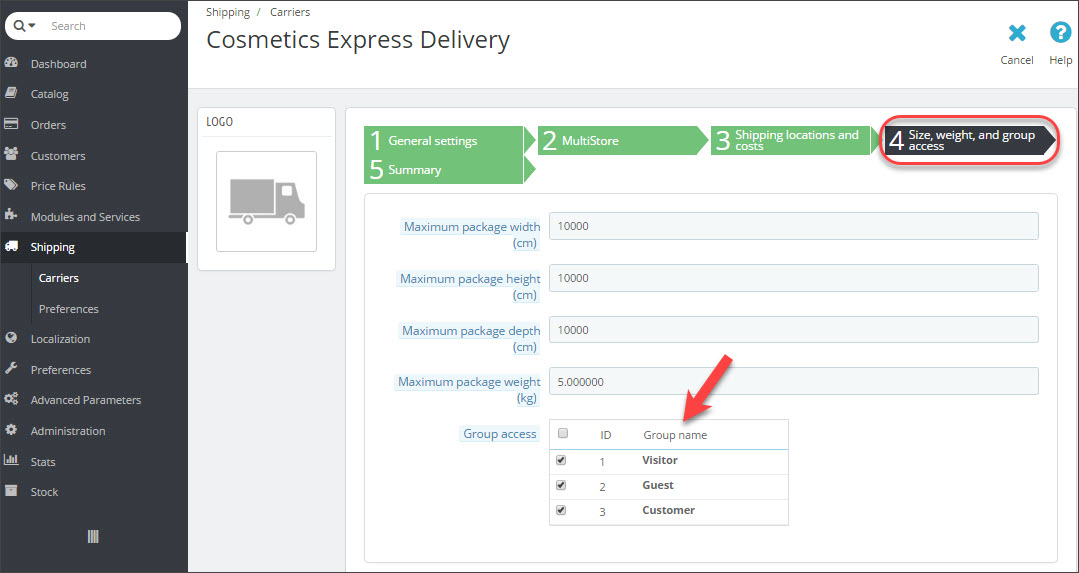 4. Weight or Price Ranges Are Not Specified
Creating PrestaShop carrier you usually define billing cost for each by one of criteria: order price or weight. Having selected a suitable method, you need to create ranges and set prices for them. In case ranges are not created, "The product selection can not be delivered by the available carrier(s). Please amend your cart" message will display at shipping step for customer.
To fix the inconvenience, add weight/price ranges for the desired carriers. To do so, enable carrier editing, switch to the "Shipping locations and costs" tab in the wizard, and create at least one range.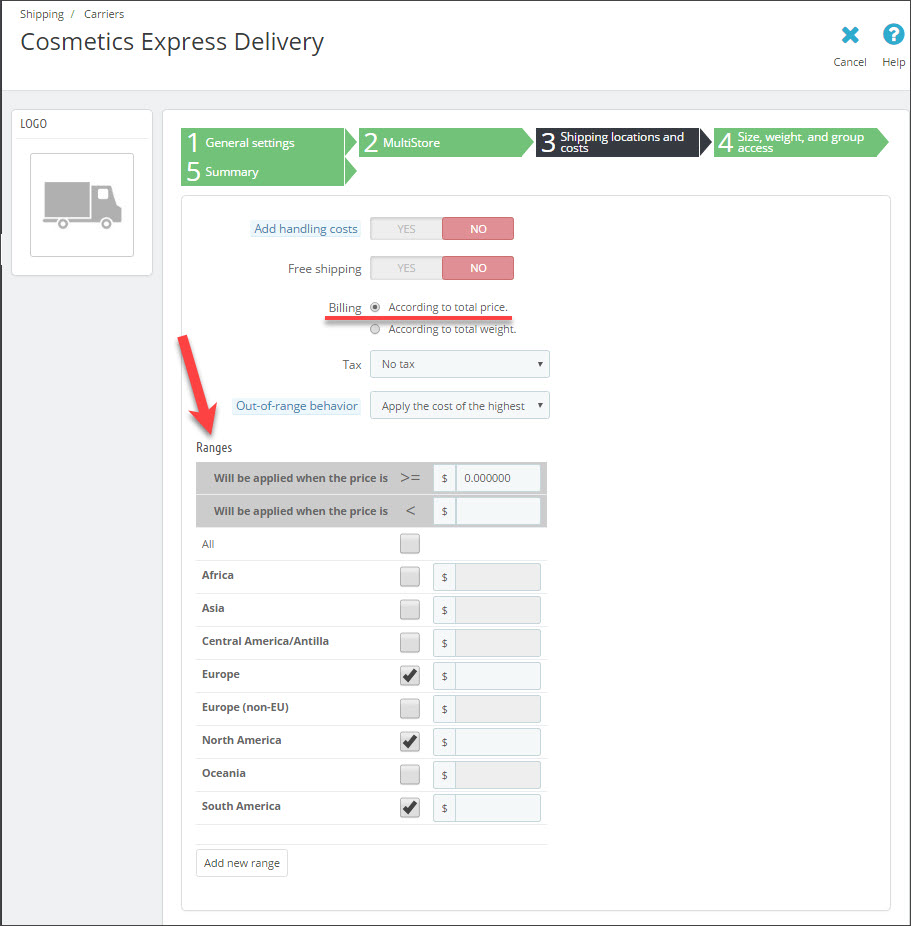 5. Package Dimensions Are Out of Range
If all above listed settings are configured properly but still PrestaShop carrier does not display at the checkout, you have to compare package dimensions with maximum dimensions PrestaShop carrier can handle. If package goes beyond these limits, carrier can't ship it and, respectively will not display as delivery method.
To check maximum height, width, depth, weight of package, shipper can deliver to your customer, open carrier in edit mode and move to "Size, weight and group access" tab.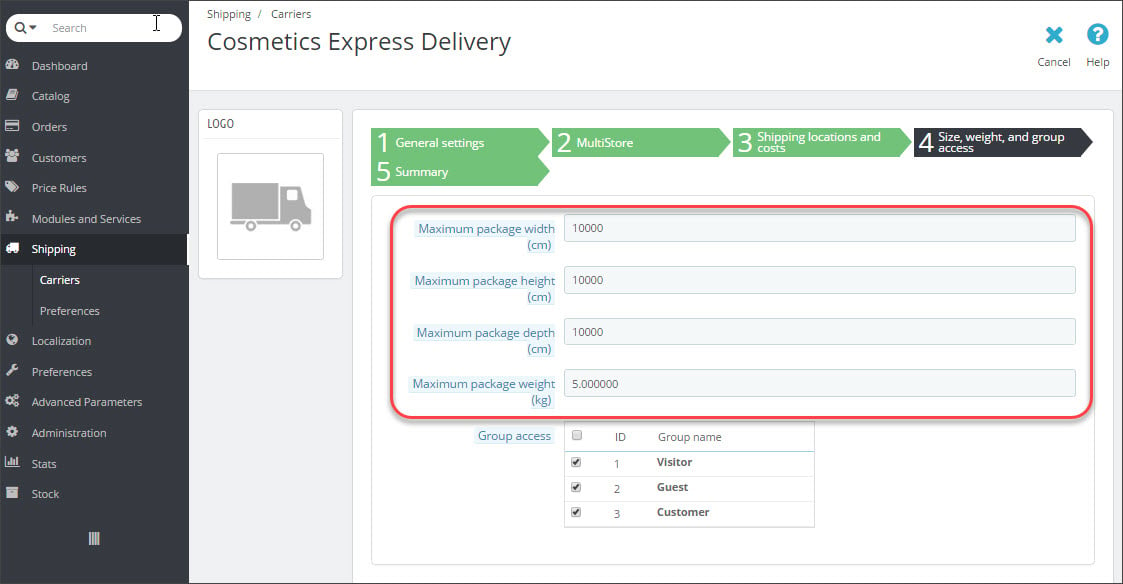 6. Carrier Is Not Assigned to a Warehouse
In case Advanced Stock Management is used for inventory tracking at your store, you should include this point into the checklist. Due to PrestaShop requirement, carrier must be activated for the warehouse, if product quantity is being handled via Advanced Stock Management.
Contrawise, no delivery methods will display. "There is no carrier that delivers to the address you selected" message will show for customers and they will not be able to complete the order process. To solve this, just check warehouse associations and make sure necessary carriers are linked (Stock->Warehouses->Edit Warehouse->Carriers).
Important:
In case no carrier is associated with a product in PrestaShop, all available at the store carriers will be shown at the checkout for this product.
In order to make carrier setup less time consuming and get delivery methods displayed instantly, check the points we have covered and consider them in advance.
Create Shipping Carriers and Assign them in Bulk via Store Manager for PrestaShop
Try FREE


Related Articles: