PrestaShop inventory is one of the most significant parts of a win-to-win store management scheme. Why stock management is of great importance? What does it bring to online merchants and why should they develop an ever-improving system of PrestaShop stock control? Keep reading and you will find our answers to these questions.
PrestaShop Inventory Management Scheme
Inventory is the dilatable concept of knowing, analyzing, and in-time updating the quantity of your products, their availability, and control of stock movements.
Automate and centralize all inventory-related tasks in one place, using Store Manager for PrestaShop application.
If you haven't installed Store Manager yet, download the
free trial
and connect the application to your store database using the wizard inside. Read about other
Store Manager tools
to simplify and speed up PrestaShop store management
Have not tested it yet? Give a try to the 14-day version to manage inventory efficiently! Download FREE
Fast Access to Stock Levels
With Store Manager for PrestaShop, you can view product quantity, stock status, check whether advanced stock management is enabled right from the product grid. This is very convenient since there is no need to open the edit products form to see inventory details.
Moreover, in case your products have combinations, you can view stock levels for variations in the 'Quantities' tab of the lower grid. Thus, again, moving through the product list you can control and manage inventory for selected goods. Out of stock products are struck out, so you could see them right away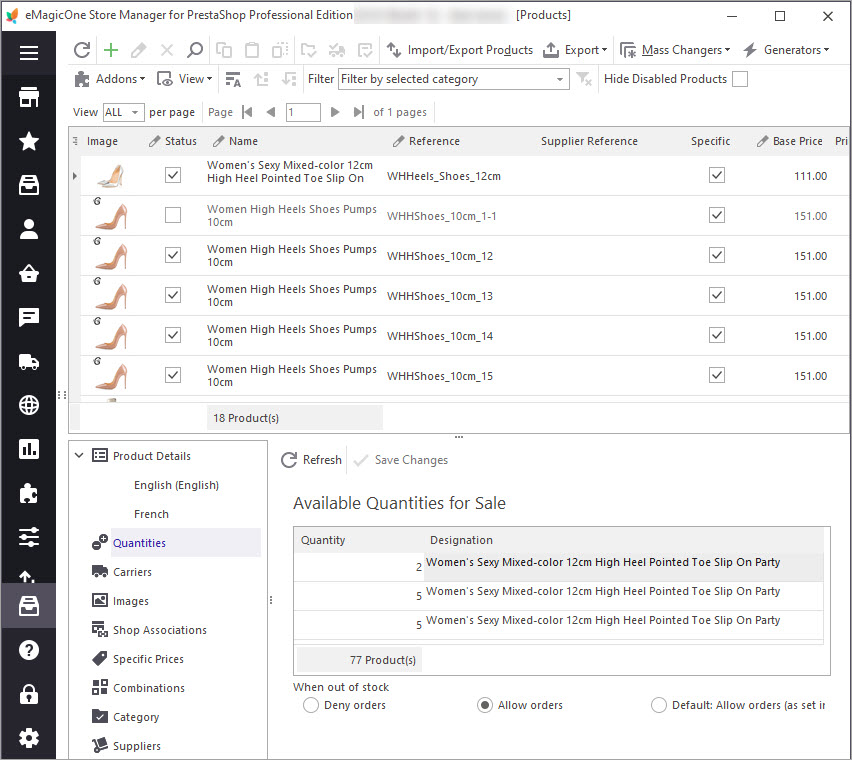 Manual Update of Available Quantities
As was mentioned above, in the lower grid you can view and manage available product and combination quantities. Here you can also indicate if you want to manage stock for this product based on warehouse quantity or specify an available number of items yourself.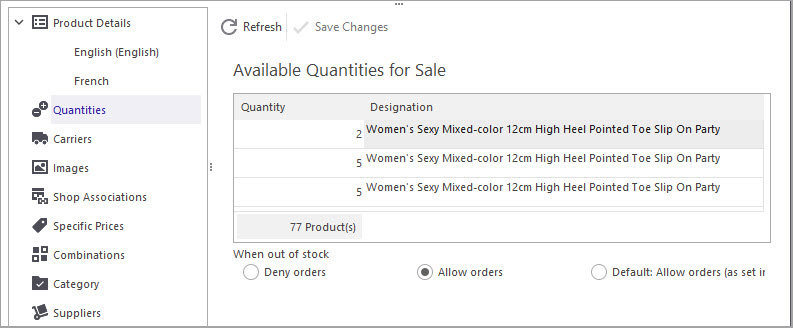 Advanced Stock Management
PrestaShop 1.5 higher has Advanced Stock Management (ASM) functionality allowing you to manage your stock more deeply. It is optional and not enabled by default. The merchants who activated it in their stores can manage products by a specific warehouse, check stock movements, coverage, and view inventory changes through clear and specific interfaces. Please note, that the stock management system was rebuilt at PrestaShop 1.7, so for the newer version, this option is not available in Store Manager as well.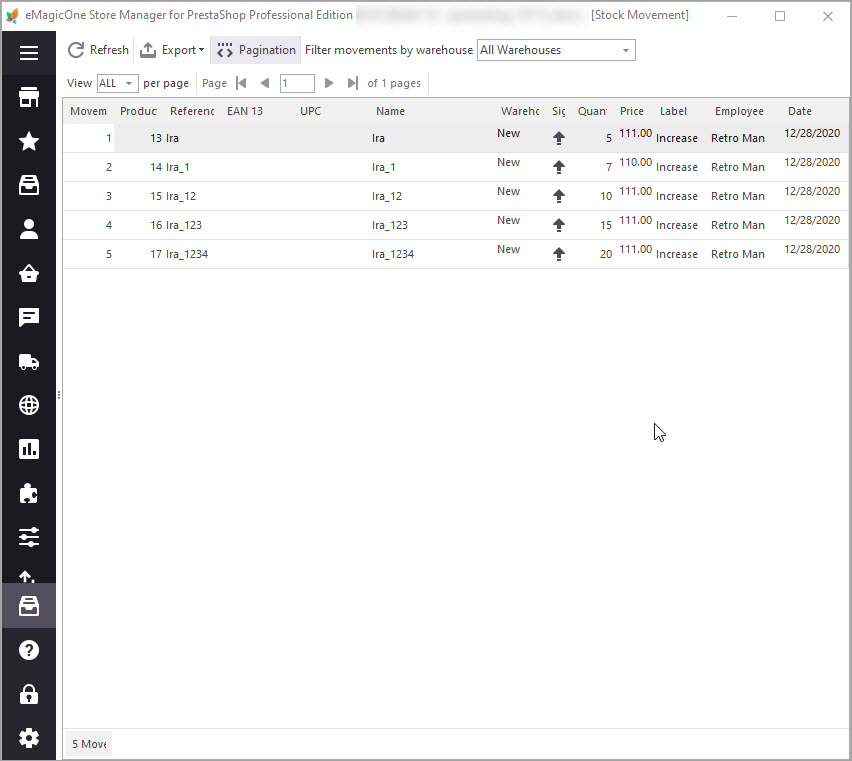 Store Manager for PrestaShop allows active usages of advanced stock management for products and assigns them to warehouses either one-by-one in the lower grid or in-bulk using the Mass Product Changer tool.
Bulk PrestaShop Inventory Updates via Mass Product Changer
If you need to add some number of items to existing stock levels or set the same quantity for a list of goods, you can do it massively via Mass Products Changer.

Select goods you want to change stock levels for, from product toolbar or context menu choose Mass Changers -> Mass Product Changer. There you can modify quantity by setting a fixed value or adding some amount of goods to existing levels.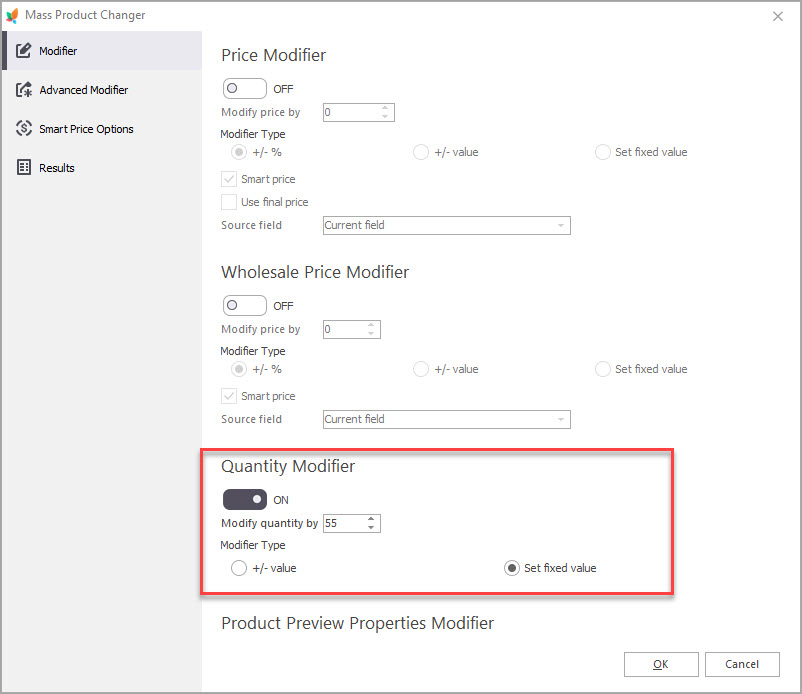 Note
Products belonging to ASM are managed separately and their stock movements can be viewed and in the 'Stock' section of the application. Goods with combinations can be bulk modified via Mass Combination Changer.
Export/Import for Stock Updates
In case stock levels to be updated differ from product to product, the best way to update them will be to import. Store Manager for PrestaShop supports multiple file formats, so you can use CSV, XML, XLS, XLSX, TXT, and ODS spreadsheets. So you can use any of the listed formats. Moreover, you can include only 2 columns in your file: reference (or other identifiers) and quantity.
Important:
To update warehouse stock via import you need to have the following required columns: product identifier, advanced stock management (assigning), depends on stock, warehouse, warehouse qty. Read more on import quantities to warehouses.
Automated Stock Replenishment From Supplier
Starting from version 2.27.1 version of Store Manager and higher, the ability to set up scheduled inventory updates directly from the supplier is available free in the app.
Automated Product Import addon allows configuring import from remote files (using the link to file or feed taken directly from supplier's FTP). This import configuration can be scheduled to run each predefined period of time – you decide the time and regularity.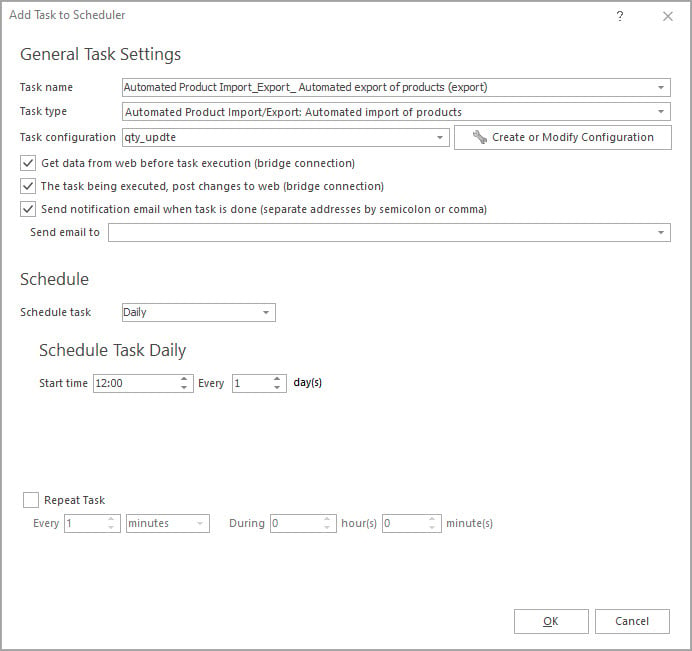 Stockage via Barcode Scanner
One of the important parts of inventory management is checking if your physical stock matches the one indicated on the website. To ease the procedure of stock-taking is possible using the barcode scanner and Store Manager for PrestaShop.
You will be able simply to scan a barcode, quickly find the item in your catalog, see its quantity, and make necessary corrections.
Syncing with Other Sales Channels And Accounting Systems
If you are selling goods at different marketplaces apart from your online store, you can keep track of their inventory in one place. Synchronize product quantities at your PrestaShop store with listings on Amazon, eBay, and Etsy and get all sales in one place to keep full control overstock from one system.
Advanced Reporting and Analytics
Make a real analysis of your actions, sales, leftovers, and incomings. Get a snapshot of your current product inventory products and their approximate valuation using the sock movements section of the application and Store Manager reports.
Highly-effective PrestaShop inventory control premises for arising full-feature PrestaShop shopping mall which will handle thousands of products. Maintain "financial health" of your e-store with optimal software – Store Manager for PrestaShop.
Manage your PrestaShop stock in several ways with FREE Store Manager! Manage Now


Related Articles:
COMMENTS