Store Manager for PrestaShop drew attention of numerous online merchants worldwide, its popularity constantly increases and, respectively, there arises the necessity to make the software multilingual. eMagicOne company provides current and would-be PrestaShop users with ample opportunity to participate in Store Manager translation projects to make PrestaShop Store Manager multilingual: start new translations (transfer the application to the language no one has translated to previously) or better current translation (if locale is incomplete you can proceed with translation and provide its full version) Applications, we develop, are being permanently enhanced. Each program release brings new functional capabilities and improvements that should also be translated and come in different languages. If you find it interesting and wish to commence on Store Manager translation, please, familiarise yourself with terms and conditions provided below.
How to Start?
Check whether the application has been translated to the language you selected. Locale list and percentage of translation completed is accessible in the table below.
Contact Support team to confirm that the translation project is active. Familiarize yourself with requirements provided in PrestaShop translation guide
Join the project https://crowdin.net/project/prestashop-store-manager/invite. For that you need to register at https://crowdin.net/join. In case your locale is not accessible in the list, сontact us and let us know what language project you need.
Once you are done with translation, inform us. As soon as we accomplish verification we will inform you. Note, it can take up to 2 weeks.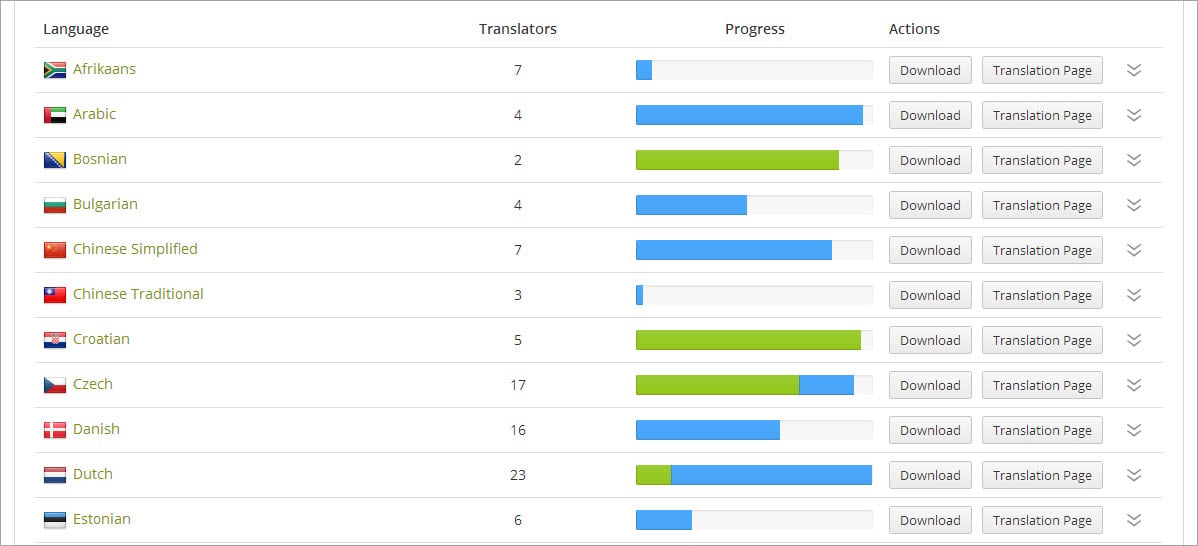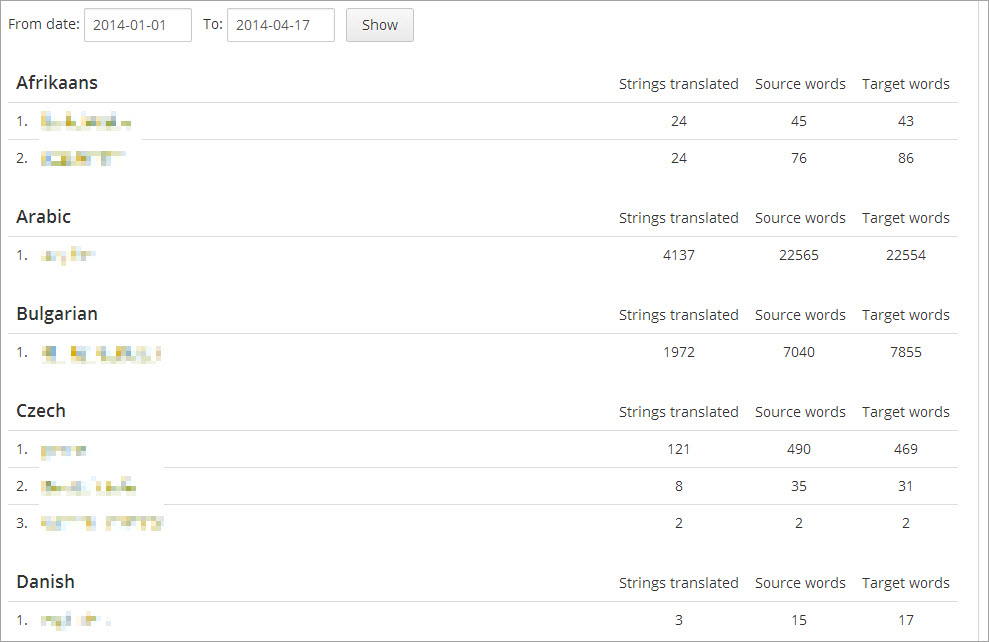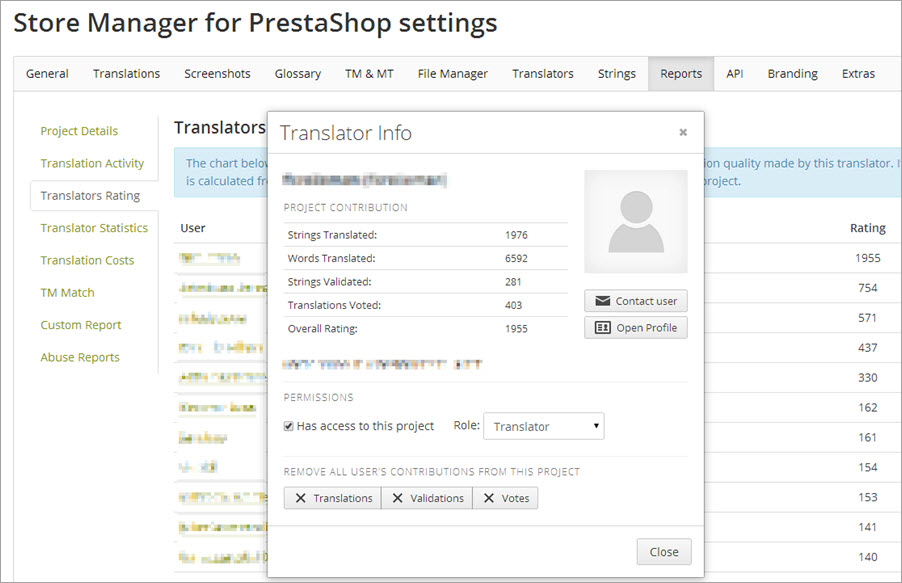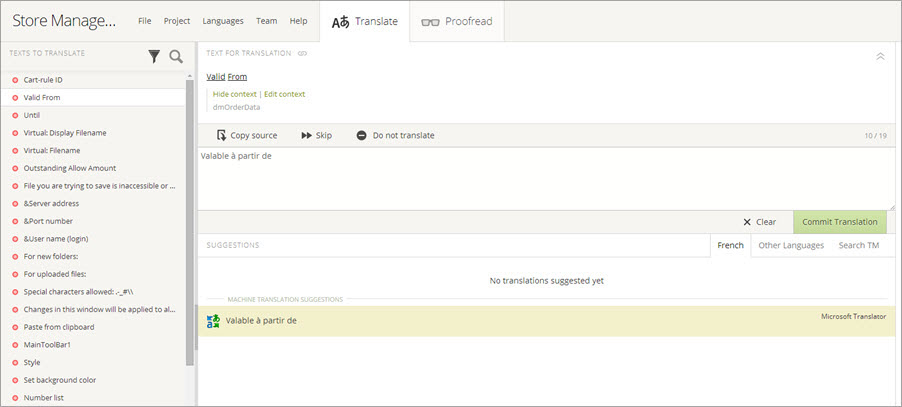 Before starting translation process, you should confirm the translation with eMagicOne team via support center – https://support.emagicone.com/submit_ticket.
Important! In case you have finished previous translation and are planning to move to a new translation, you should confirm it with eMagicOne team at the very beginning. Otherwise translator reward will not be provided.
TRANSLATOR REWARD
Get up to 30% discount on Store Manager, or Store Manager addons.
For the partial translation (the latest version of Store Manager might have new phrases to be translated) get 1 month of the Update and Support Service for free. You should contact support team to confirm that the reward is available for the specific language/product.
Accuracy
Some translators ignore grammar or syntax rules when proceed with translations or resort to tools of machine translation (Microsoft Translator or Google Translator). We reserve the right to withdraw (disable) the license you had got a discount for if the translation is inaccurate, insufficient or other users make complaints about it.
Read PrestaShop translation guide that provides an instruction and hints on how to proceed with Store Manager translation.
*Please note, bonuses are offered for Store Manager translation only. It means that translations of other products (e.g Mobile Assistant) is not promoted.
As it was mentioned above, you can get up to 30% discount on Store Manager for PrestaShop license once you translate 100% of original text. Although, you have the possibility to acquire discount for other eMagicOne products. If you regularly participate in translation projects you get the following privileges:
each time new Store Manager version is released and new text has been added, translation will be reduced by 10%
having translated text and reached 100% you will get free Store Manager updates. You should contact support team to confirm that the reward is available for the specific language/product.
[crowdin link="true" full="true" ]
Please note that these percentages are not updated on this site. If you want to see Store Manager in other languages install language packs and check what % of translation is available for your language.
Related Articles:
COMMENTS
Yannick DAPRE • 11/17/2020
Bonjour, j'ai acheté le module Store Manager sur addons Prestatshop et lorsque je souhaite me connecter au module on me demande une licence. Ou est ce que je peux la trouver?
PrestaShop Store Manager

Mod
Yannick DAPRE
• 11/18/2020
Hello, Yannick!
Please send you order ID or forward your order confirmation email to con[email protected] and we'll create a license key for you.
Feel free to write if you have any other questions.