Currently PrestaShop users have at their disposal numerous tools, that contribute to developing one-of-a-kind profitable e-store. QuickBooks can be defined as a line of accounting software packages, designed to simplify web store management tasks and help internet vendors stay organized.
Operating with QuickBooks, you have numerous avails, namely:
automatic billing system;
helpful status reports;
accurate expense management;
fast taxes setting.
Store Manager for PrestaShop solution makes integration with QuickBooks flawless and efficient by means of PrestaShop QuickBooks Integration Addon. With these solutions you can rapidly synchronize data between PrestaShop and QuickBooks, fulfilling:
product export
Customer export
Order export
Product import from QuickBooks
Enumerated procedures are being undertaken via corresponding export/import wizards, that ensure the accuracy and consistency of data transfer. Wizards accomplish complete and precise integration of customers, goods and orders. The possibility of error occurrence is insignificant if compared with manual data entry. QuickBooks Integration Addon greatly reduces time spent on data synchronization and appends information quicker, it has been ever done.
PrestaShop Products Export to QuickBooks
First of all, define, what inventory should be exported to QuickBooks. You may select certain products in Store Manager or append all the products. It's also possible to specify products to be exported after the export wizard has been launched, using filter functionality. The wizard tool can be started up either from context menu of entity you export or from Store Manager Addons section. At further step you need to connect to QuickBooks accounting software.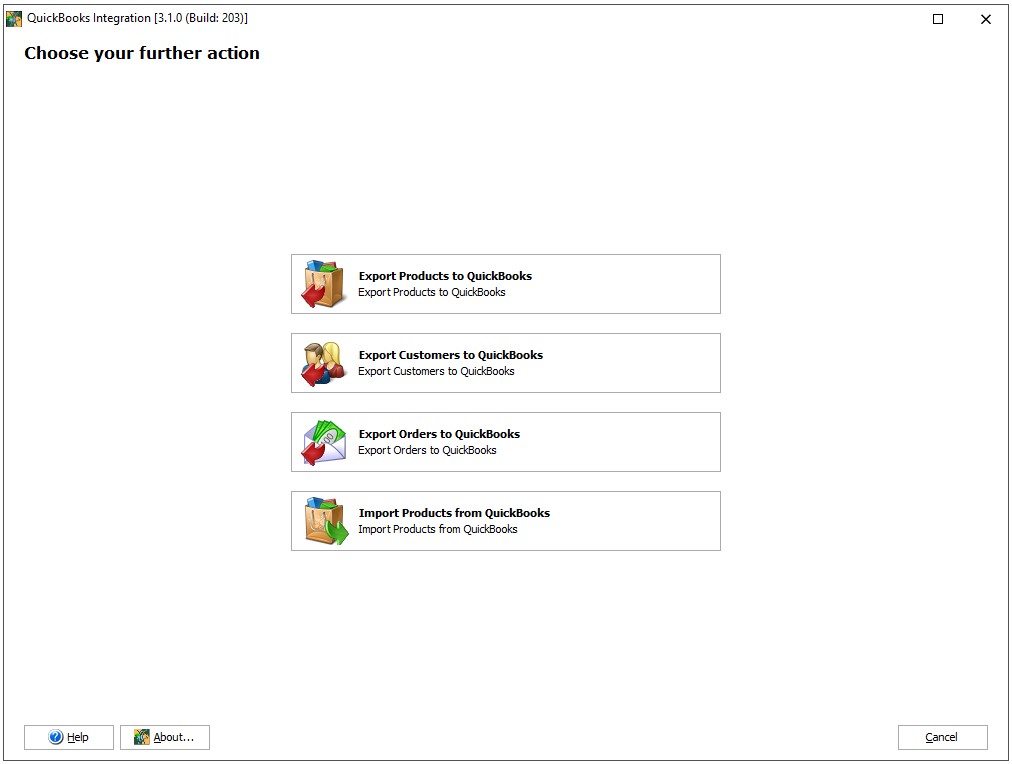 Depending on what operation over products you should accomplish (renew, create products or both), opt for suitable export method. You can choose between four product types, QuickBooks foresees. PrestaShop QuickBooks Integration Addon allows to export products as inventory part, non-inventory part, service or other charge. Whenever you need 'quantity' field to be exported, select 'inventory part'. At this step you can operate with product taxation.
Note, dot sign should be used as decimal when operating with QuickBooks, otherwise data won't be processed properly and the addon will show you an error.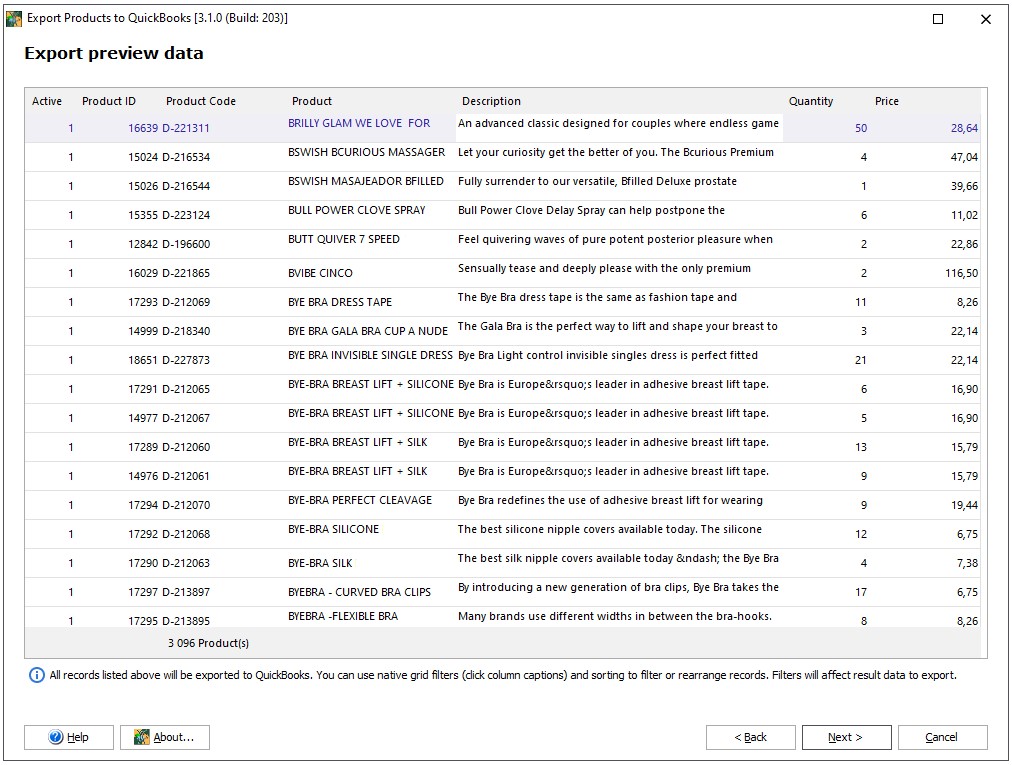 Orders Export to QuickBooks
PrestaShop orders to QuickBooks export is an analogous procedure. First of all, it should be mentioned that orders can't be updated, only created. You need also to specify customer name identifier. An order can't be created without customer. On Export Options step of data transfer to QuickBooks you have to check 'Create customer if doesn't exist' box in case there is no customer. In such a case customer will be created first, and after that certain order will be added to QuickBooks. If this option is enabled and no customer exists, order won't be created in QuickBooks. There is also the possibility to create all the orders needed for one customer.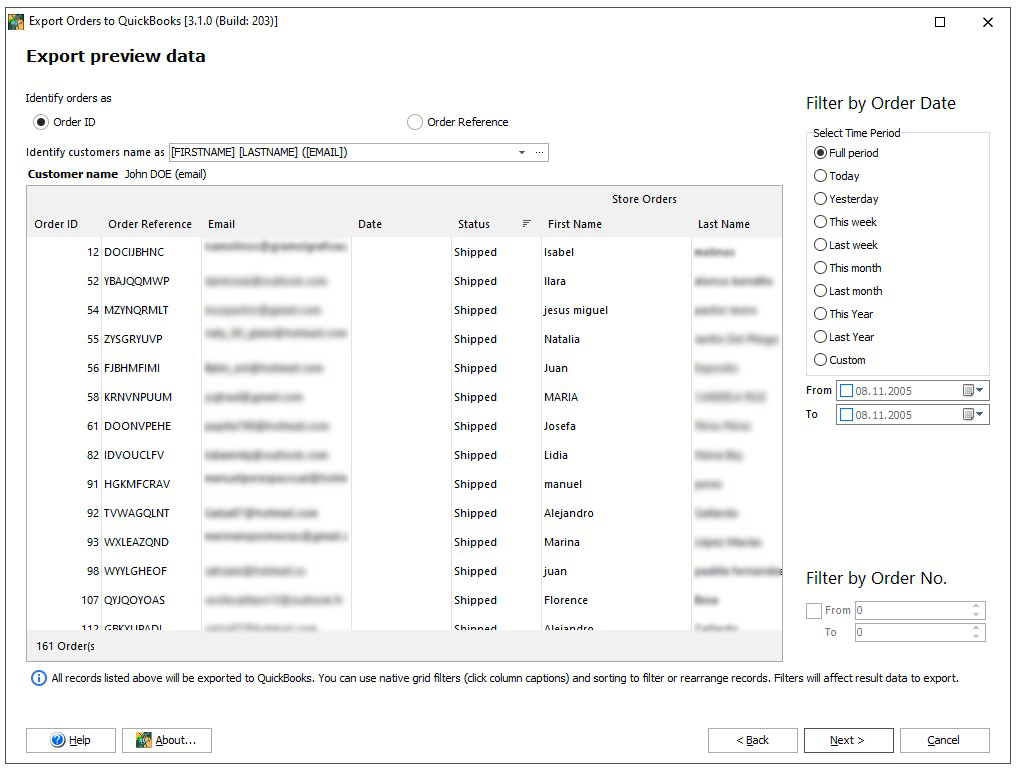 PrestaShop Export of Customers to QuickBooks
Exporting customer data to QuickBooks system you can only create, only modify customers or perform two operation (add and renew) simultaneously. At certain step of customer export you should specify customer identification method. The addon will search for customers, depending on selected method of identification.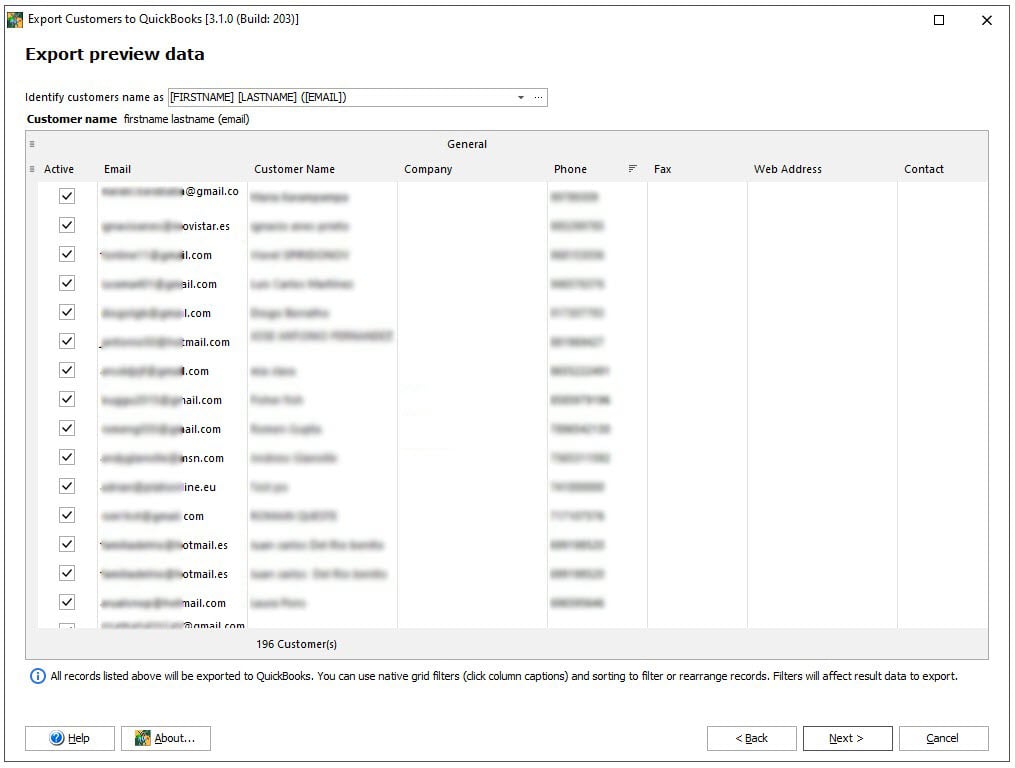 Import Products from QuickBooks to Store Manager
With QuickBooks Integration Addon you can update products, carrying out products import from QuickBooks accounting system. When uploading products to Store Manager you have to designate import method (create and modify, create only or modify only), type of items you append to Store Manager and field you need to update. Check boxes for fields that need to be renewed in Store Manager. On condition that you add new goods to your store, specify Default category name, they will be placed to. If specified category does not exist in Store Manager it will be automatically added after data import.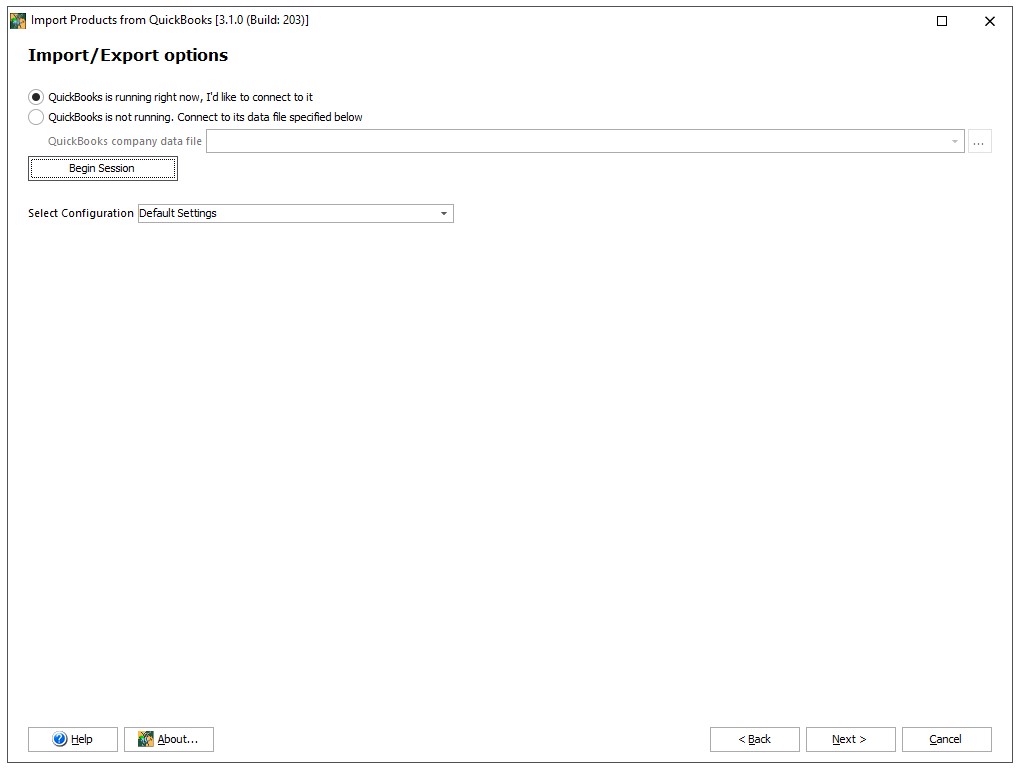 Note, QuickBooks Integration is Store Manager addon and it does not operate separately. In order to use the addon you should have Store Manager for PrestaShop installed. The plug-in is built in the application and runs in demo mode. Thus, you can manage 5 PrestaShop products only. To fully uncover addon functional capabilities you have to register it with purchased license key.
PrestaShop QuickBooks Integration Addon is compatible with QuickBooks Pro, Premier and Enterprise editions.
The full list of supported versions you can check here – https://www.prestashopmanager.com/prestashop-quickbooks-integration
If you have any suggestions on PrestaShop QuickBooks Integration Addon, you're welcome to contact our support group.


Related Articles: