Selling goods or services online, a buyer and a seller enter into an agreement to when completing a transaction. Thus, this agreement is official, it should be recorded or documented with appropriate electronic documents.
The types of documents you send out to your customers depend on the type of your business. In PrestaShop the most common ones are – invoices, delivery slips and credit slips (memos).
Let's discover each notion and then compare them.
Invoice
Invoice is the method of recording the sale of goods or services provide. Basically, it is the bill for purchasing from your company.
Each time an order from your shop is validated, an invoice is sent out to the customer. Invoices contain such information as shipping and billing details, description of goods supplied, rate, expenses, total order amount calculated, payment method, carrier etc. Moreover, PrestaShop invoice can be adjusted to show information relevant for you as store owner and for your clients.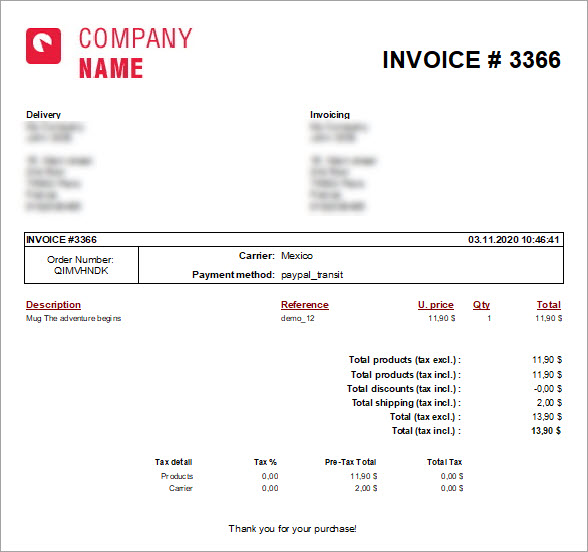 Delivery slip
A delivery slip is a document included with an order when it is shipped to the customer which shows what items are included in the package. There you will also see company logo, purchasers' information, but not financial info (price).
PrestaShop delivery slip can be included inside the package/box or enclosed in an envelope attached to the outside of the package.
Generally, this document accompanies goods at they way of shipment, listing description, grade, and quantity of the goods delivered. It serves two purposes: helps the receiver make sure that all the correct items were delivered and also is a proof of package delivery, as a copy of the slip, signed by the buyer, is returned to the seller. This will help the business to estimate the expenses and ensure better level of customers' satisfaction.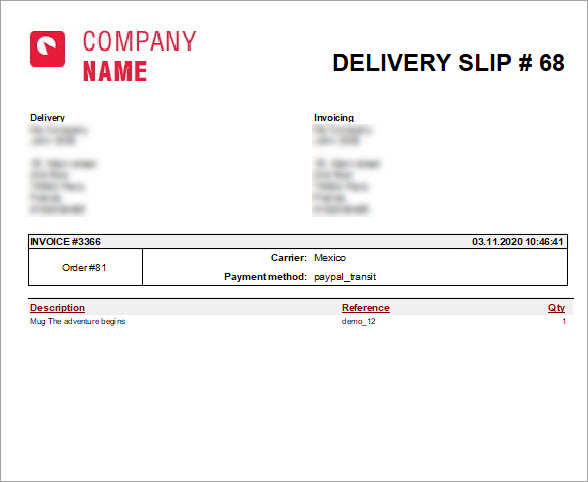 PrestaShop Credit Slip
It is often required to be able to correct an order error or provide some way to return credit to a customer of your shop. In this case you will have to create a PrestaShop credit slip.
Credit slips are receipts that are issued by you (the merchant) to your customer that acknowledge an accepted return of merchandise.
PrestaShop credit slip is generally created AFTER you have confirmed the return of a product from a customer. You must therefore start in ORDERS section.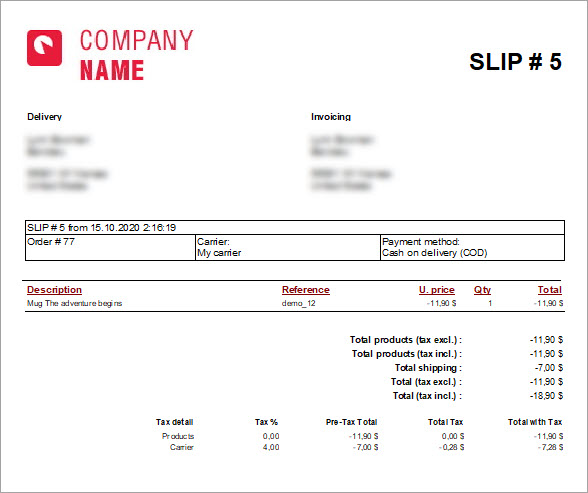 Invoice VS Delivery Slip VS Credit Slip: Comparison
| Criterion | Invoice | Delivery Slip | Credit Slip |
| --- | --- | --- | --- |
| Purpose | Bill of a sale transaction | A note sent to the buyer informing about contents of the package | Return of credit to customer in case of refund |
| Contents | Shipping, billing details, total, products | Products ordered | Total returned for ordered products |
| When sent | After order is confirmed or with goods | Along with the despatch of parcel | After refund is confirmed |
| Recipients | The one who paid | The one to whom the order is delivered | The one who paid for the order |
Summary
Discussed above documents are important when you are online merchant as well as the buyer. Get in the habit of processing managing them properly now even if it seems like a lot of work. One day you will say "thank you" for every detail kept filed away.
With Store Manager for PrestaShop software, you will be able to generate invoices, delivery and packing slips for multiple orders massively –


Related Articles: