When managing such order materials as invoices, receipts or delivery slips, it would be very convenient to be able to create, edit and print them from the same location. Store Manager for PrestaShop implemented this option, so you could avoid transferring the documents from one place to another. Let's discover, how we can print such materials in few clicks and within one window.
How to print PrestaShop invoices/Receipts/Delivery slips using Store Manager
Go to 'Order' section on the main toolbar. After that select from the list of orders the one you need to process. Besides, Store Manager for PrestaShop provides you with a possibility print the materials in bulk. To do that, you have to choose all the necessary orders. Invoices, receipts or delivery slips related to the order(s) you've selected is available for printing.




Choose the type of document to be printed next. Whether you select invoice, receipt or delivery slip, afterwards you will get the same list of options to manage the process of printing. Besides printing, you can save the file, export it to PDF, send it by E-mail etc. using the icons on the toolbar.





You can also apply some changes to page properties including its size and orientation etc., if you go to Page Settings. Such alterations can be applied either to this page only or to all pages at once. Besides, you can edit the page content, using a bulk of editing tools, if you press 'Edit Page'.

When the file is ready to be printed, press on a printer icon and check the print settings. After that press 'OK' and have your document printed.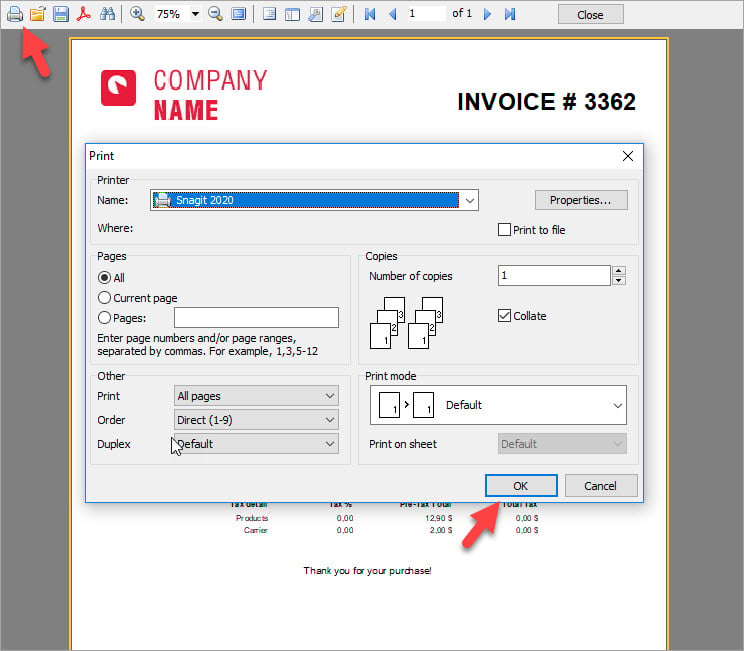 Advantages of POS print support
Print support of PrestaShop Store Manager delivers a solution to those annoying inconveniences brought by impossibility to handle POS materials quickly and with no effort. For instance:
It excludes the necessity to spend time on searching for the file, converting it into the needed format, saving it to your computer and after that printing it. All these manipulations can be accomplished at one place, using the options from the same menu.
All invoices, receipts and delivery slips related to any order can be easily found and handled within one window.
You can modify templates of the documents adjusting them to your purposes. For example, you are able to add your store logo and make your invoices, receipts or delivery slips branded etc.
Use the efficiency and practicability of PrestaShop printing support and operate your business in a much more convenient way. Update Store Manager for PrestaShop or download free trial version if you are not still using it.
---
Print PrestaShop Invoices, Receipts and Delivery Slips – Free Download
---


Related Articles:
COMMENTS
Alessandro Fanton • 10/10/2019
Hi, Andrii from your staff said me to write you here. I would like to have more details about printing documents with Store Manager. I want ti send you some files. Please send me your mail address. Thanks. Best

PrestaShop Store Manager

Mod
Alessandro Fanton
• 10/10/2019
Hello Alessandro,
Thank you for your request.
Please send us invoice examples here ([email protected]), so we could check them.
Waiting to hear from you.