If you are familiar with PrestaShop platform, you definitely know that it allows you to offer products with options. You create attribute groups (like "Size") and attributes (like 36, 37, 38, 39) and PrestaShop will generate product combinations based on the attributes.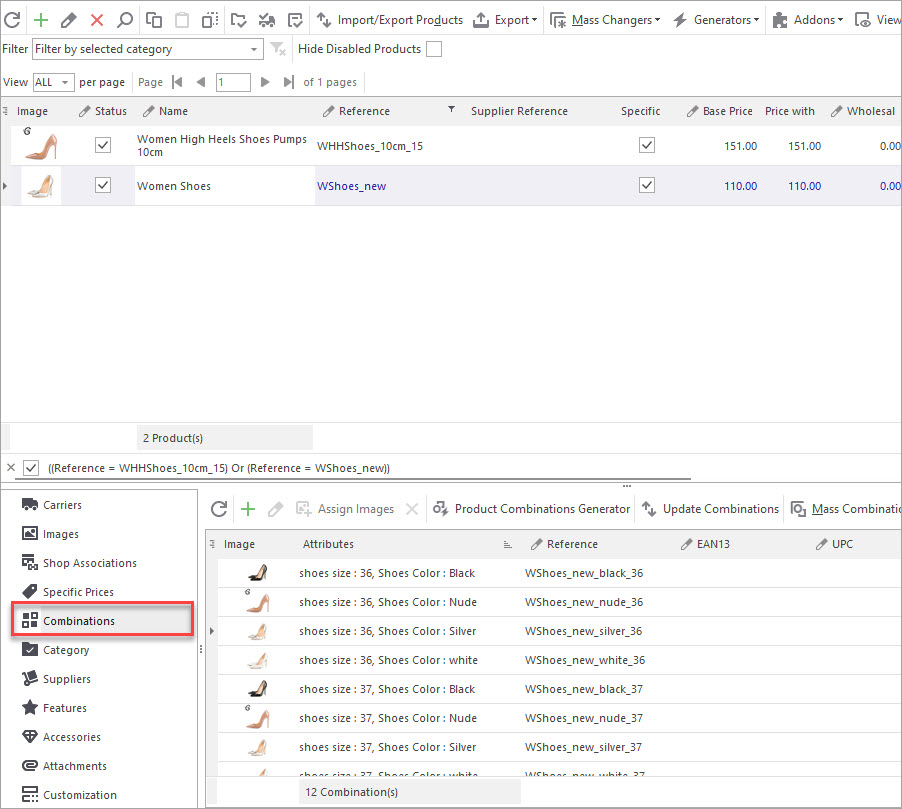 And here comes the challenge. If you have multitude of products with variations, which you need to update, it takes quite a lot of time to handle them manually. Imagine that you need to add some attribute values to the PrestaShop products or change the quantity for numerous combinations. This task can be accelerated via PrestaShop combination export/import. You can export necessary combinations to the file, change or add fields, and upload this file back to PrestaShop.
In this manual, we'll describe how to perform PrestaShop combination export via Store Manager for PrestaShop. Follow the steps below to get attributes and combinations smartly organized in the file for modifications and adjustments.
Also read our guide on how update PrestaShop attribute combinations via import.
A Step-by-Step PrestaShop Combination Export Instruction
To export PrestaShop attributes and combinations via Store Manager, open the application and navigate to Menu => Import/Export => Import/Export Products.
If you haven't got Store Manager yet, download the
free trial
version and install it on your computer. Connect the application to your store database following the
instruction
.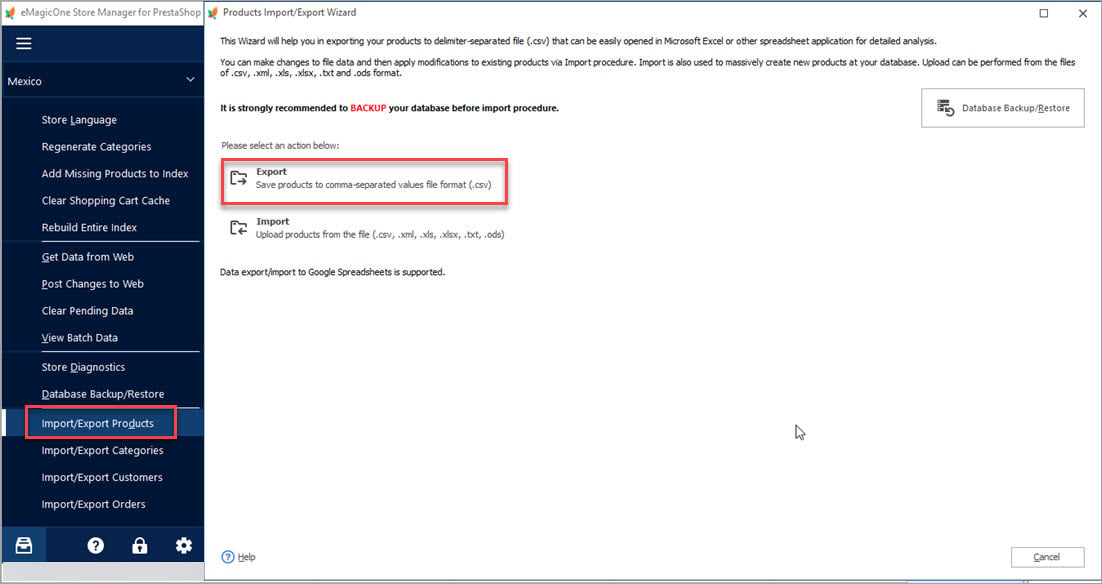 Select the Export option and the wizard will launch.
Next, define the products whose attribute combinations must be imported. The wizard offers you three options – export all products, products from certain categories, or filtered products. If you created filters earlier, you can apply them now. Otherwise, configure the filter directly in this window.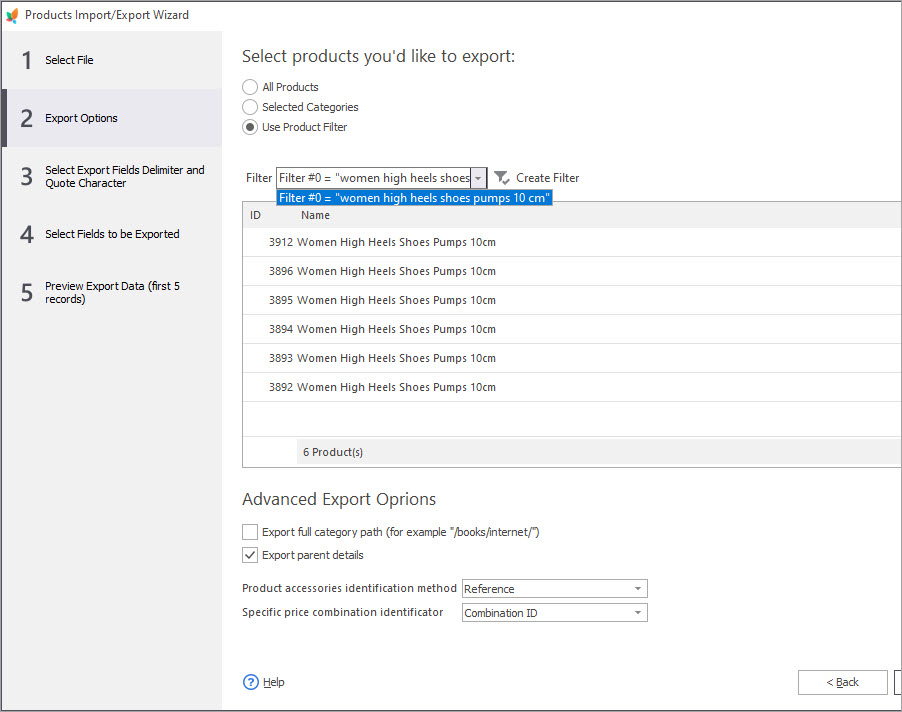 Consider Export parent details option. If you want to export main product details (for example name) for each combination, enable this option. If you leave it unchecked, main product details will be exported to one combination only
Determine separators that will be used to detach records in the file and configure other settings available in this window.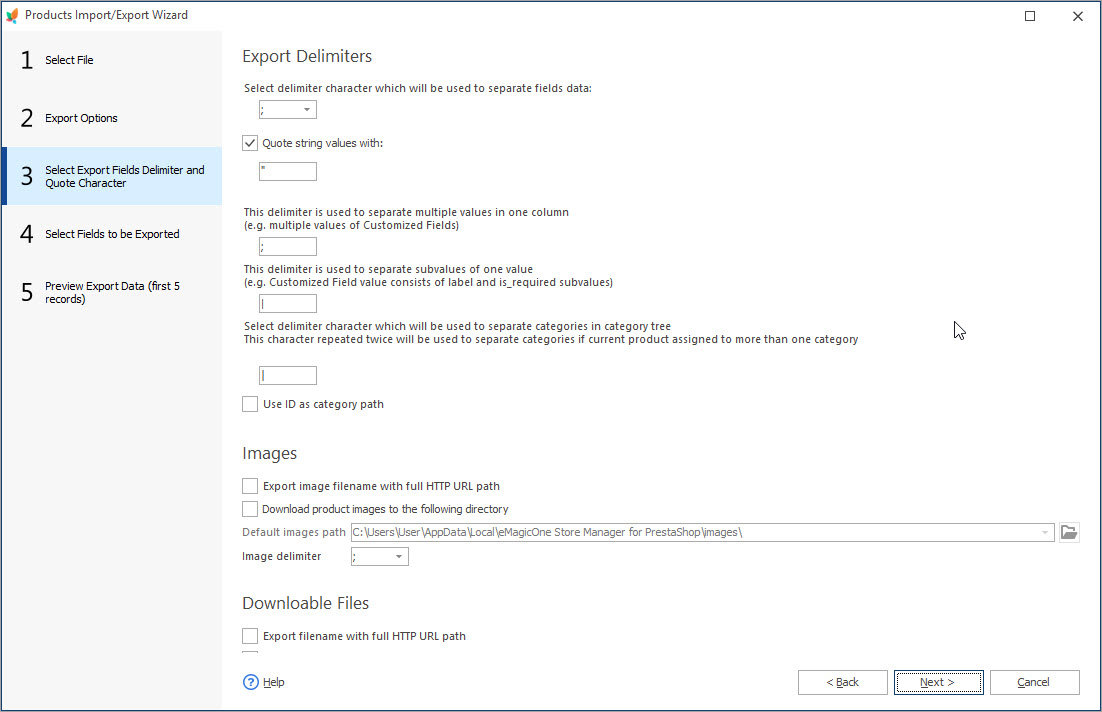 Now select the fields that will be exported. All product related fields are listed on the left. Pick the fields related to combinations and attributes. To keep relations and get properly arranged spreadsheet, consider adding the following fields too:
Products identifier, that will show to what product attribute combinations belong (Product ID, reference)
Attribute groups to which product attributes refer. If, for example, products differ in colour and size, you must select the following fields – Attribute group: colour and Attribute group: size. These columns in the .csv file will contain attribute values – green, blue, white, L, M, X, etc.
Combination associated fields. Choose other details of attribute combinations that you want to export: Combination Price, Combination Quantity, Combination Wholesale Price, etc.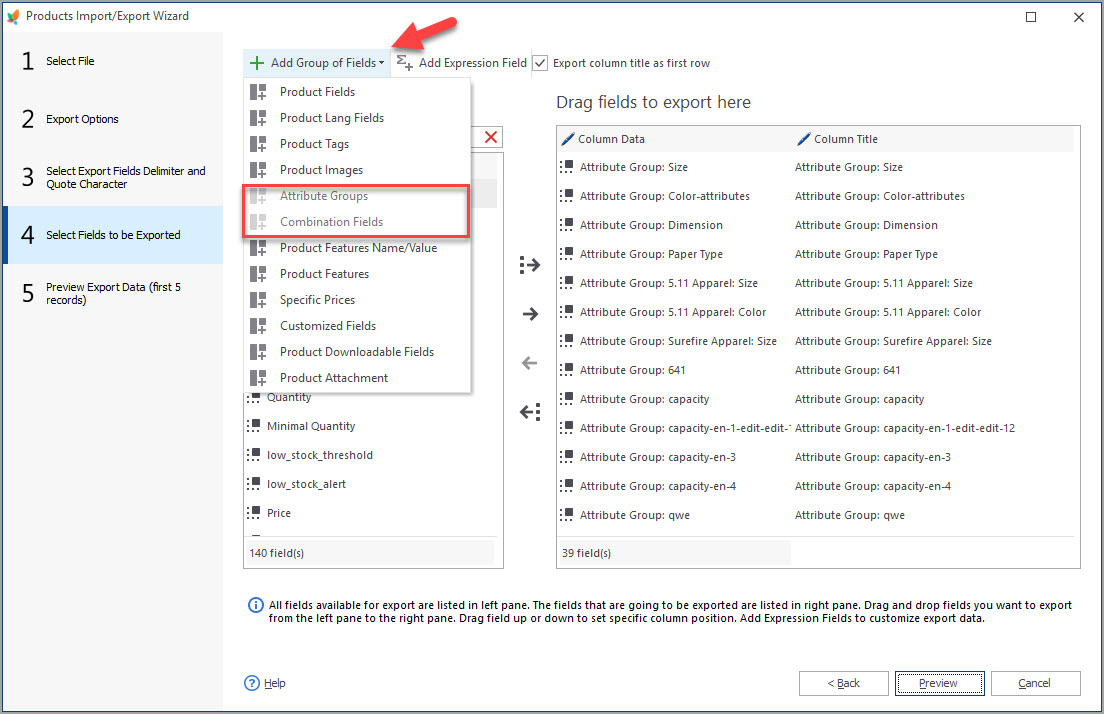 Check the information you are going to export on the Preview Export Data step, and click "Export".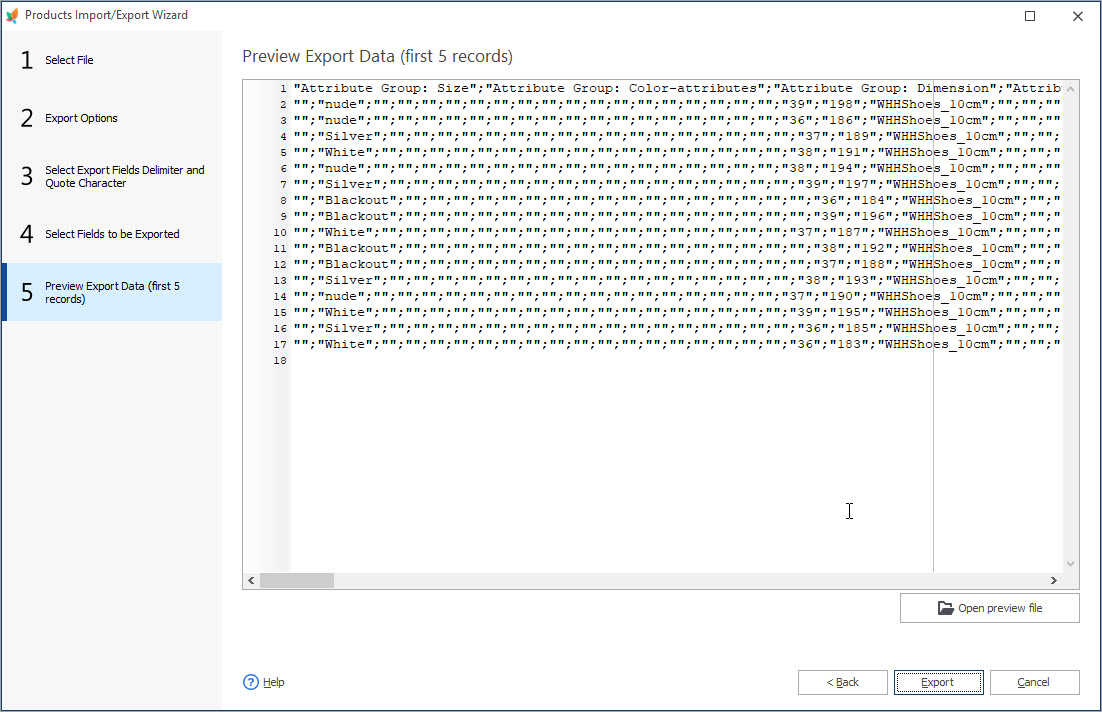 Review the PrestaShop Combination Export File
Now let's look through the exported information.
We've exported combinations that belong to one product (the product with ID 762in the file). Looking at the spreadsheet, we can state that the product with ID 762 has two attributes: color and shoe size, each coming in several variants (attribute values – black, nude, silver and white for Colour; 36, 37, 38 and 39 for Shoes Size).

Prices and quantities of the combinations are specified in the corresponding rows. For example, a product variant, listed in row 2 of the file (nude/39, Combination ID 198), has no price impact and its quantity equals 4.
Use Store Manager and its Import/Export Products Wizard to export PrestaShop combinations for multiple products into a file.
Use Store Manager 14 days free to Export PrestaShop combinations FREE Trial


Related Articles: