There can hardly be found PrestaShop store owner who does not create product variants attaching PrestaShop attributes to certain products. Certainly, it is more benefitting to create an item and link necessary attributes to it than linger around each variant adding.
Although, there is one "but". You might need to create variants for numerous PrestaShop merchandise, what can be somewhat involved procedure and take long time. Furthermore, manually assigning one attribute after another and having wide scope of items to be processed, you can bring some inaccuracies and improper variations will be created.
So, how to evade such a situation and make combination generating fast and accurate? What method to fall back upon to instantly get required variants?
Store Manager for PrestaShop solves this issue and endows you with handy PrestaShop Combinations Generator tool.
What are its peculiarities and how to add product combinations using this tool is described below in this article.
Product Combinations Generator Functions
generates combinations for numerous products at once;
allows to set quantity for combinations to be created;
lists all PrestaShop attributes you have at database and can easily choose needed ones on the basis of which combinations will be created;
you can regenerate existing combinations any time – change attributes or remove needless ones
Starting from the Scratch …
Here we will provide the instruction on how to create attribute combinations for multitude of wares at one stroke. As it was said, the process will be described "from the scratch".
Before you start creating combinations via Combination Generator, you should have corresponding attributes and PrestaShop attribute groups created. These entities are being managed via Attributes&Group section (Store -> Attributes&Group).
The procedure is clearly portrayed here – https://www.prestashopmanager.com/useful-articles/tips-tricks/light-up-prestashop-attribute-management-with-store-manager-for-prestashop/
Check whether all attributes required for combinations generating have been created.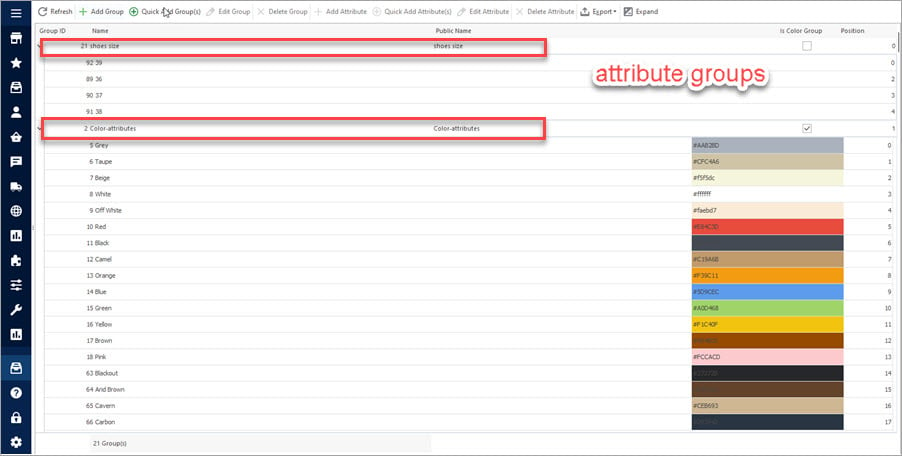 Afterwards, pick up the products, you want to assign combinations to. Do not forget about filter functionality – if necessary products are spread all over the PrestaShop catalog, filter them by certain parameter.
Having selected products, combinations should be attached to, go to the lower grid and switch to Combination tab. PrestaShop Combination Generator is accessible on the toolbar and in product context menu.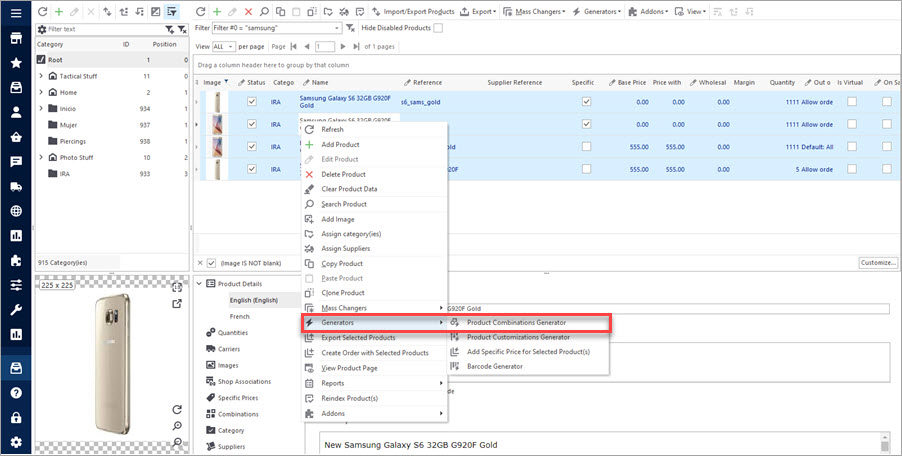 After you click on this icon, Generator window will appear. It is divided into two panes – Product Attributes and Available Attributes. All available attributes are, respectively, listed in Available Attributes section. Attributes, that will be used for combinations generating, should be transferred to Product Attributes field. As for example, if selected products will vary in colour and size, drag necessary options (e.g green, purple, orange for colour and L, M, S for size) to Product Attributes field.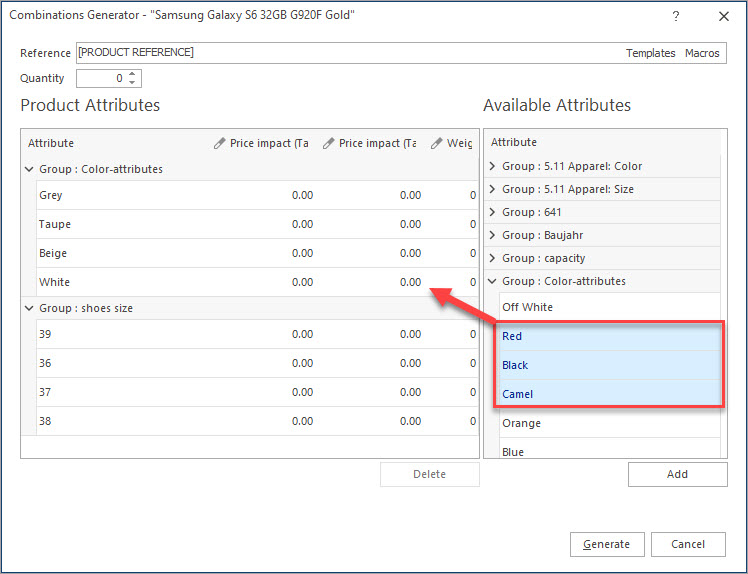 After you click on "Generate", product combinations will be automatically created and linked to chosen products. Note, if some of these items already had combinations assigned, they would be regenerated.
If you now switch between products, you have created combinations for, you will find them in Combinations section of the lower grid.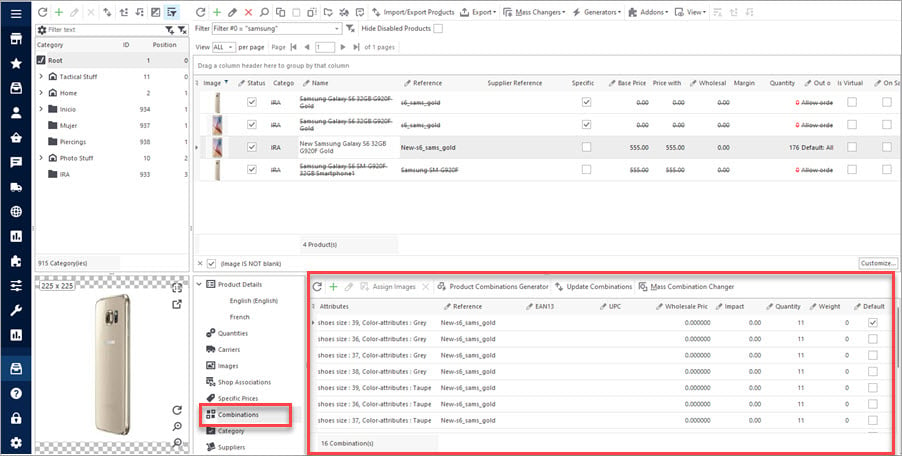 Make you work with product combinations effortless and simple using Store Manager for PrestaShop and Product Combinations Generator.
Read related article describing how to update combinations by means of import – www.prestashopmanager.com/useful-articles/tips-tricks/update-prestashop-combinations-importing-them/
If your store is based on PrestaShop v.1.6.1 or newer and you use Store Manager for PrestaShop older than 2.19.0.1219, you may encounter issues with product combinations.
Please update Store Manager
to 2.19.0.1219 or newer to avoid inconveniences.


Related Articles: