Managing an online store catalog, you try your utmost to increase productivity and bypass the necessity of accumulative manual manipulations. Suppose, lots of products you sell, come in variants created with the help of PrestaShop combinations. Again and again, you are replenishing the product catalog with new items varying in some specifications and not infrequently products with identical combinations already exist at PrestaShop.
For example, some products are available in different colors. New product listings, you are going to create, will also vary in colours. Why not to clone existing items or use copy/paste technique, quickly add necessary wares with combinations assigned. Instead of manual combination configuring, you can simply accomplish this task using Store Manager for PrestaShop.
If you haven't installed Store Manager yet, download the
free trial
and connect the application to your store database using the wizard inside. Read about other
Store Manager tools
to simplify and speed up PrestaShop store management
Method #1. Copy/Paste Products with Attributes
This is a usual copy/paste procedure, each online merchant is used to.
Select the records to be copied and click on the Copy icon either on the toolbar or in the product context menu. There will appear an accordant window, asking to select details to be duplicated.





Products, you are going to replicate, may have various details assigned, namely, tags, specific prices, features, customized fields, etc. Among these fields, you can find combinations and combination impact. You should check this box to copy combinations correspondingly and select other necessary fields.

Paste the product to the desired category. When you use copy/paste PrestaShop product with combinations technique, you can select what category or subcategory new product will be added to.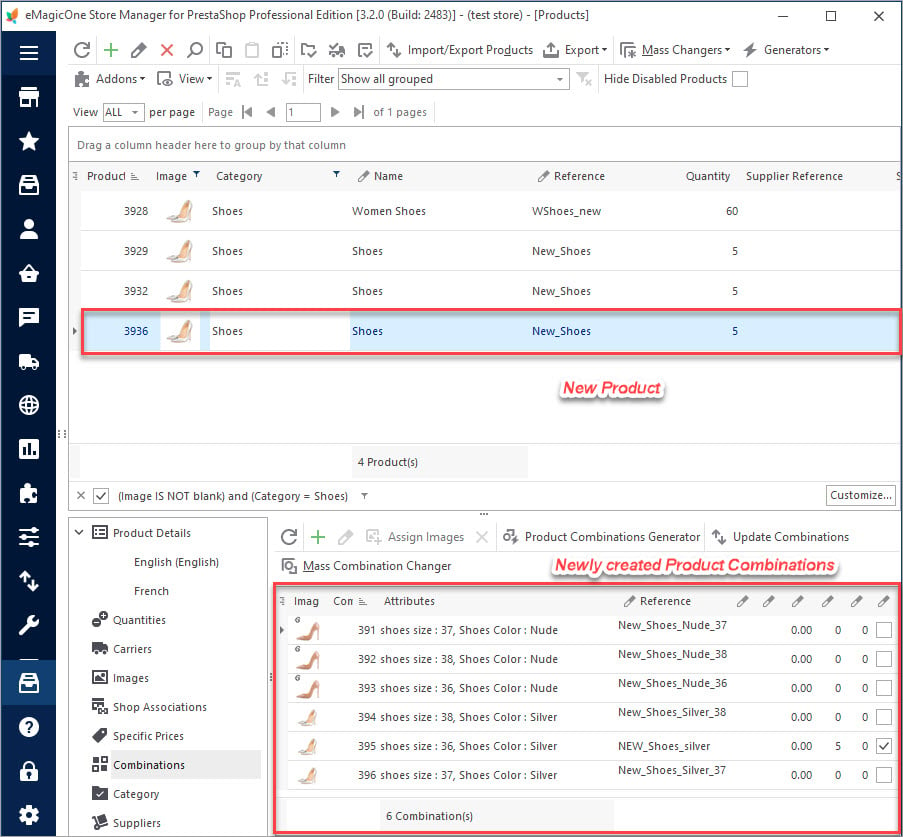 As you can see in the screenshot, we have selected product data, images, combinations, impact for copying and gota a new product. It has combinations, images, combination price assigned. One can adjust copied products and change details according to his/her needs.
Method #2. Clone Selected Merchandise
Another way to instantaneously add product listings with combinations is to clone them.
Unlike the copy/paste technique, cloning does not allow to select details, new products will acquire. When cloning merchandise, keep in mind, you will get identical products with all the details, inherent to source ones. Listings with new IDs will be added to the same category(ies) source products belongs to
Decide on products, that will undergo cloning and highlight them
Press the "Clone products" icon either on the toolbar or in the context menu. The progress bar shows the percentage of cloning operation accomplishment.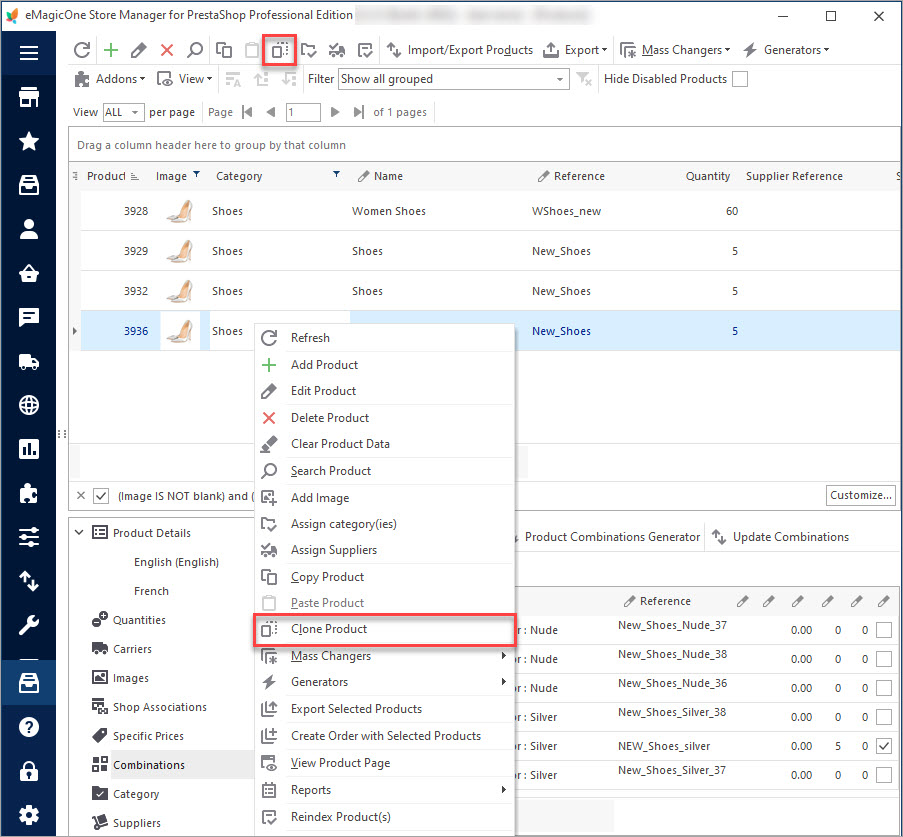 Notwithstanding what functionality you use to duplicate PrestaShop products with combinations, your aim is creating new entities, with different details, quantities, prices. You can use Mass Product Changer to update these products and Mass Combination Changer to adjust combinations respectively.
Copying a product with variations in PrestaShop not only increases productivity by removing the need to manually enter every detail for new products but also reduces typos because you need only proofread the item you are copying.
If your store is based on PrestaShop v.1.6.1 or newer and you use Store Manager for PrestaShop older than 2.19.0.1219, you may encounter issues with product combinations.
Please update Store Manager
to 2.19.0.1219 or newer to avoid inconveniences.
Looking for the tool that allows importing variables to PrestaShop? Here it is, read this post and learn how to upload combinations to your online store – www.prestashopmanager.com//useful-articles/tips-tricks/tips-on-how-to-import-prestashop-attributes/
Multiply combinations for PrestaShop products with 30-day fully-functional version of Store Manager Download trial


Related Articles: