PrestaShop Mass Combination Changer
Online entrepreneurs who have chosen PrestaShop for store development use all the advantages of PrestaShop combinations. Applying attribute combinations to a product, you can quickly create its variants and customize the catalog.
This is more advantageous for you and for your clients as well. Before placing an order, shoppers can choose necessary option from the drop-down and adjust the purchase. Everything is organized within one product page and there is no need to hover over numerous pages to reach required item.
When PrestaShop catalog abounds in product combinations, the necessity to update them comes up not infrequently. Accuracy and simplicity are appreciated, since any web store is dynamic and the slightest changes must be instantly displayed at the front-end. If you have lots of products with combinations, you might find it somewhat embarrassing to keep them under control.
It would be so, if there was no such a flexible and remarkable tool as Mass Combination Changer designed for PrestaShop combination update accomplishing.
What Is Mass Combination Changer?
Mass Combination Changer utility is meant for efficient PrestaShop combination update. As its name points, the instrument allows PrestaShop users to update combinations in bulk. Using this tool you are not doomed to move from product to product and manually proceed with alterations.
In order to commence on product combination updating, opt for merchandise, combinations should be renewed for, and launch Mass Combination Changer, that is accessible in product context menu and in Combinations tab of the lower grid.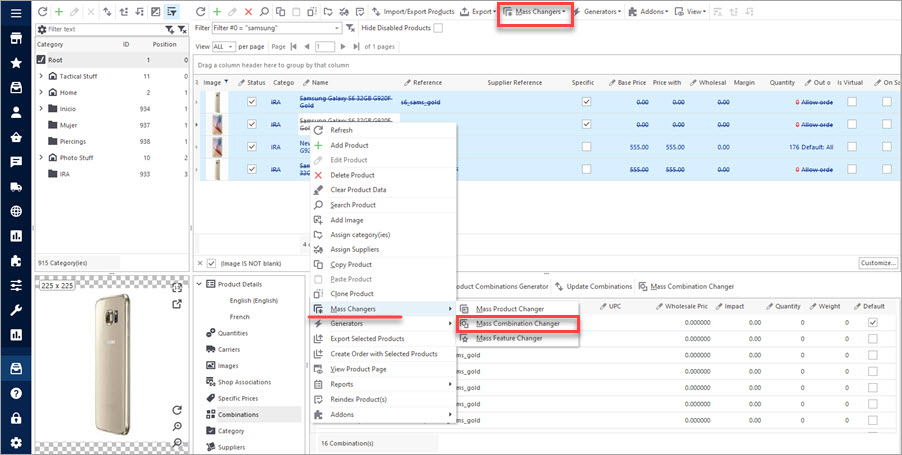 Combination Update Consists In
Fields, you can update, are arranged within one Combination Changer window. All the combinations, inherent to products highlighted, are listed in the field below. Here you can update reference, price, wholesale price and quantity of PrestaShop combinations.
Specify what exactly combinations should be renewed. In case all of them must be modified, check all the boxes either manually or use menu button. Logically, if not all PrestaShop combinations need updating, check boxes for required ones only.



Decide on the field/fields to be managed – combination quantity, price, wholesale price or reference. Each of the fields is inactive until you check box for it. Thus, if, for instance, price for some combinations should be increased, select these combinations, check Price Modifier box, opt for suitable price modifier, source field value will be taken from and provide value, cost will be modified by.





PrestaShop combination updates

of price and wholesale price can be updated using one of modified types:

+/-% – price will be increased or decreased by percentage value
+/- value – price will be increased or decreased by value provided
Set fixed value – input fixed value for combination price

Combination quantity update uses modifier types:

+/- value – product combination quantity will be increased or decreased by values you input in this field
Set fixed value – insert value to be applied to all combinations

Complete updating and save changes click on Apply button below.
Mass Combination Changer tool allows you to handle numerous product combinations within no time. Arrange combination details in hassle-free and worthwhile manner with Store Manager for PrestaShop and Mass Combination Changer it comprises.
If your store is based on PrestaShop v.1.6.1 or newer and you use Store Manager for PrestaShop older than 2.19.0.1219, you may encounter issues with product combinations.
Please update Store Manager
to 2.19.0.1219 or newer to avoid inconveniences.


Related Articles:
COMMENTS
edoluz • 06/24/2017
Hi, why not importing directly from Excel with a copy-paste action? We have hundreds combinations and Excel is the safest and quickest way to add them! Please, help!
Sylvian • 02/06/2023
Hi,
I'd like to change "/" character by "-" into reference produce and into combinaison.
I find howto for 1 produce, but nor for all on mass refecence change
Thanks for help 🙂

PrestaShop Store Manager

Mod
Sylvian
• 02/08/2023
Sylvian • 02/15/2023
Hi,
I'm very sorry for long time to anwser.
Thanks you very much for this good solution.
Regards