Hundreds, thousands and even millions of PrestaShop orders – this is what online entrepreneurs hope for starting store online. Although, when the shop is popular and the number of customers keeps increasing in geometrical progression, sooner or later you will feel the need to simplify order management by handling them massively.
Store Manager for PrestaShop enables you with some powerful means of performing bulk operations over PrestaShop orders. With Store Manager for PrestaShop you can massively filter your orders, export them and change their statuses. Let's review in details how to perform each mass procedures over PrestaShop orders.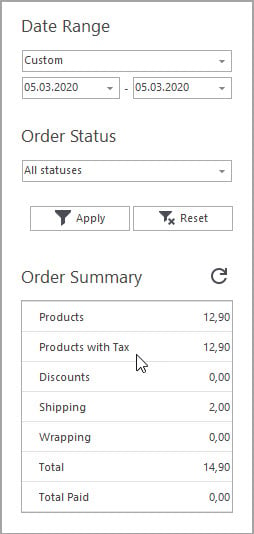 Filter out your PrestaShop orders
Working with huge amounts of data calls would become much more convenient if you sort them out in a fitting way. It contributes greatly to overall convenience of usage and to save time on the search of necessary information.
PrestaShop orders can be filtered by time period: ready-made (today, yesterday, this week etc.) or custom period and by order status.
Perform PrestaShop order export
With Store Manager for PrestaShop you have the chance to export your orders to Excel or HTML, so all the info will be saved locally right away. Or you can use an Export Wizard and select some specific fields with the data you would like to get. Detailed tutorial on export of PrestaShop orders you can find here –
www.prestashopmanager.com/useful-articles/prestashop-orders/export-prestashop-orders-quickly-and-with-ease
Update PrestaShop order statuses
This useful option serves good means of saving time for merchants who are carrying dozens of sales per day and then have to change PrestaShop order statuses and keep clients informed about that state of their purchase.
If you need to modify the statuses, firstly, select necessary orders (you can filter them out in advance and then select all). Click 'Update Status' button and from the Status drop-down select the condition of the sale. Check the appropriate checkbox if you would like to notify the customers about the change of their order status. Notification will be made using template which can be selected either.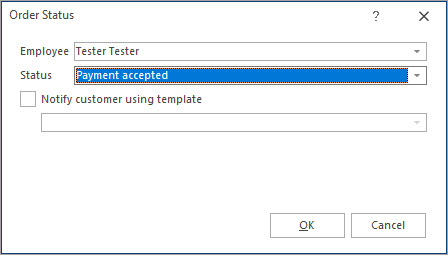 Please, note that after you hit OK button, all the orders that were selected will have changed statuses. This way you can 'kill two birds with one stone': cut down the time expended on the procedure, allocating resources to other activities and have your customers always informed by emails when you change the order status (optional, you should enable the option to send email and choose the template to send massively).
Power yourself with advantageous opportunity to manage your PrestaShop orders en masse with Store Manager for PrestaShop. Examine more useful functionality the software is enriched with –


Related Articles: