Сategory system in PrestaShop allows you to smartly organize and display content within your store. Neatly-placed categories and sub-categories allow you to control how items are displayed within your store and in this way make navigation at your site much more user-oriented.
Store Manager for PrestaShop provides wide categories management possibilities by enabling you to massively add and edit categories either with assigned products or independently uploading category information.
However, sometimes store owners are reporting problems setting up their store categories in PrestaShop. This is especially annoying when it happens when you are adding categories and goods assigned to them massively and later on discover that you need to edit each.
If your PrestaShop categories are not showing up on your site's front end after the setup, most likely they are configured not properly.
This article discusses a few points to check and follow to make your categories displayed and available at your front-end.
Make sure that shop categories are nested under the root category
Often there is one root category at your store which is the main one and all the other categories are subcategories to the root category. If you import category-related information and have a multi-leveled category tree, in your file there should be an indicated category path and each should start with the Root category. This way your subcategories will be positioned as children of Root Catalog and will be available for view at a webshop.
Categories should be set as enabled
The categories, in order to be displayed from the clients' side, need to be activated. Sometimes when the shop is under development, you prepare categories with goods assigned to them, and only after everything is done, want to make them visible. Thus, check if you haven't forgotten to activate your categories and subcategories.
Categories associated to particular shop
If you have multistore, make sure that you have associated PrestaShop categories to the same store as you check the results at a storefront.
Clear cache and rebuild catalog index
During massive changes like import, some results may be cached for faster page loading. To see the latest relevant information at the front-end, you need to perform the procedure of cache clearing.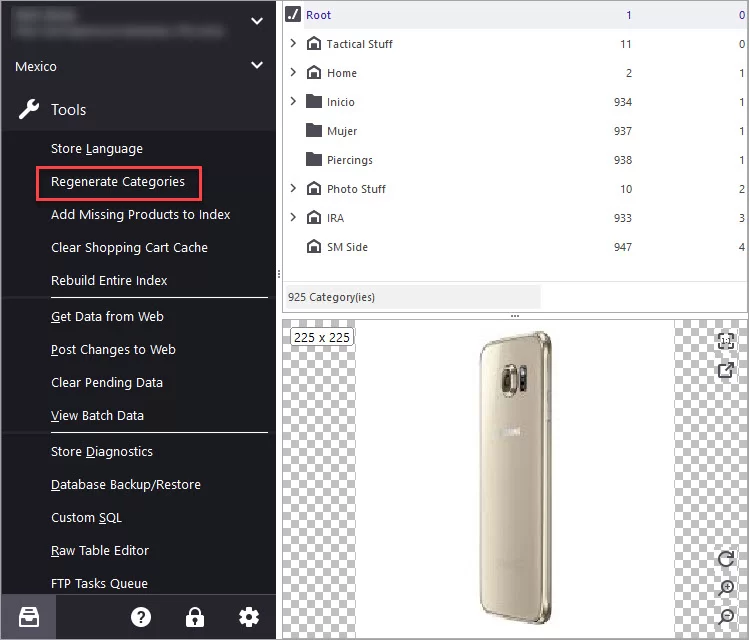 Regenerate categories
This useful option of Store Manager for PrestaShop allows you to structurize categories in correct order after the changes to the category tree were implemented.
Check your template
Some specific templates might require additional actions to make the goods visible at your store. Especially this concerns the situations when you would like the categories to be displayed in some special way at your site in some menu placed in definite placed.
Stop wasting your time investigating what's wrong with your categories. The points discussed above will relieve you from spending endless hours browsing for the solution. In case you have any additional questions or suggestions, do not hesitate to contact us.
Simplify PrestaShop category management with FREE Store Manager for PrestaShop Download It Now


Related Articles:
COMMENTS
DAVID GARCIA • 08/25/2018
Hello, I've created my categories in bulk with an importation from my supplier, all categories are showed ok in the BO, but in main menu not. I need deactivate and activate newly the categories one by one and now the categories are recognized by the menu module. I have the Store Manager PRO, how can I solve it rapidly? I have about 700 categories in my catalogue, do you know which can be the issue?
Thanks!

PrestaShop Store Manager

Mod
David
• 08/27/2018
Hello, David!
Thank you for your comment.
It seems that some of category-related records in the database are missing and your case needs to be investigated by a technial specialist to advise you in this regard. For this, please, contact our support to proceed.
Regards.