PrestaShop attributes are the way to efficiently add various options to your merchandise, creating variations in this way? Why does the majority of merchants resort to this practice? First of all, thanks to attributes, you create one product page, consolidating variables, instead of configuring multiple product pages. Secondly, your customers get a positive shopping experience, since can adjust their purchase and quickly reach desired product.
---
Thus, attributes are based on product variations and you may create a variation if at least one of product attribute changes.
Please note, attributes and attribute groups should not be confused. In the first place, you create the attribute groups. Afterward, the options (attribute values) should be configured within each of your groups. Ascribing attribute values to the product, you create its variants. If product variation is based on two or more attributes, we are speaking about the PrestaShop combination.
Store Manager for PrestaShop significantly contributes to fluent attribute and attribute group handling and makes it more flexible. Below in this article, you can find detailed instruction on how to configure attribute groups, values, and legibly designate variables.
If you haven't installed Store Manager yet, download the
free trial
and connect the application to your store database using the wizard inside. Read about other
Store Manager tools
to simplify and speed up PrestaShop store management
We will sell shoes in different colors and sizes correspondingly. In our case 'shoes size' and 'shoes color' – attribute groups. Since there are shoes of silver, nude, red, pink, brown, and white colors, we need to create 'shoes color' attribute group with 'silver', 'nude', 'red', 'pink', 'brown' and 'white' attribute values. When speaking about 'shoes size' group, it will home '36', '37', '38', and '39' values.
Attribute groups and attributes are being arranged in the respective "Attributes and Groups" section of Store Manager for PrestaShop.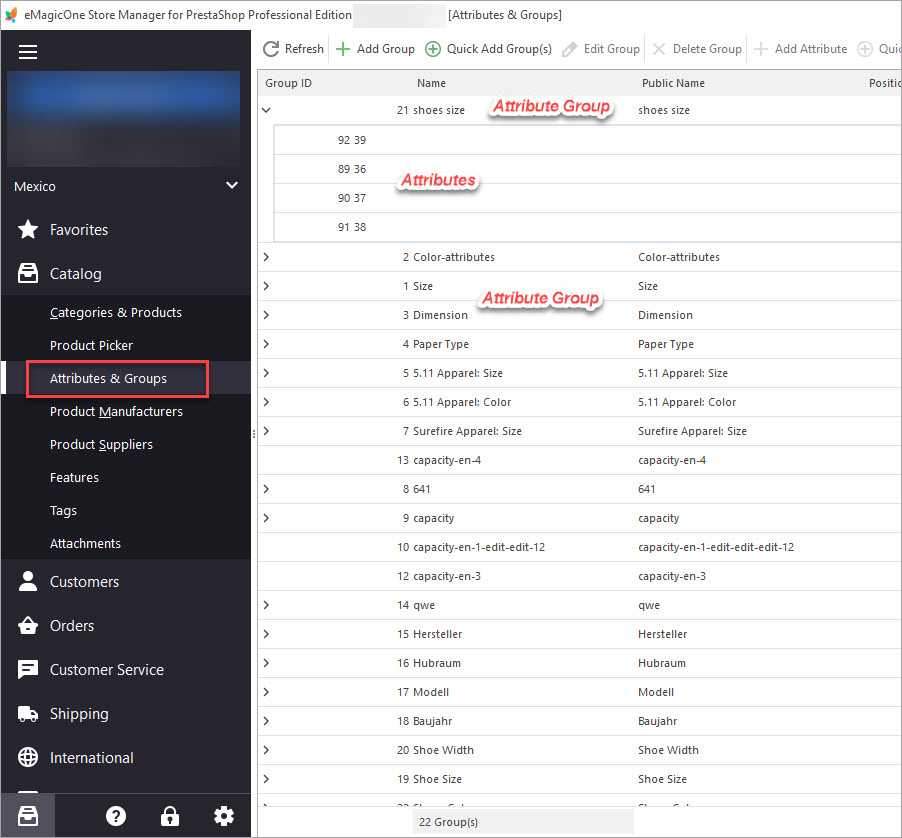 PrestaShop Attributes and Attribute Groups Section
Configure Attribute Group
It will take a minute to create an attribute group with the Store Manager application. Having switched to above-mentioned section of the application, accomplish the following:
Find the "Add Group" option on the ribbon menu. If you want to create multiple groups simultaneously, click on the "Quick Add Groups" button
Designate group name or names if you fall back upon the "Quick Add Groups" option, define group type – select, radio or color, set position if you configure each group separately.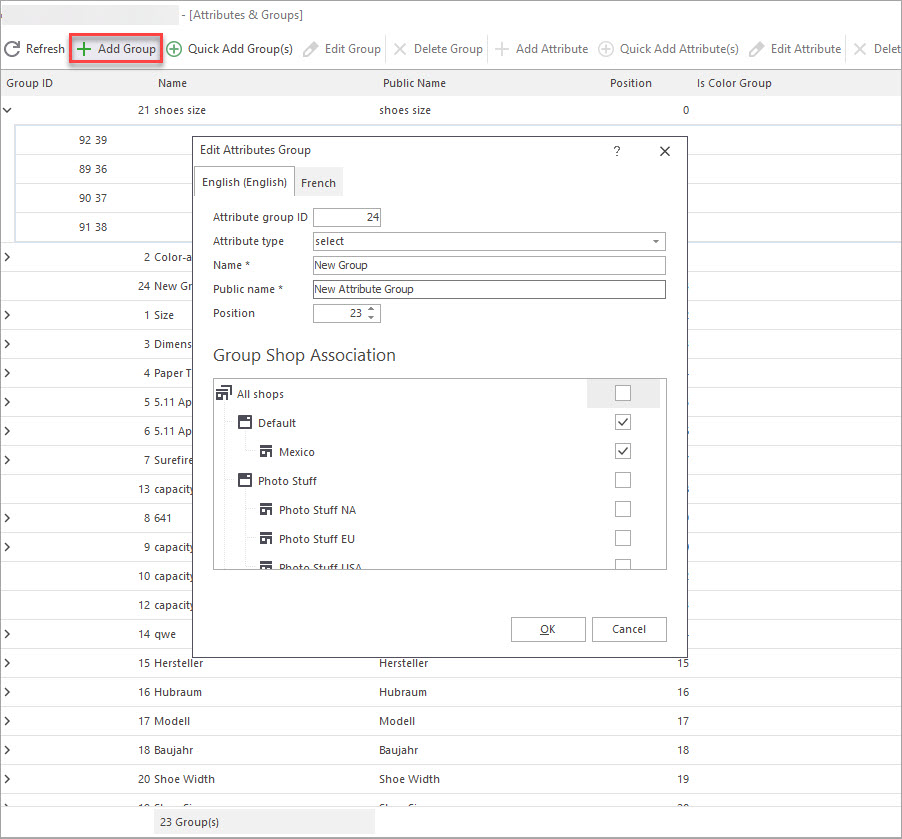 Add New PrestaShop Attribute Group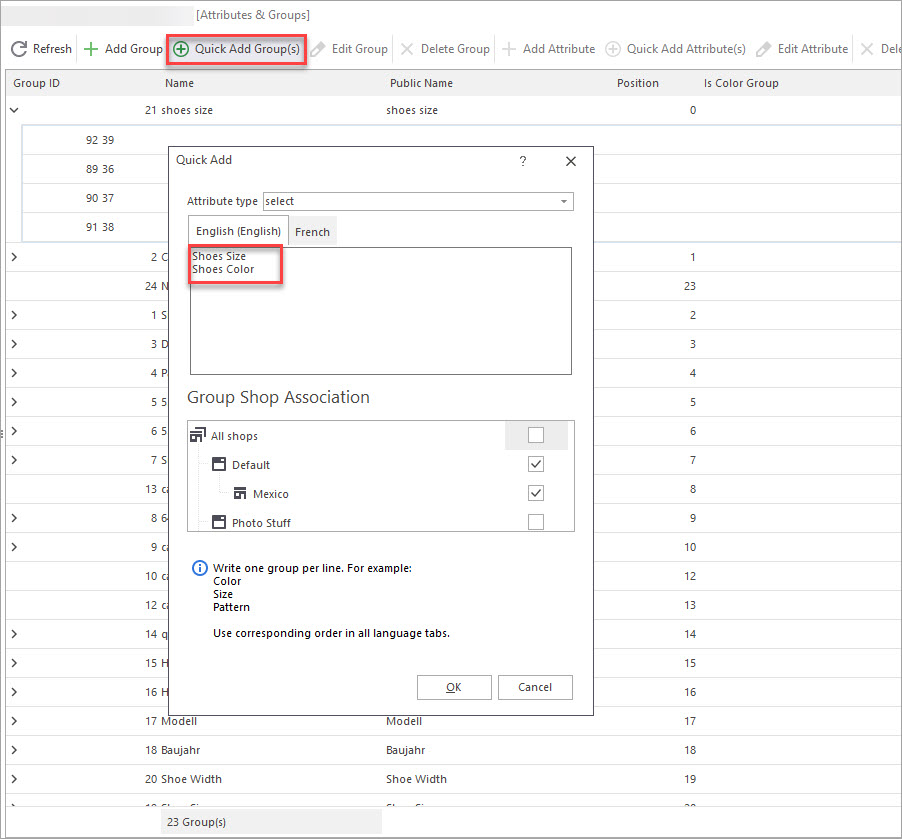 Quick Add PrestaShop Attribute Groups Option
If the multilingual store feature is enabled, you are supposed to designate group name for different languages. Whenever you have multiple shops, configure shop associations as well.
Having created both attribute groups, we go over to attribute values designating.
Enrich the Attribute Group with Attribute Values
To generate product variants, you should have attribute values created.
Select the attribute group, values should be assigned to
Press the "Add Attribute" button on the toolbar or in the context menu. To concurrently set numerous attributes, make use of the "Quick Add Attributes" option and enter necessary values in the corresponding window. Input attribute name or names if you use the "Quick Add Attributes" option.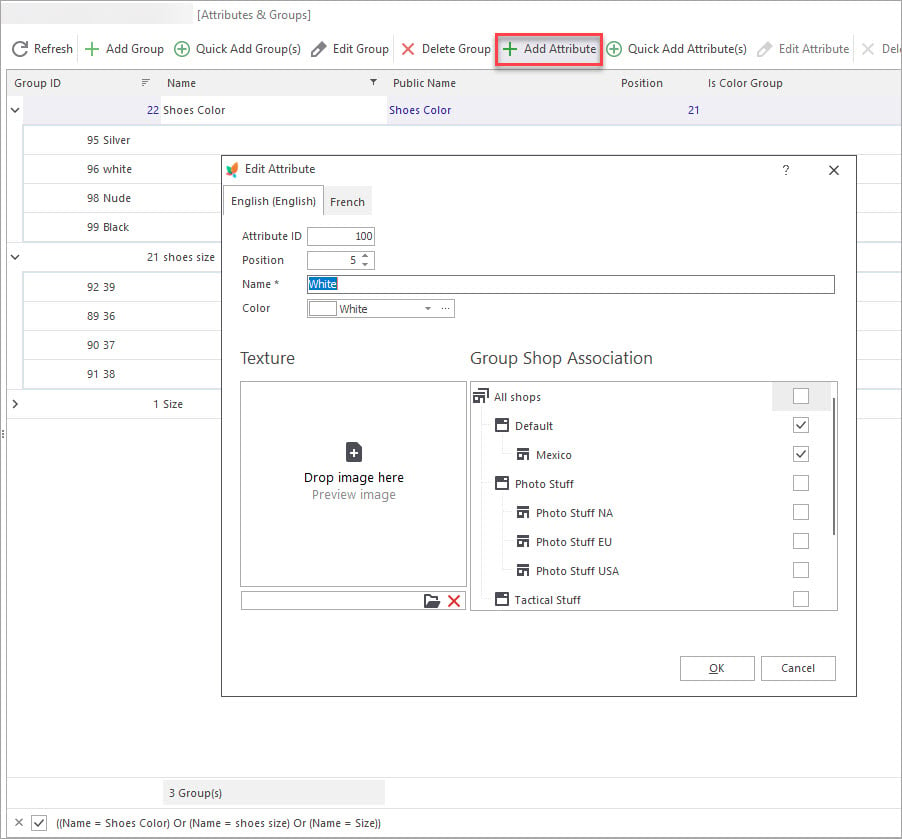 Add New PrestaShop Attribute Values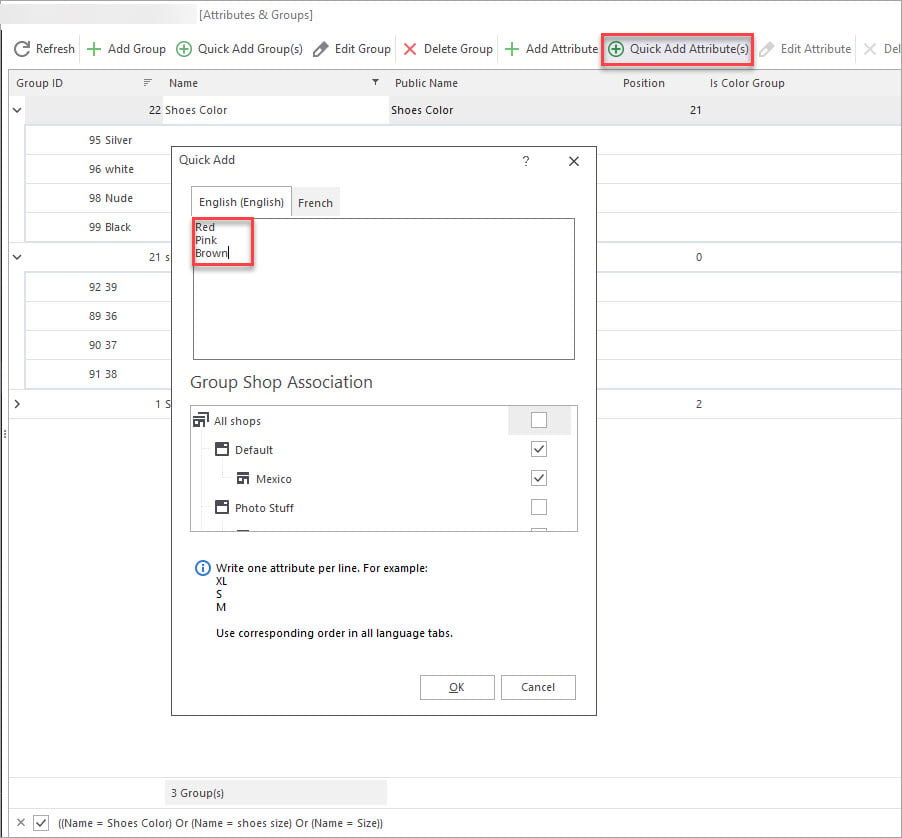 Quick Add PrestaShop Attributes Option in Store Manager
If you are managing multiple shops, assign attribute to necessary one/ones
Assign Combinations to PrestaShop Products
the product will not vary in shoes color or shoes size until attributes are assigned to a product. Product combinations can be either added manually one by one or auto-created with the corresponding Combination Generator.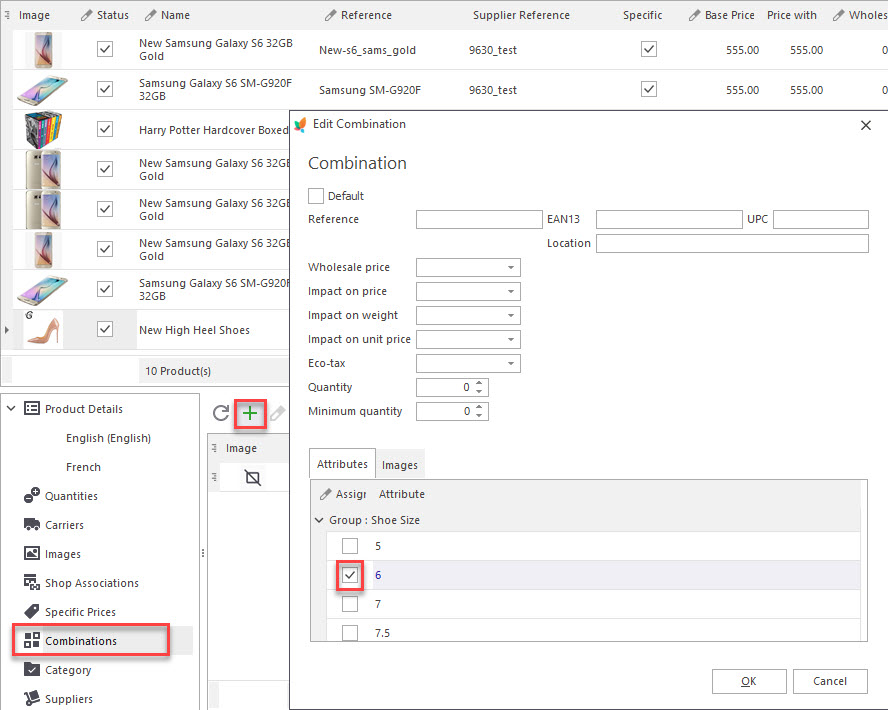 Add Combinations to PrestaShop Products
More details and step-by-step instruction on how to generate combinations automatically you will find in this publication –
create-prestashop-combinations-with-combinations-generator
Fall back on Store Manager to refine data handling and use innovative practices to organize product attributes in a resultative manner.


Related Articles: