Store Manager addon makes it easy to schedule PrestaShop import tasks without coding. It allows to create or load a saved import configuration and set it up to be accomplished according to the scheduled time. You can set the task to be repeated on hourly, dayle, weekly or monthly basis.
Automated Product Import addon is a perfect tool for accomplishing regular product updates and data synchronization with suppliers or wholesalers. Get more information about the addon here.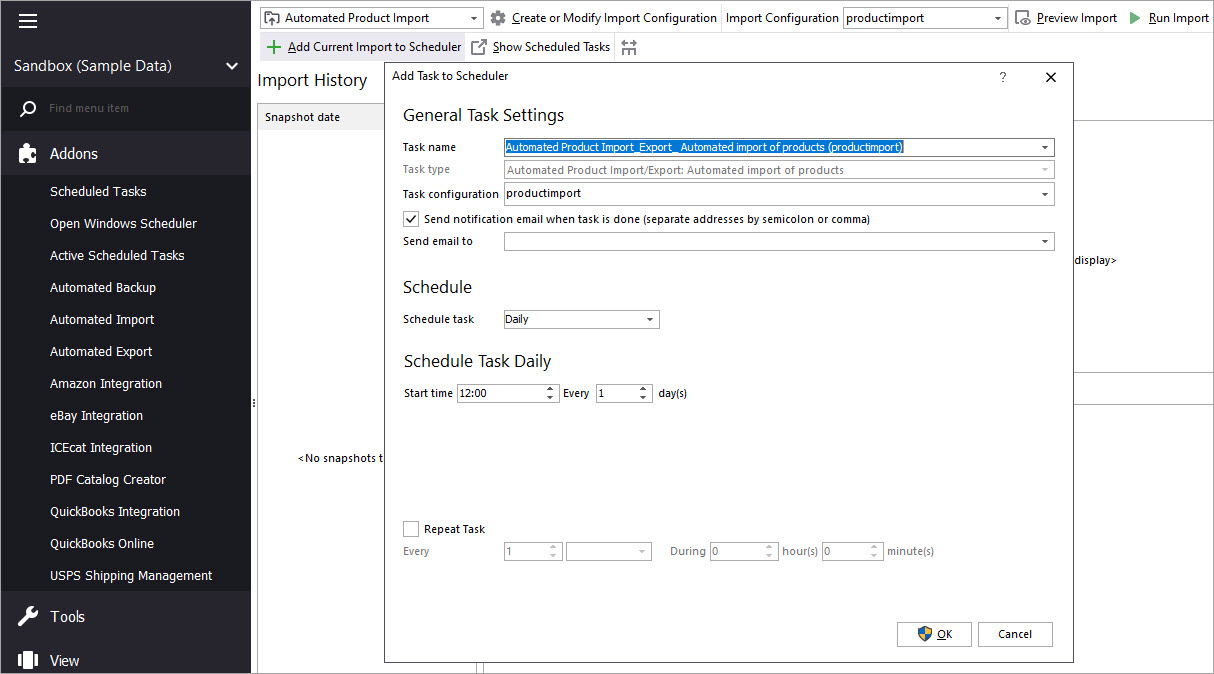 How can it be done?
Usually there are 3 most common ways to perform PrestaShop import to database: using scripts, ordering online services or taking advantage of ready-made software for import.
Setting up cron jobs for regular PrestaShop import from .csv using PHP scripts requires from you special technical skill and knowledge, since coding is the task that for non-specialist can be beyond one's strengths. Thus if any assistance will be needed, you will have to hire a developer.
Using web-services for performing product import, you have to be prepared for paying additional fees.
Store Manager for PrestaShop delivers a perfect solution to make the process automated by using its PrestaShop Automated Product Import addon.
Which method to choose?
Taking into consideration that hiring developers for setting up cron job or paying recurring fee for regular import done by web-services requires additional expenses from time-to-time, so Automated Product Import tool can be exactly the thing needed.
What exactly you can benefit from?
Using Automated Product Import you will be able to:
keep your merchandize always updated by synchronizing with one or multiple suppliers
use local or remote file for import
add novelties as soon as they appear on the market
track inventory of your existing products
upload internal or external images directly from supplier's site
schedule the import
do data modifications right in the process of scheduled task (e.g. set price mark-ups)
avoid server overload, as there is the possibility to run import locally using PC resources.
Store Manager for PrestaShop and Automated Product Import addon are the perfect match for scheduled automatic updates of your store and efficient data handling. You can try out the functionality of the software, since Automated Product Import is built in Store Manager. Download it right now and give it a try. The results will definitely not leave you indifferent.
You can get a detailed tutorial on setting up PrestaShop scheduled import tasks in ths article: How to Accomplish PrestaShop Cron Import with Automated Product Import Addon?
Accomplish PrestaShop automated product import FREE Import Now


Related Articles: