In order to display your PrestaShop products to the large audience and increase business coverage you resort to PrestaShop eBay integration. Having product variations, you won't give up the idea of disposing them on eBay as well, keeping all the selections at the marketplace.
Fluent integration with the world famous selling area is fulfilled with PrestaShop eBay Integration addon, that has been recently enhanced and now allows to export PrestaShop combinations to eBay. Since now on you are welcome to create multi-variational listings within a few clicks.
Important
Combination export to eBay feature has been introduced in PrestaShop eBay Integration version 3.0.3.379 and Store Manager version 2.28.2.1655. If you have older version of the main application or addon, you need to update both, Store Manager and its addon, to the versions indicated.

According to changes implemented to eBay Integration addon, you have to organize products with combinations into listings and further create export configuration for this listing. Here is step-by-step tutorial, you can fall back upon
1)Create Listing with Products You Plan to Sell on Marketplace
Products can be quickly added to listing directly from the grid. Just select necessary items, expand the context menu and click "Add to eBay listing" option.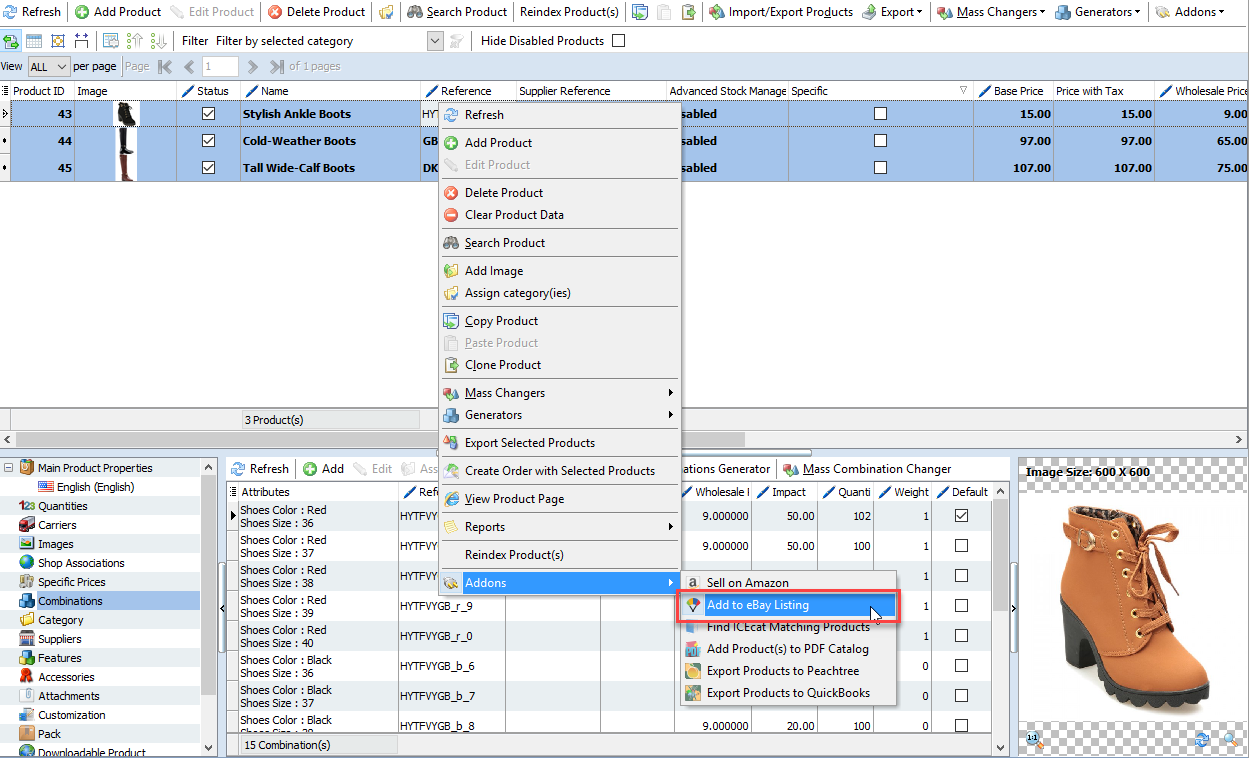 Special dialog window shows available listings. You can choose the one and assign products to it or create new PrestaShop eBay listing pressing corresponding option at the bottom.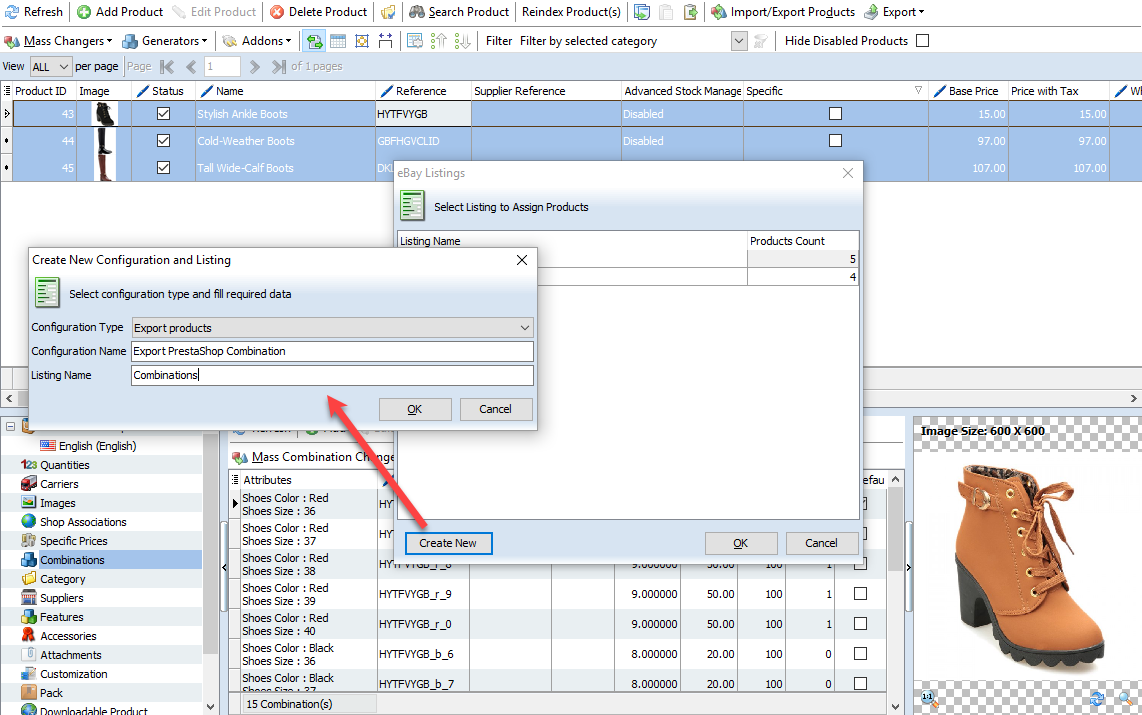 To create new listing you should:
Select configuration type: product export from PrestaShop to eBay or existing product synchronization
Specify configuration name
Input name for listing
Confirm listing creation and launch PrestaShop eBay Integration addon right from the dialog window.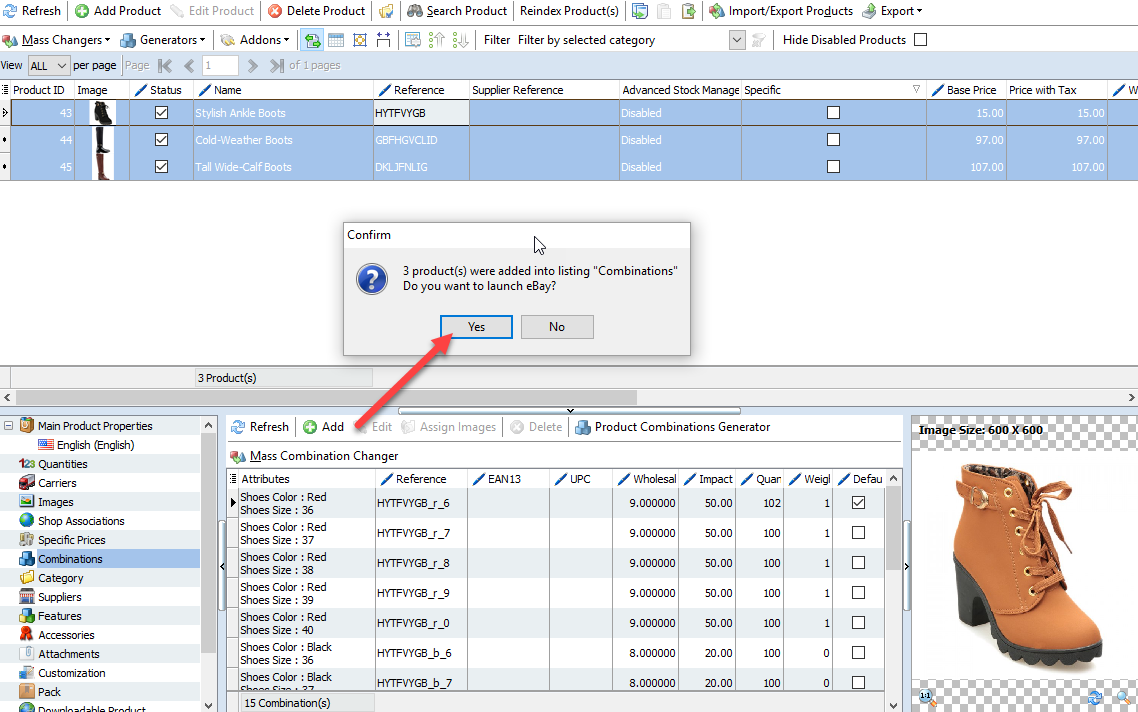 ---
Try FREE Version of eBay Integration Addon
Get It Now
---
2)Create PrestaShop eBay Export Configuration
Select Export option in the list of offered actions on the start page.

Afterwards you will see all existing export configurations and eBay account settings on "Select General Options" step. Select just created PrestaShop eBay export configuration and log into necessary eBay account.

The following step of configuration setup is category mapping. Here you need to assign your store category to appropriate eBay category.

Associate categories, products are assigned to at the store, to corresponding ones on eBay store.

Designate item specifics to be shown on category page at the marketplace. Those, marked with asterisk, are obligatory and you should assign their values to move further.

Important

Names of attribute groups, combinations are based on in PrestaShop, can't be identical to some eBay specifics name. Try to use unique attribute names, for example "shoes color" instead of "color" simply
specifics marked with asterisk are required and should be mapped either with your PrestaShop database fields or with eBay ones
if you map specifics with some of PrestaShop fields, and currently exported products don't have value assigned for these fields, product export won't be a success
attributes, used for PrestaShop product variations should'n be mapped with specifics, they are detected automatically

Set export methods and export options. Export methods allow you to create new eBay items, update existing active items or relist inactive items. If you export new products from PrestaShop to eBay, enable "Create new eBay items" method.

List your PrestaShop products with combination at fixed price without. In this way customers will buy the products without any bidding.

After that you can adjust policies, shipping calculation, product templates. Once it's done, preview products and confirm export of PrestaShop combinations to eBay.
After export of PrestaShop combinations is completed, check your eBay backend and view variations on the marketplace.

eBay Integration addon of Store Manager facilitates flawless integration with famous marketplace and allows to dispose products for sale in quick manner.