When starting a business online, you expect the sales flow to your shop right after you go live. Not exactly! Know what you haven't taken into account? Competition. There might be dozen, if not hundreds, similar shops offering the same or very alike assortment.
What are the ways to ensure that the client sees your products and buy from you? Naturally, the more times your products are listed in different places on the web, the higher are the chances that interested shoppers will come across them faster. It doesn't mean that you need to open and maintain a few PrestaShop stores (the same ones with identical goods). The solution is to sell through multiple sales channels.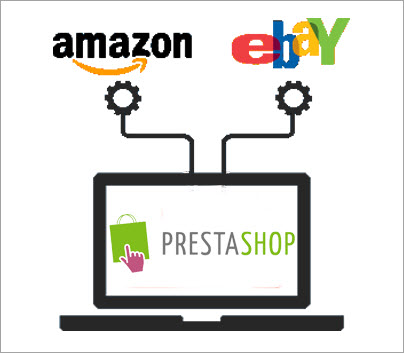 What Multi-Channel Selling Gives You?
It is well known among sellers that listing products at marketplaces can dramatically increase sales. A merchant, creating listings on eBay or Amazon might get sales to boost by 80% and more. What else?
You will be able to:
Reach more customers

Embrace a wider audience of shoppers and drive them to your site, better promoting your products. At popular marketplaces, there are more chances to attract new customers and make them returning since if they are already there, they are ready to spend money.

Make the most of your stock

You will hardly have leftovers and seasonal products that you have not sold out. More access to goods, more demand. You as a store owner can gain increased exposure for your products without having to manage multiple inventories for the same product.

Be unlimited

You can sell any products for the price you like. The sky's the limit!
How to Integrate Your PrestaShop Store with Marketplaces?
If you haven't installed Store Manager yet, download the
free trial
and connect the application to your store database using the wizard inside. Read about other
Store Manager tools
to simplify and speed up PrestaShop store management
Surprisingly, the vast majority of online sellers continue to sell in one store alone. What stops them?
Different marketplaces were not designed to work together. Listing an item on eBay is completely different from doing so on Amazon. Moreover, when you're selling through multiple channels, it can be difficult to add products with descriptions, photos, and more on each channel.
It is possible to bring all systems together by using integration addons. They help to automatically add the listing to the marketplaces, update listings later, and import order data into your store.
Store Manager for PrestaShop offers eBay and Amazon addons out of the box. When you are using Store Manager to administer your webshop you can start selling via additional channels whenever you want. Just add you Amazon or eBay account and publish product listings to the marketplaces.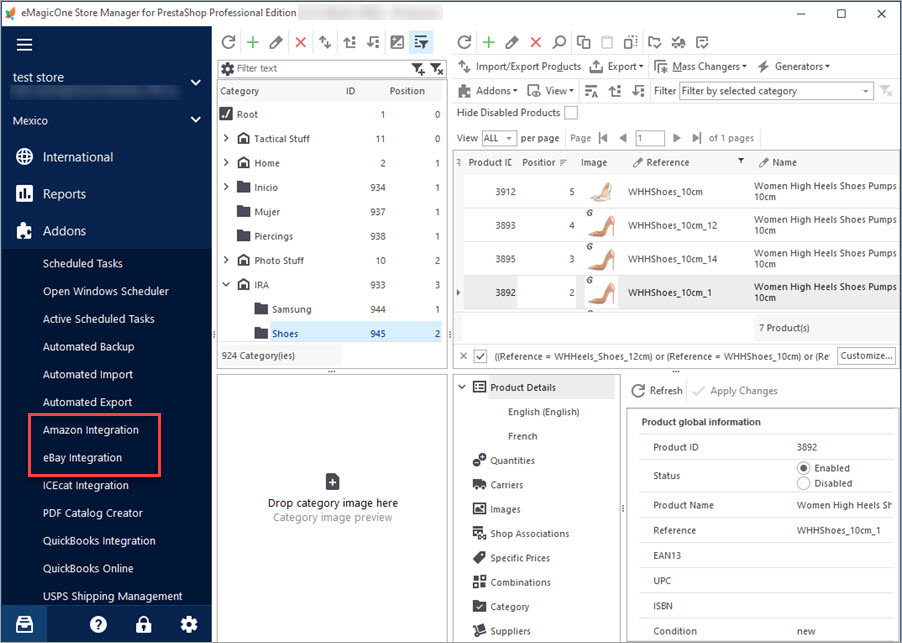 Starting from Store Manager ver.2.59.0.2257 Professional and Business Editions, Amazon and eBay Integration are available FREE and do not require registration.
Increase your sales by integrating your PrestaShop store with Amazon and eBay. Start selling on the world's most popular and profitable eCommerce marketplaces right away with Store Manager and built-in Amazon and eBay Integrations!
Find out more about PrestaShop to eBay, PrestaShop to Amazon integrations.
Try Store Manager for PrestaShop with FREE Amazon and eBay Integrations
Download


Related Articles:
COMMENTS
Fred Douglas • 09/10/2020
HI,This is a great idea to increase sale of own products! I will apply this for my products. Thanks for the article.
PrestaShop Store Manager

Mod
Fred Douglas
• 09/10/2020
Thank you! Glad you liked it. We think you'll want to try Store Manager for PrestaShop with free Amazon and eBay addons to integrate your store with new channels:)