In order to gain more customers you need to take one step further and make sure that no matter where the client goes, he/she will come across your products and make a purchase. To be far away ahead the competitors, integrate with additional sales channels and list your products there.
Since eBay auction is more and more popular in the world, there surf lots of people who are trying to find necessary items. They might become your potential customers.
After creating seller account at eBay you will need to make there your own listings. Too much work to do? Make it simple. Upload ready-made goods that you have in your PrestaShop store to eBay in bulk and within a few minutes. PrestaShop – eBay collaboration is possible to set up by means of PrestaShop eBay Integration addon.
The software does a great job in helping you to load whole products listings with prices, description, images and other details from your online shop to giant world-wide marketplace. This will definitely result in flow of new customers that will bring more profit for you. Extending customer base also contribute in reputation of your web store and bigger amount of loyal customers, who will be returning for a new and new order.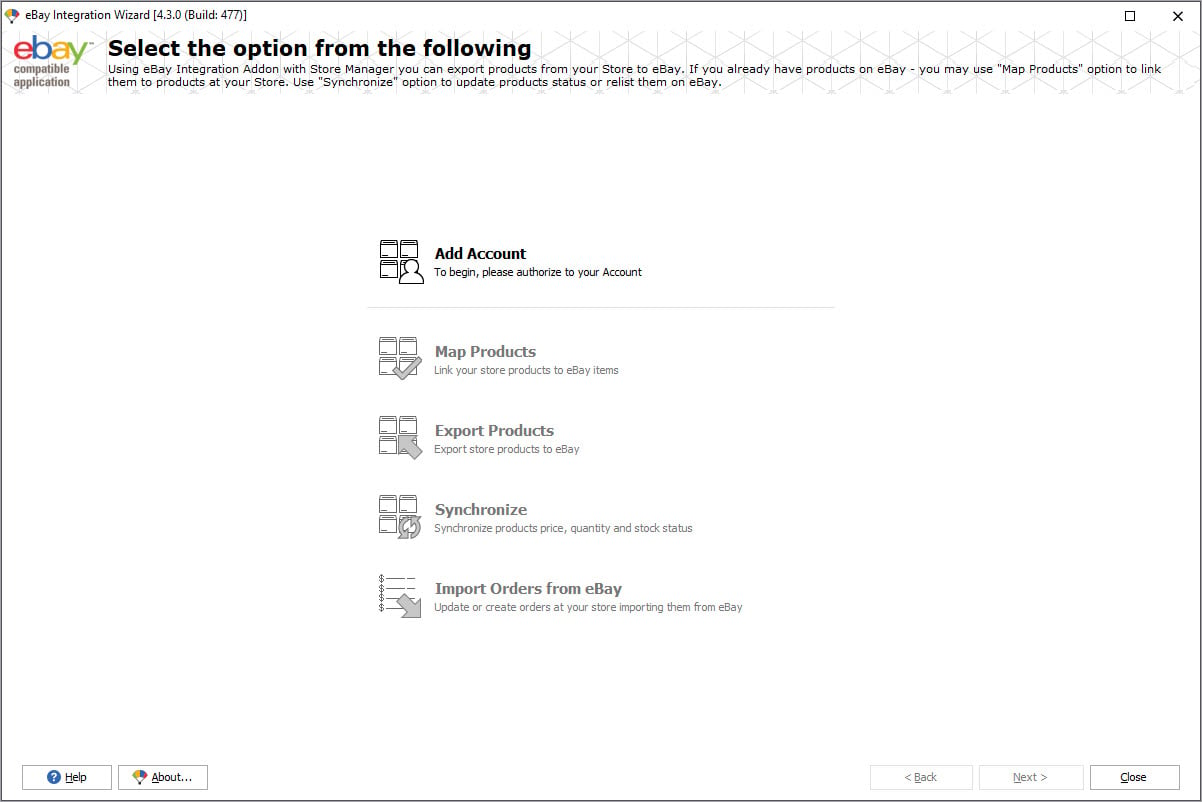 Starting from Store Manager ver.2.59.0.2257 Professional and Business Editions, eBay Integration is available FREE
and does not require registration. For users who work with Standard Edition, the addon can be purchased additionally –
https://www.prestashopmanager.com/order/
Important! Please note that eBay limits the number of free monthly listings. Therefore, if you perform sample export from Store Manager to eBay we recommend you to do it with 1 product (or few products). Thus you will be able to test the addon and avoid exhausting your free seller limit.
Let's see what are management possibilities of PrestaShop – eBay Integration:
add multiple goods (making special selections) from your shop to create listings at the auction;
automatically map categories from Store Manager to the ones present at eBay. In case you would like to change the way categories are linked, you can manually re-assign some categories without any problems;
make different listings for different localizations by choosing definite auctions regions;
perform data adjustments on-the-fly for more convenient data representation;
apply special auction price formula;
indicate the date of beginning and end of the auction offer;
decide on shipping options directly during the process of upload;
choose suitable payment method from the variety of offered;
avoid stock-outs on eBay by possibility to limit export of goods do not allow products with quantity 0 or disabled items;
any time return and change some settings.
What benefits you get from mentioned above functionality when linking your PrestaStop to eBay:
– Minimize time spent on listings creating on eBay by means of automated upload.
– Avoid mistakes and typos comparing to manual entering of the information.
– Contribute to popularity of your products improving your online reputation and widening the list of loyal customers.
– Increase conversion and your sales rates.
Make your business grow and sell more online integrating your PrestaShop store with eBay!
Download trial version of Store Manager for PrestaShop and try eBay Integration addon that is built in in demo mode –

http://www.prestashopmanager.com/free-download/


Related Articles: