PrestaShop comes with an abundance of functional capabilities that make store content management flexible, efficient, and time-saving. PrestaShop product features are important entities that are used to describe merchandise you sell online and provide more info on them.
When speaking about features, some do not see the difference between them and product attributes and get confused as a result. Products may acquire both – features and attributes but these are different notions in PrestaShop. Features can be defined as stable product characteristics, specifications accessible in the product data-sheet at the front-end. Features do not provide options for customers, they just give additional information about products offered for sale. Product attributes, in their turn, allow online merchants to create product variations and let shoppers customize the purchase by selecting appropriate variants.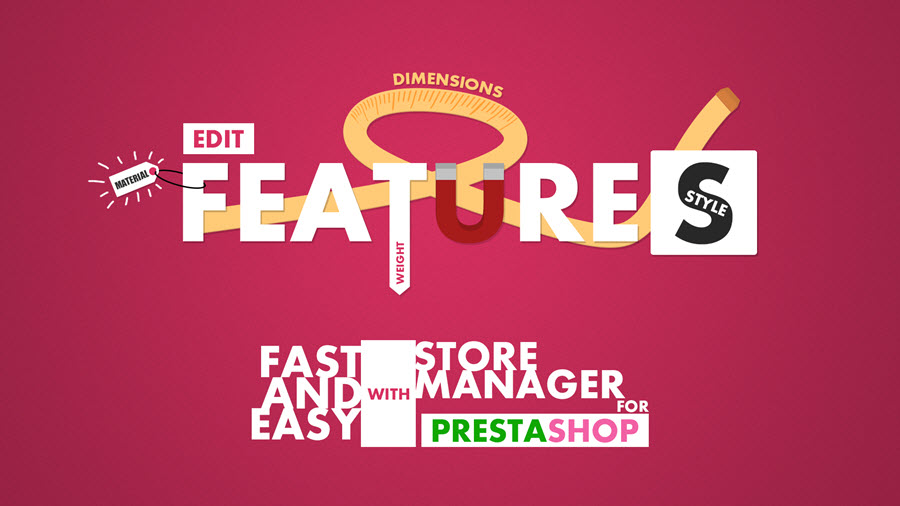 When, for example, you sell dresses, you, most likely create options depending on dress color and size, since one and the same dress can come in several colors as well as in several sizes. Extra details, like material, the dress is made of, its style, whether it has sleeves or is sleeveless, back details, etc are provided with the help of PrestaShop product features.
If you haven't installed Store Manager yet, download the
free trial
and connect the application to your store database using the wizard inside. Read about other
Store Manager tools
to simplify and speed up PrestaShop store management
Store Manager for PrestaShop caters for efficient product feature handling. It comprises workable utilities that simplify and accelerate feature management. All the characteristics and their values are created, modified, or removed in the Features section, disposed of under the Store tab of the Store Manager's main menu.
As it has been mentioned, Store Manager makes your work with features maximally convenient. Let's get an insight into operations that can be performed over features with this application
Create and Modify PrestaShop Product Features
To add a new feature, you must designate feature details in the Edit feature data form, coming up after you click on the corresponding button on the toolbar or in the context menu. There should be an inputted feature name, its position, shop association.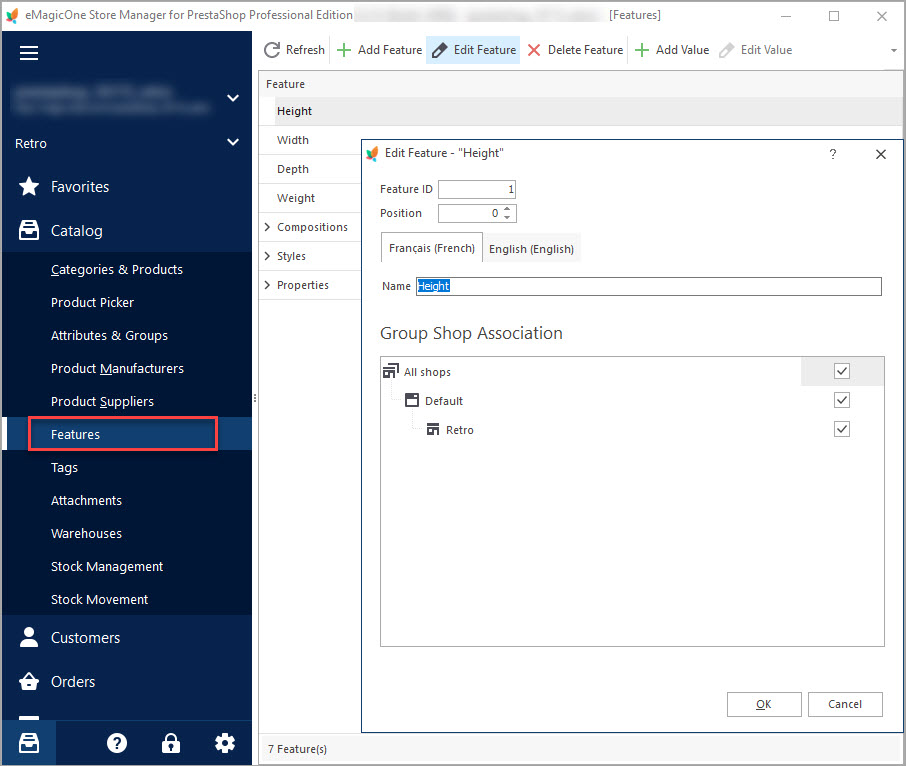 After the necessary characteristic has been added to the list, you should assign values to it. Simply put the target feature into focus, press the Add Value button, provide the value name, and save the record.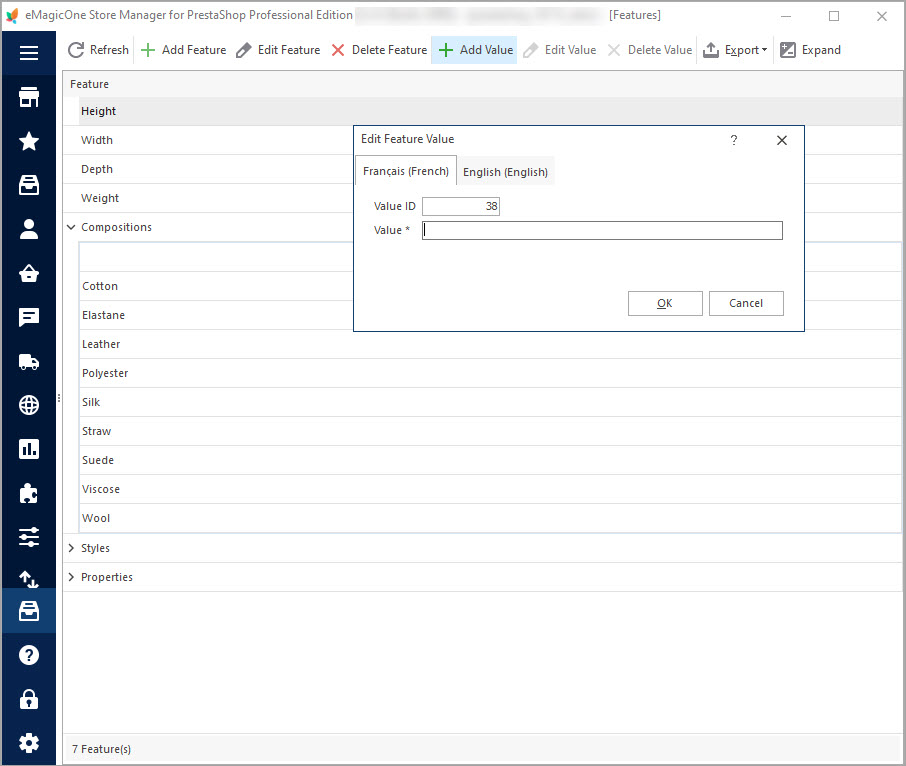 For features to be displayed for this or that product, you should highlight it and switch to the Features tab of the lower grid. There you will find the list of all available characteristics. They are not displayed in the product data sheet until values are assigned here. Opt for the feature, to add values to, double click on it, and select values in the form that appear.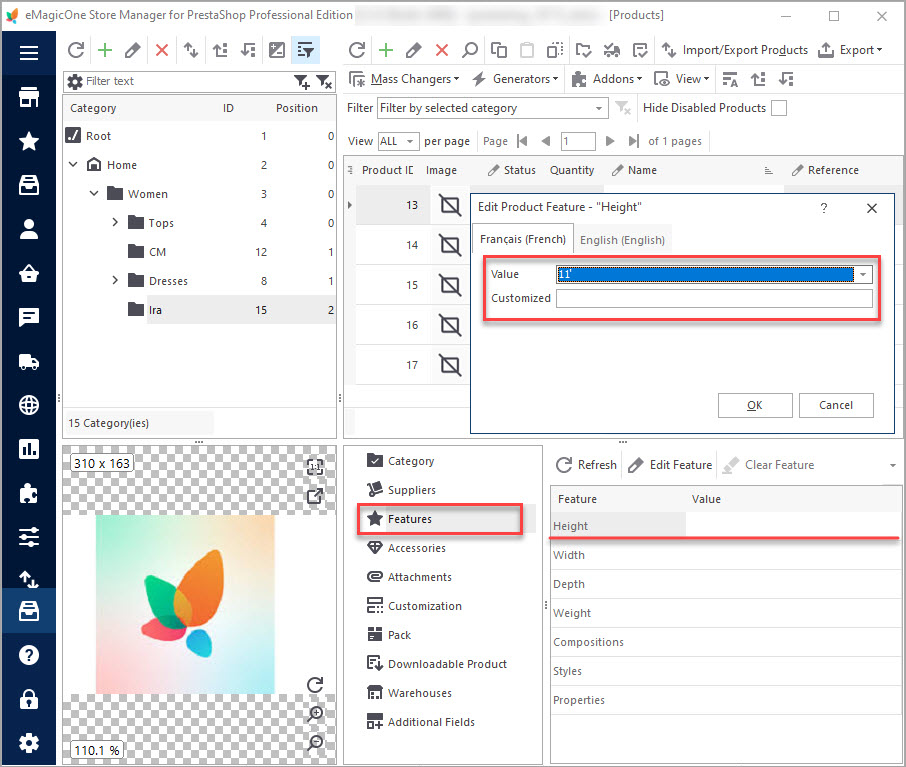 Whenever you want to alter feature details, you can resort to Edit Feature functionality in the Feature section.
Massively Update PrestaShop Product Features
Store Manager lets you modify features in bulk. Built-in Mass Feature Changer lets you swiftly configure characteristics for multiple selected products and bypass adding them on a per-product basis. Just decide on products, features should be added to or renewed for, launch Mass Feature Changer either from the product context menu or find it on the toolbar in Features tab of the lower grid. Afterward, check the boxes for features to be added. If these features do not have values assigned, input value directly in the Mass Feature Changer window.
Import Features to PrestaShop
PrestaShop product features can be added to products in the process of data import from the file. It is more convenient if you need to assign them to a multitude of merchandise. How to correctly organize file, what fields to include, and how to proceed with import settings is described in the article PrestaShop Feature Import

With the Store Manager application you have a brilliant chance to easily and properly organize PrestaShop product features and make the product catalog customer-oriented.


Related Articles: