Tips on How to Import PrestaShop Attribute Combinations
When your PrestaShop products vary in some characteristics you, definitely, resort to attribute combinations. Applying them to merchandise is a simple and quick way to create options, customize the catalog and let people easily find desired item, since one product page will home all the possible variations of this product.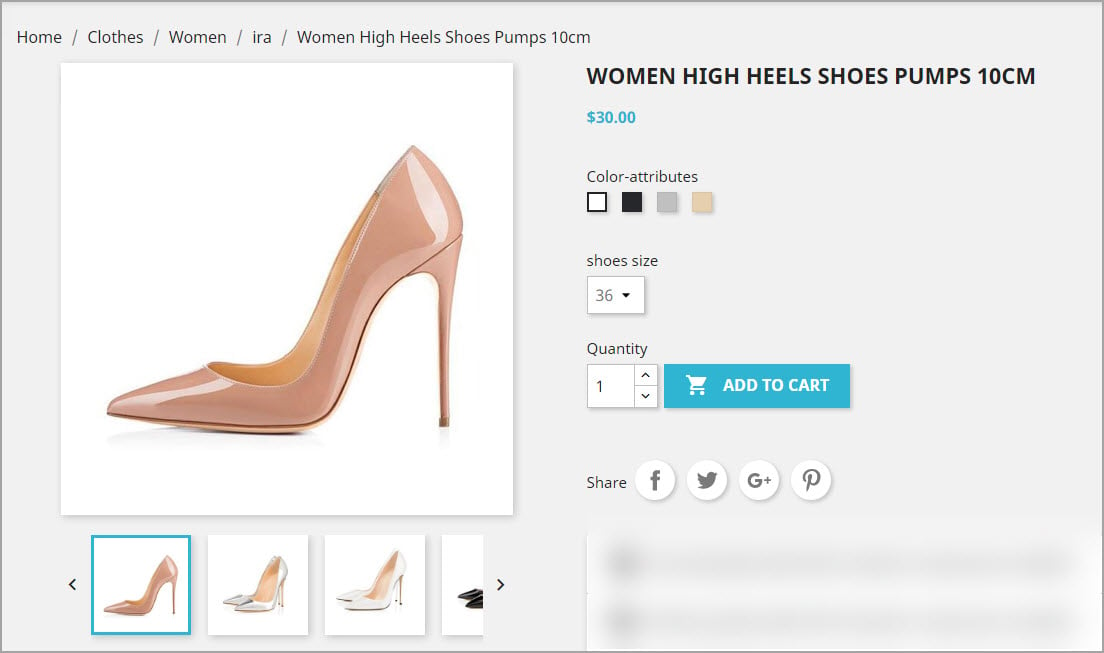 How are PrestaShop attribute combinations assigned to products? You create target attribute group (e.g size, material), add attribute values and ascribe the values to products correspondingly. Although, having immense number of products and attribute combinations to manage, you may find it cumbersome and time-consuming and would like to import PrestaShop attribute combinations instead.
Store Manager for PrestaShop represents flexible mechanism of product import, accomplished via import wizard. Combinations are being uploaded together with products and below in this article we are going to provide you with detailed instructions, leaning on which you can successfully create or update product variants.
Pre-Import Tasks: PrestaShop Combination Import File and Attribute Group Created
In order to create combinations, you have to arrange PrestaShop combination .csv file in a suitable manner. Details, you should provide in the file, depend on whether you are creating variables, uploading new products with options or renewing them. In the screenshot provided below, you can see how combination data should be organized in the spreadsheet. We need to create combinations, ascribe them to existing product in the process of import.

This is a sample file for combination import. Your file may differ in terms of details included. If you create new products with combinations, for example, you will have product related details as well. Contrariwise, you might need to update several fields or, let's say, combination inventory, what does not require you to cumulate all the data in the file.
Reference – product reference will be used as product identifier
Attribute groups: color and size – product varies in size and color and we configure attribute values respectively in these columns. In such a way, each row in the file is attribute combination, product variation
Combination reference – you should include combination identifier to the import file
Combination price – if you want to set price for some variations, input it in this column of your .csv file
Combination quantity – set quantity for each of combinations listed in the file
Additionally, we have specified combination images, set default combination, included product name
PrestaShop attribute groups can't be created via import, only their values can be imported. If you do not have groups created, add them in Store -> Attributes and Groups section of Store Manager for PrestaShop.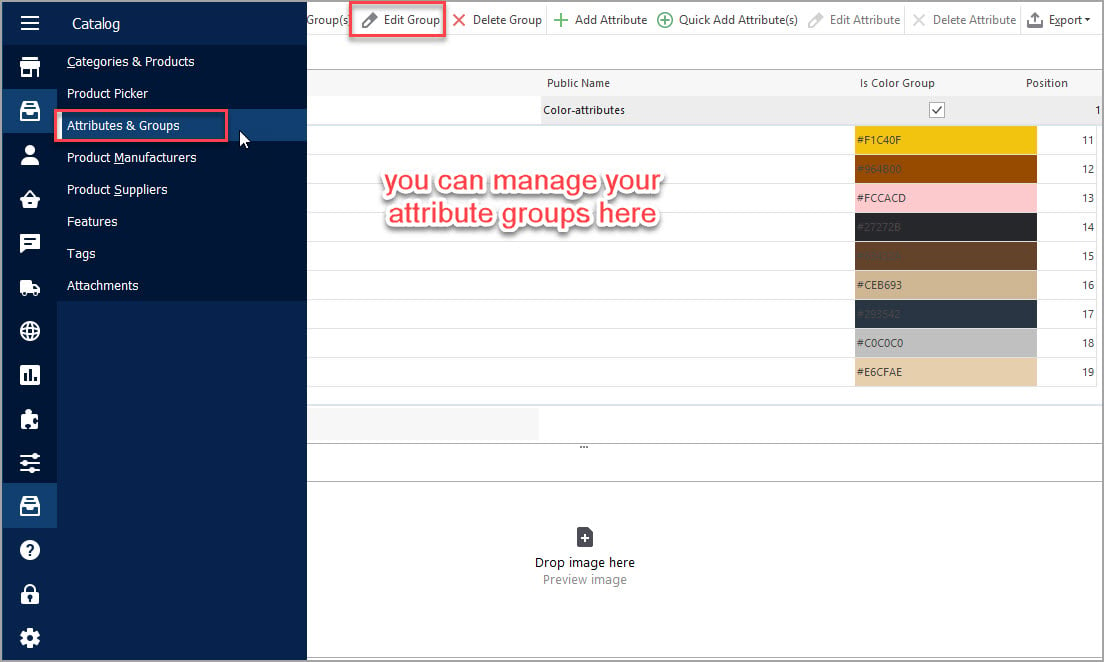 Import PrestaShop attribute combinations FREE with Store Manager Import Now
How to Import PrestaShop Attribute Combinations: Configuring
Combination import runs in the same way, product import does, although you should consider some settings to accomplish it properly.
After you select PrestaShop combination csv file, that collects data for import, you move to 'Select Delimiter and Quote Character' step. Except for suitable file delimiters, you have to configure combination image import settings (if you import images). In case you upload local images, check 'Import Images' box and specify folder, these images are stored in.
'Assign .csv Columns to Database Fields' step settings greatly influence PrestaShop import of combinations outcomes. You are supposed to select product identifier, combination identifier and map file columns to appropriate database fields.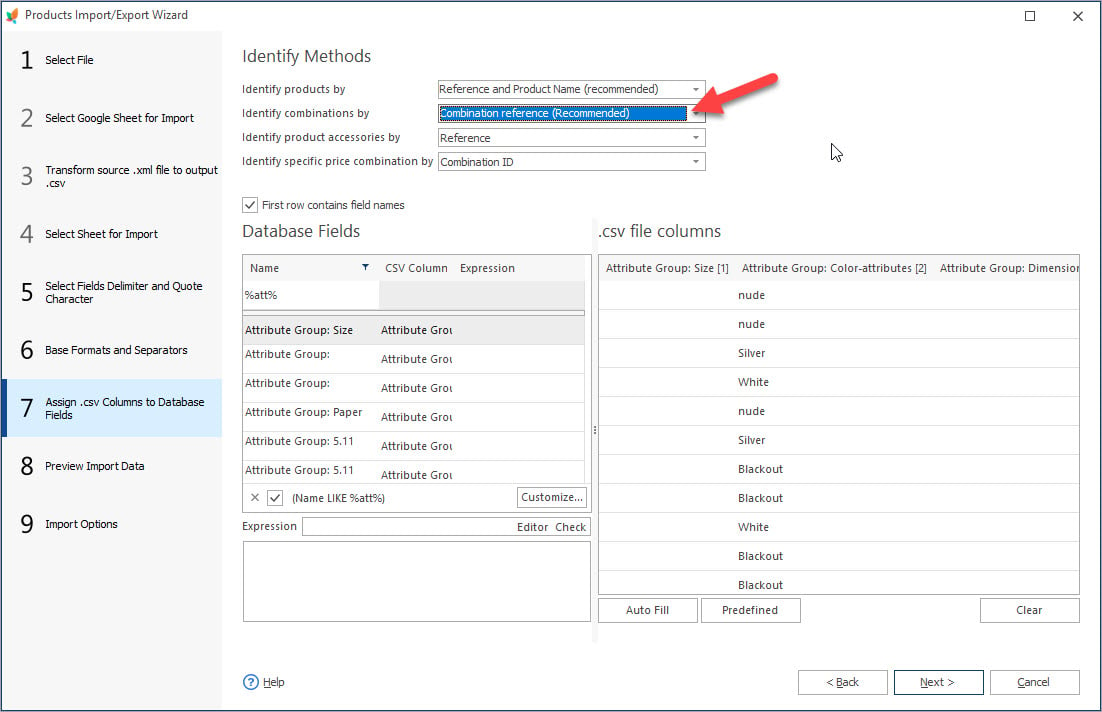 What concerns combination identifier, you have several options to choose between and you have to think carefully what suits you.
If you are creating new combinations, no matter for existing products or together with products, you are supposed to have combination reference in the file and select it as identifier on this step.
Combination ID can't be used as identifier when the objective is to create new combinations. ID is being used for update only.
If you select 'Regenerate combination' method, existing product combinations will be substituted with ones, listed in PrestaShop combination csv file you use within this import procedure. If you want to change selections for existing products with new ones and have them in the file, select this option
In case you set 'Skip combination import', combination will neither be created nor updated. They will not be processed at all.
Import method (add and modify, add only, modify only, just add) and options should be configured at the last step of import wizard. You have to check Create New Attributes box in this window for new attribute options to be created. Set other product options and manage products that are not listed in the file if necessary.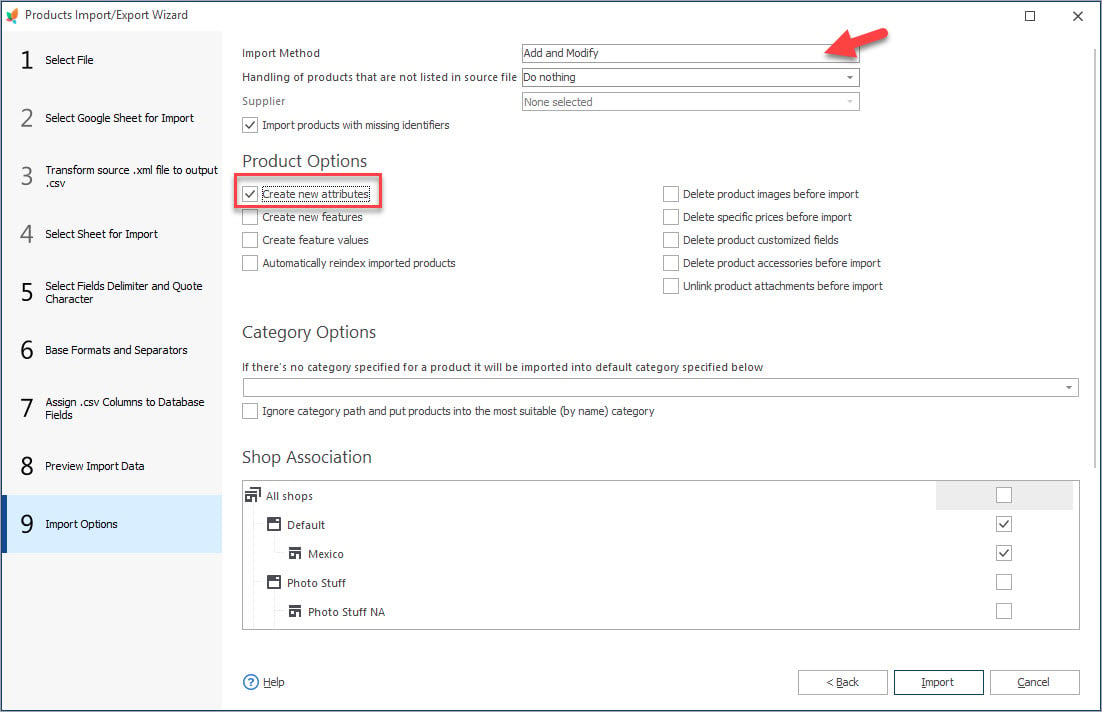 Store Manager for PrestaShop fulfills meticulous import of product combinations, what allows to create customizable PrestaShop catalog. Variety of options and possibility to easily obtain preferred goods greatly refine your PrestaShop web store's usability.


Related Articles: