Running an online store, you might need to change your inventory and prices for a number of reasons:
Update retail prices according to your supplier pricing.
Keep your prices competitive.
Offer discounts and promotions, etc.
In this article, we'll show you how to speed up the updates via Store Manager for PrestaShop.
Store Manager
is a desktop application that provides advanced tools for bulk changes, smooth import/export, POS management.
Download the free trial
and connect the application to your store database following the step-by-step wizard.
Make Quick Edits of Prices and Quaintity in One Window
When you have Store Manager installed and connected to your store, you will see all your products, categories, and other store data displayed in the application.
To edit product details, click the product and select necessary tab at the bottom. Or click the pensil icon on the toolbar to see and edit product details in the window: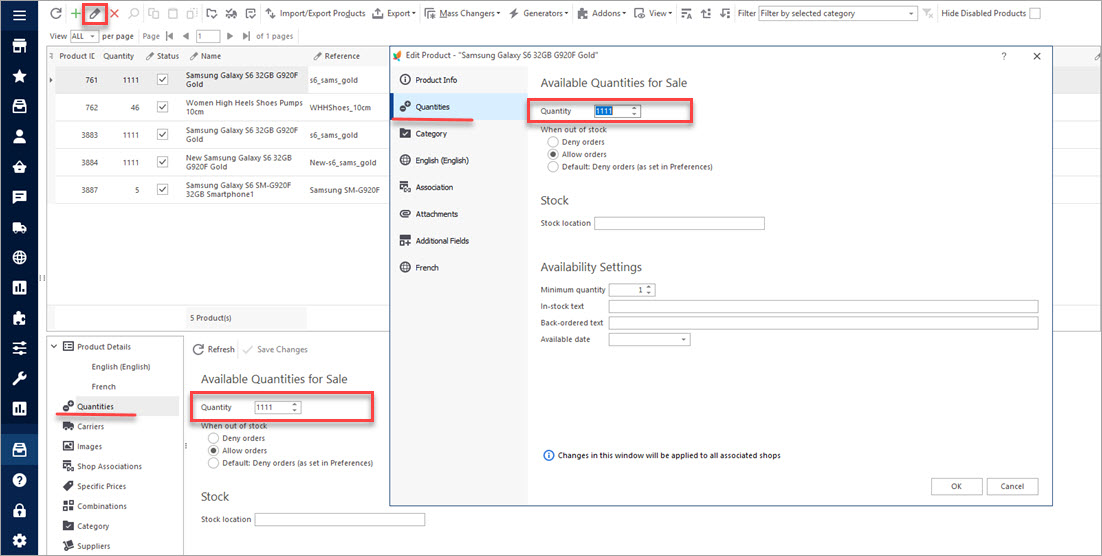 If you need to recalculate the quantity or price (sale, base, or wholesale) you can do it right in the grid using the built-in calculator: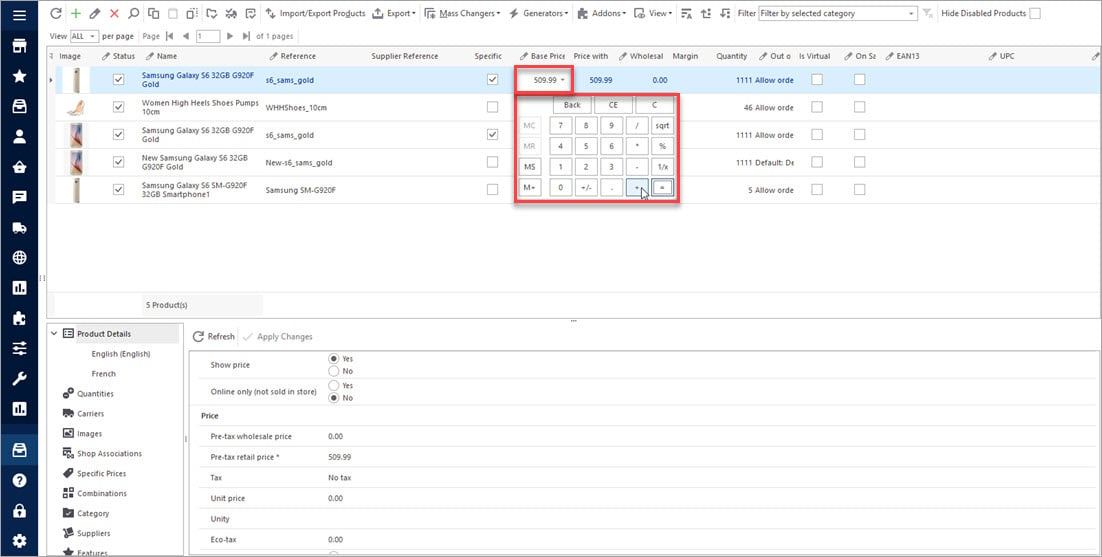 Store Manager allows you to make the changes locally and then post them all to the web. To use this option, select the "PHP Bridge" as a connection type. Make the updates at your own speed, when you are offline, etc.
Read more…
These methods of data management are really convenient when you need to change product quantity or price for one or several products. Thouhg, when there are hundreds products to update you need an advanced tool. Let's see how it works.
Use the PrestaShop Mass Changer Tool for Bulk Product Updates
The Store Manager Mass Product Changer tool makes it possible to update prices, stock, arrange special prices for multiple products at once.
With the Mass Product Changer, you can massively update prices, wholesale prices, quantity and product related fields.
In the first tab, you are offered to perform the following changes:
Set fixed price value.
Increase or decrease current value by percentage (+/- %)
Increase or decrease current value by a fixed number (+/- value).
Set "Smart" prices(like 9,99).
Updating PrestaShop stock, you may either set fixed value for the quantity field or increase/decrease current product quantity by a number.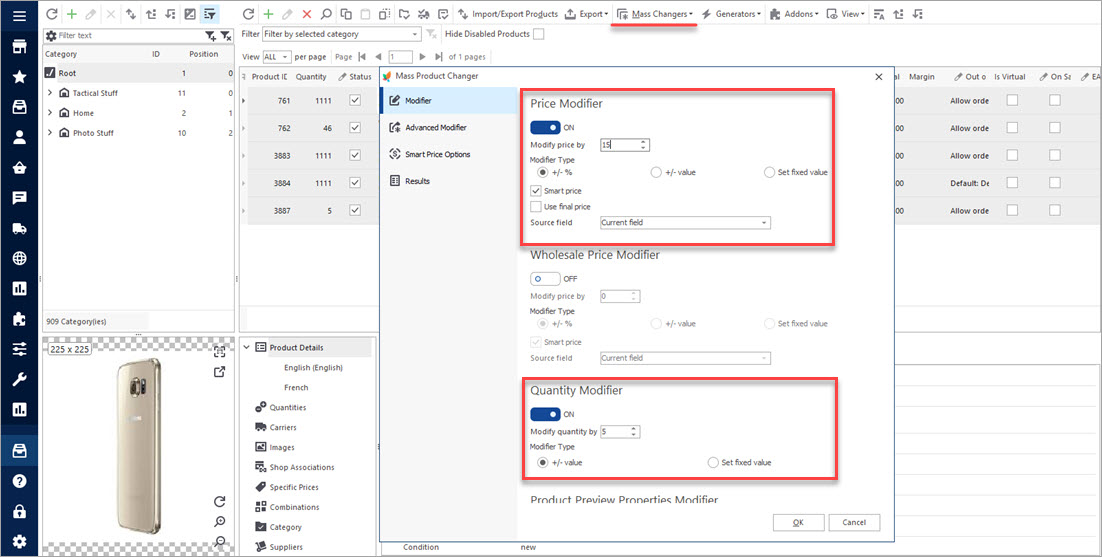 In the "Advanced Modifier" tab you can massively update other product fields: assign a manufacturer, change In Stock/Out of Stock, set minimal quantity, put product on sale, and others.
As you can see, the tool makes product management more flexible and saves lots of time. Moreover, it enables PrestaShop users to efficiently set smart prices and attract customer attention. With a Mass Product Changer, you can quickly manage products stockouts, stop selling definite products temporarily, marking these products as out of stock for some time, etc.
Update PrestaShop Product Details via Import
The export/import tool is another way to massively update products and quantity in an online store.
Suppose, some goods in you store are out of stock and you want to update only for these items. With Store Manager, you don't need to indicate all product related information in a CSV file. Include only those field that must updated (product quantity in our example) and a product identifier (ID, name, reference).
Moreover, Store Manager allows you to input values for empty fields right in the process of the data upload.
Assign CSV columns to the database fields or apply an expression rule to change field values if needed: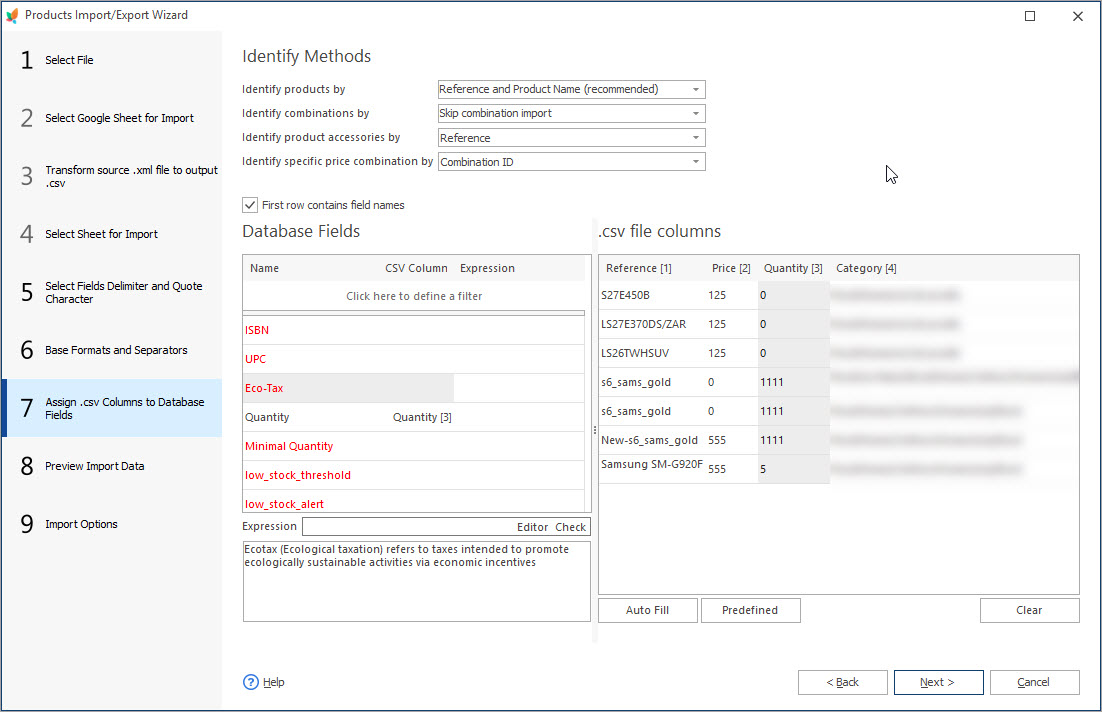 Use Store Manager for PrestaShop to keep your store catalog "up to the mark". Perform daily routine changes faster, get ready for promotions during festive seasons, stay competitive using the tools for mass updates in Store Manager for PrestaShop.
Update multiple products FREE with Store Manager for PrestaShop Try NOW


Related Articles: