Import of data feeds, containing all product details is obligatory for creating PrestaShop store catalog, embracing a vast amount of products and categories. PrestaShop import is a primary means of data handling and content updating, that's why it should be accomplished smoothly and flawlessly.
If you haven't installed Store Manager yet, download the
free trial
and connect the application to your store database using the wizard inside. Read about other
Store Manager tools
to simplify and speed up PrestaShop store management
Not infrequently, the import of huge spreadsheets with records is accompanied by slip-ups and muddled-up results, which can be caused by inappropriate .csv file structure. For example, to run a web business, online shopkeepers have to cooperate with providers or wholesalers and receive data feeds from them. Most likely, you will not get all the necessary for PrestaShop import from file fields – some columns of the file will be missed. In case, columns, responsible for product representation at front end are excluded, or incorrect values are indicated in these columns, goods won't be displayed at the front end after carrying out the import operation. Manually adding missed records to the .csv feed will definitely be a time-consuming and tedious procedure. What to say if you need to upload files with an enormous amount of items?
To turn PrestaShop import from file to more flexible and flawless operation and elude data upload difficulties, entrust this to the Store Manager for PrestaShop application. Even if you have some fields omitted in the file or incorrect values specified, you can improve matters by means of Expression at a certain stage of import process.
What Is an Expression?
The expression can be defined as a command to fulfill certain operations, that will return some value. It is a so-called formula, a set of SQL statements, by means of which you are specifying what exactly information you need to get. The values are being added to necessary fields, depending on input .csv file data, imported with Store Manager for PrestaShop.
Where Is an Expression Applied?
Expression rules are being added on the "Assign .csv Columns to Database Fields" stage of PrestaShop products import. The window is being visually divided into two parts. The list of database fields is placed to the left. You have to choose the field, Expression will be applied to, press "Editor" button, placed in front of it.
In the "Expression Editor" window opened, add Expression to modify data.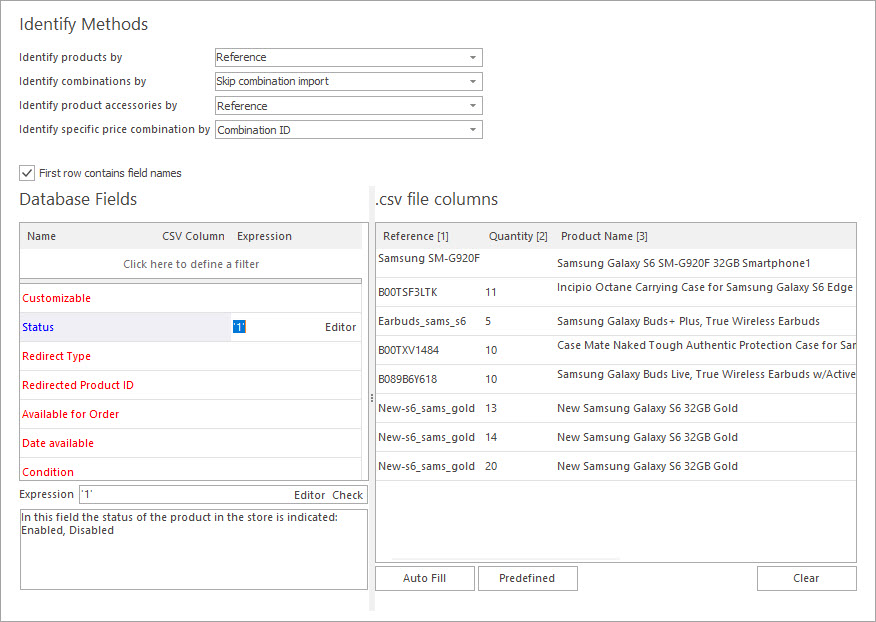 The formulae used in the course of PrestaShop import carrying out considerably simplify the procedure and help to bypass data upload inconveniences. Data can be easily managed right during the import of products and their related information.