PrestaShop multi store functionality is the great possibility to set several storefronts within single PrestaShop installation. The necessity for multiple presence on the web can range from having to cover regional or customer requirements. Merchants might want to make this or that store multilingual or sell completely different merchandise at each.
Whatever is the reason of multiple stores creating, most likely, you will be facing workaday routine connected to catalog management, namely, products, categories, product variants and other entities. Assuredly, catalog requires constant updates or replenishments that are being accomplished in the course of PrestaShop product import.
Store Manager for PrestaShop streamlines multiple store data manipulations, since one of the fascinating features it offers, is product import to specific shop or several shops at once. This capability is really advantageous since multiple items and related details will be appended to one or several shops fluently.
Points to Consider When Performing Data Import
several stores can share the same categories or products
it is possible to make each of the stores multilingual and import multilingual details simultaneously
you can execute product import to various shops at once
Product import to multi store in PrestaShop can be accomplished via corresponding import wizard, although some settings should be carefully inspected.
Settings to Be Designated for Successful Data Import to Multiple Stores
Data transfer settings can be configured within several steps of the import wizard. As usual, launch product import wizard, select the file, that stores products and details and make sure correct terminating characters are selected.
If you upload product information in several languages, that is to say, you have multilingual shops, assign multilingual details to appropriate database fields and map the rest of fields you have in the file.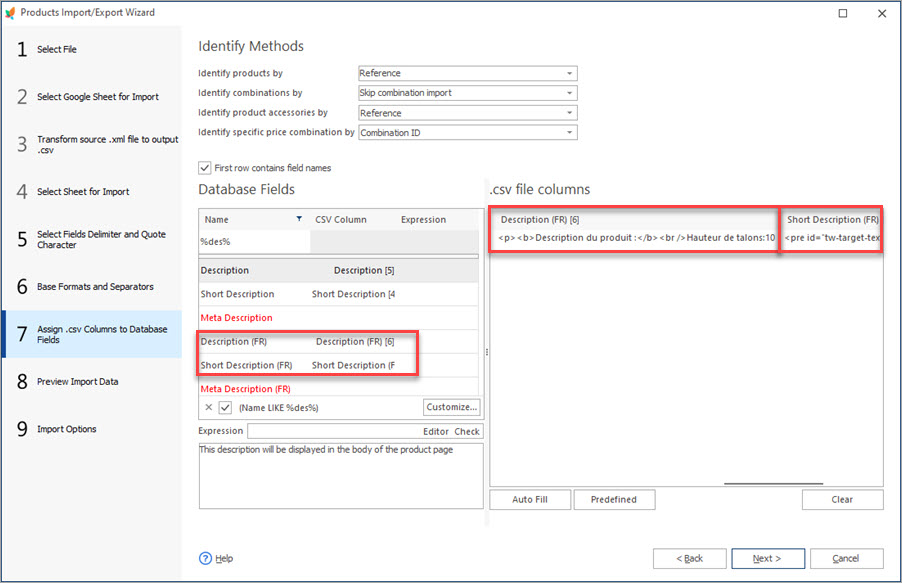 In order to attain desirable import outcomes, you are supposed to designate suitable products and combinations (if you upload product combinations as well) identifier on this step. Please, take into note, product ID serves for update only.
After data preview, wizard represents Import Options window. Exactly on this step PrestaShop multi store associations should be configured. In other words, you should select the store, info will be appended to during the process of product import.
As you can see on the screenshot, there are shop groups. We are going to add current products to specific shop and, correspondingly check boxes for it on the last step of import wizard. Besides that you should select correct import method, set import options if necessary (delete product images before import, remove specific prices or customized fields) or manage merchandise that already exist at PrestaShop, as for example remove or deactivate them.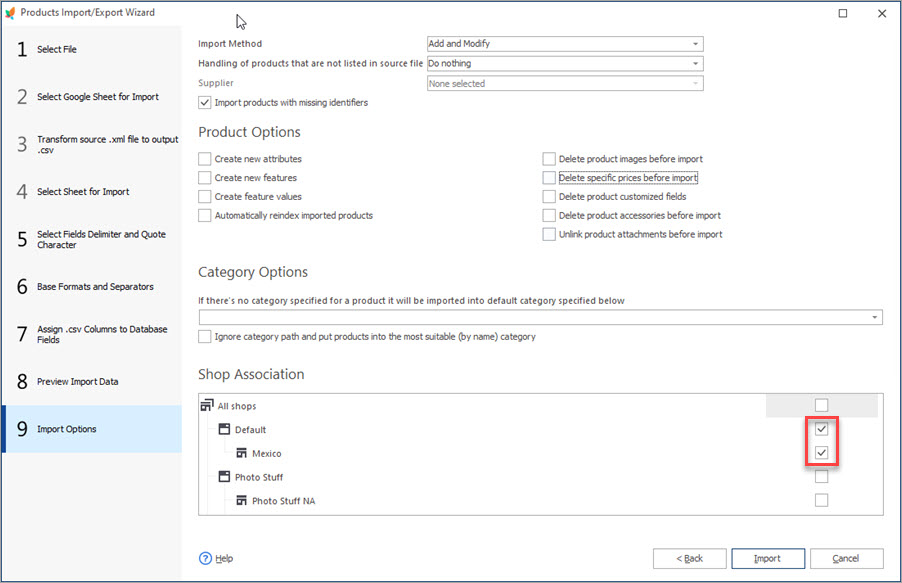 After you confirm this procedure, data transfer will start.
Store Manager for PrestaShop facilitates efficient PrestaShop multi store running and lets you determine shop associations when uploading datasheets so, as a result, products will be added to desired shop.
Read related article and learn how to manage numerous shops from one location www.prestashopmanager.com/prestashop-multiple-stores/prestashop-multi-store-management/


Related Articles: