Full-scale PrestaShop store developing requires a whole lot of tasks to be fulfilled. Inventory management is considered to be nearly the most important and crucial for web store proprietors, since setting up attractive and customer-oriented PrestaShop catalog of products, undoubtedly, results in increasing clientele base and higher conversions.
What's the most significant about products you sell online? The answer is self-evident, online shoppers expects to find wide assortment of products, discover some novices, view product images, choose between manufacturers and so on. To cut the long story short, you must provide consistent and all-in-one PrestaShop catalog and let your shoppers find each and every detail on merchandise you offer on the Internet. Popular nowadays source called ICEcat will come to assistance.
Why to Use ICEcat?
ICEcat is a global unique open catalog that supports more than a million of product data sheets and more than 4 000 brands. Moreover it is accessible in more than 30 languages. Here you can find goods specifications – name, description, images and other features that can be transferred to your store and ascribed to definite wares.
ICEcat is the website with high-quality product information based on reliable sources. Manufacturers constantly cooperate with ICEcat to maintain complete product content and distribute it over the Internet. It is quite advantageous for store proprietors who can take details from this worldwide catalog and assign to necessary products at their web stores.
How to Synchronize PrestaShop with ICEcat?
PrestaShop-ICEcat synchronization is a good way to enrich product catalog with detailed information and pictures, bypassing monotonous and time-consuming manual data inputs. To fulfil this procedure you should fall back upon Store Manager for PrestaShop and the plug-in called PrestaShop ICEcat Integration.
ICEcat Product Catalog Integration utility is implemented into Store Manager in demo mode and, respectively, number of items to be updated is limited. On condition that you want to manage multiple products and use the addon to the fullest, you have to register it with paid license key. In order to work with ICEcat integration you have to provide ICEcat login details. If you still have no account, register on ICEcat firstly.
Overall product update runs in several steps, within which you have to designate settings on the basis of which product catalog will be renewed. This operation is maximally convenient and endows you with numerous advantages:
you can choose between open or full ICEcat catalog
you have numerous product categories and manufacturers at disposal, you can choose any simply checking box for it
it is possible to find necessary products at ICEcat using different product identifiers, namely ICEcat code, EAN Code, Product Code or Name
to reach necessary merchandise at ICEcat, you may resort to product search functionality and easily find these products
you can indicate what details should be taken from ICEcat catalog simply checking boxes for them
With Store Manager for PrestaShop and ICEcat Integration addon you can automate and enhance product updates, set high-quality pictures for merchandise, add the latest product specification and maintain remarkable PrestaShop catalog.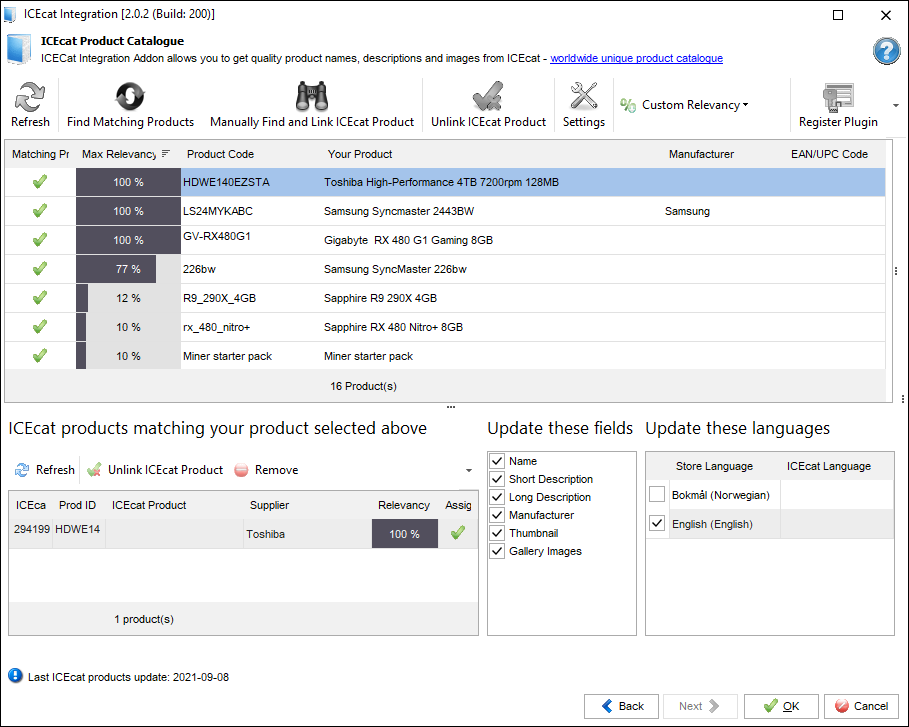 Related Articles: