Throughout the course of your online business, it might be necessary to target particular segments of PrestaShop customer database and reach them for marketing operations. These may be newsletters, mailing campaigns with coupons, updates, new products, сustomer satisfaction surveys, holiday cards etc.
For the mentioned purposes, often online merchants need customer e-mails and other client-related data listed in the file to use it further in external mailing services, such as Mailchimp, or integrate client info with CRM / ERP tool or different piece of software.
PrestaShop doesn't exactly make it easy to extract the email addresses of users on your site to the spreadsheet out of the box. With Store Manager for PrestaShop you will be able to create advanced mailing lists to meet all your needs!
Export mailing client lists from your PrestaShop to CSV or Excel
Export FREE
Tailor Mailing Lists According to Your Needs
With Store Manager for PrestaShop you can create highly tailored customer lists, defining various conditions and criteria for selection. Using really precise filters offered in Store Manager, you will be able to make advanced customers segmentation.
If you haven't installed Store Manager yet, download the
free trial
and connect the application to your store database using the wizard inside. Read about other
Store Manager tools
to simplify and speed up PrestaShop store management
Customers filtering possibilities include:
Filter customers based on their registration dates (time range can be specified by you).
Make client selections by purchased products.
Select registred users, who agreed to receive newsletter emails from you.
Instantly filter customers by groups they belong to.
Filter customers by gender to make mailing for 'him' and for 'her'
Create different customers lists by age (from / to).
Filter customers by country and many more.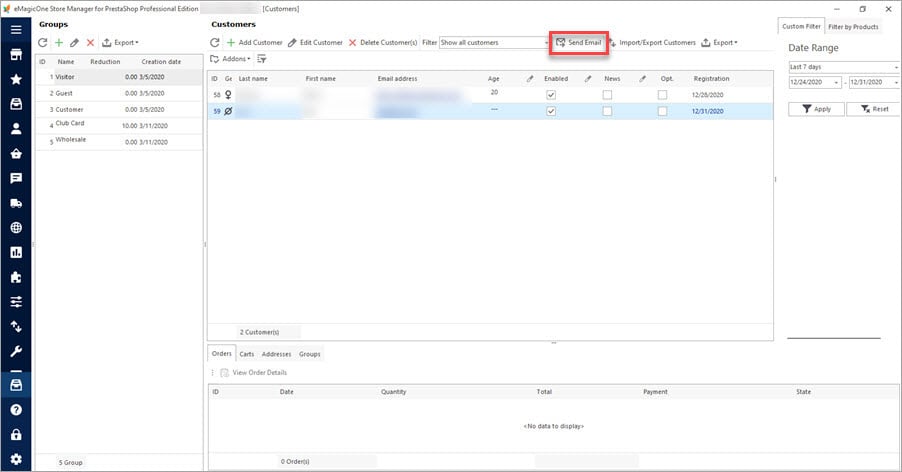 Thanks to these wide filtering operations, your mailing campaigns will become more targeted.
Сustomize Exports of Your PrestaShop Customer Base
Store Manager for PrestaShop allows you to export filtered customer details into files of different formats to suit various requirements.
– Grid Export to Excel
If you'd like to export mailing customers' data to Excel, you can do it with a single click of the button. With the help of grid export, you can bring records and columns you have filtered in the customer menu list to to the sheet of .xls format.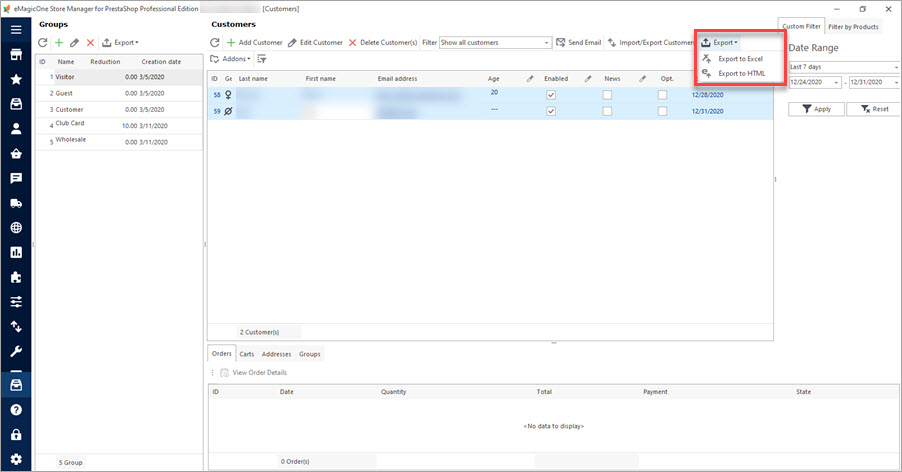 – Advanced Customers CSV Export
With the help of Export/Import Customers Wizard available in Store Manager you can define the fields you would like to include in received file and configure additional file settings.
Export wizard includes 30+ fields with info on your clients that might be useful for your mailing campaigns. Use buttons in the middle or drag&drop the columns you would like to include in your file, for example, customer email, first&last name, company etc.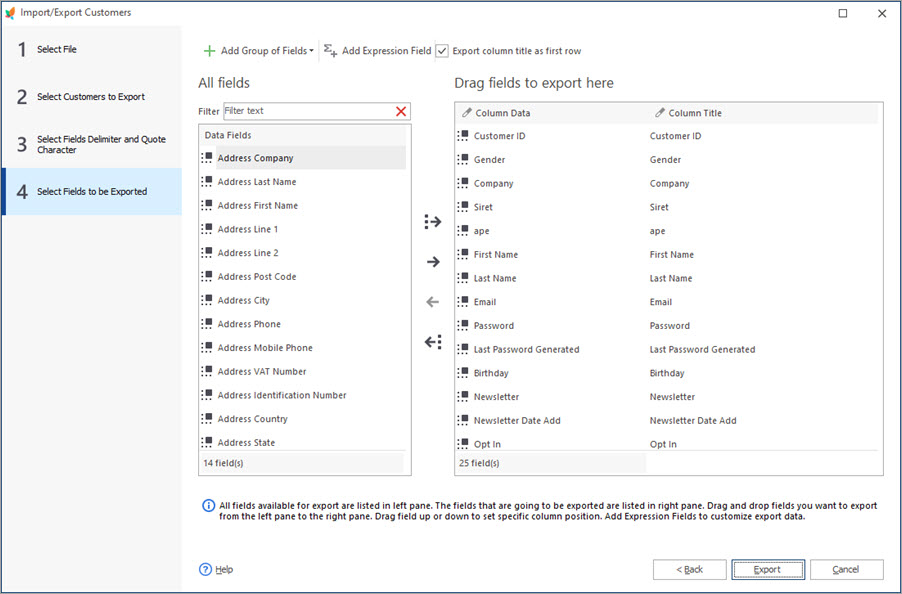 Additionally, there is also the option to upload the exported file to FTP in case you need it for external purposes.
Create intelligent and targeted PrestaShop mailing lists, delivering newsletters to your clients that will be genuinely interesting for them.
Try Easy Export of Customer Emails with Store Manager for PrestaShop
Download FREE


Related Articles: