Up and running PrestaShop business, you definitely cooperate with suppliers, that provide merchandise you sell online and are actually middlemen between you and product manufacturer. Respectively, you should have PrestaShop suppliers and details on them organized within PrestaShop and after that assign supplier to certain product.
What Is Supplier Reference?
When you add or modify products, you can find a field in each product global settings that allows to choose the supplier for this very item and in addition to it you can add supplier reference. By means of supplier reference you can associate a product with a supplier and better manage your PrestaShop product listings. Just that very field – PrestaShop supplier reference – has become the dot com of these days.
Why Was Supplier Reference Field Changed?
Lots of PrestaShop users put a question about "supplier reference", namely, why isn't it displayed any more? For example, one of our users addresses: "Having the supplier reference in the product grid makes my workflow a lot faster. In previous versions, with it in the grid, while I'm importing images, I can highlight the supplier number in the grid, copy it and then paste the number in my vendors search, then I can take the image right from the vendors website into the product without having to toggle back and forth between image and main products in the quick tab." Some users find it inconvenient and look for reasonable explanation and here it is.
"Supplier reference" field representation in Store Manager for PrestaShop has been reorganized, since supplier logic was somewhat changed in new PrestaShop version 1.5. Due to recent changes, "product_supplier_reference" field was added to product_supplier table, though "supplier_reference" was not removed from product table to avoid mishaps during updates.
Supplier Reference in Store Manager for PrestaShop
If you haven't installed Store Manager yet, download the
free trial
and connect the application to your store database using the wizard inside. Read about other
Store Manager tools
to simplify and speed up PrestaShop store management
As it was mentioned above, supplier reference was available in product grid in PrestaShop 1.4 and earlier. Now information on product supplier is displayed in Suppliers tab of product lower grid. If you select an item and go to Quick Tab -> Suppliers, you will get the list of all suppliers you have at the store.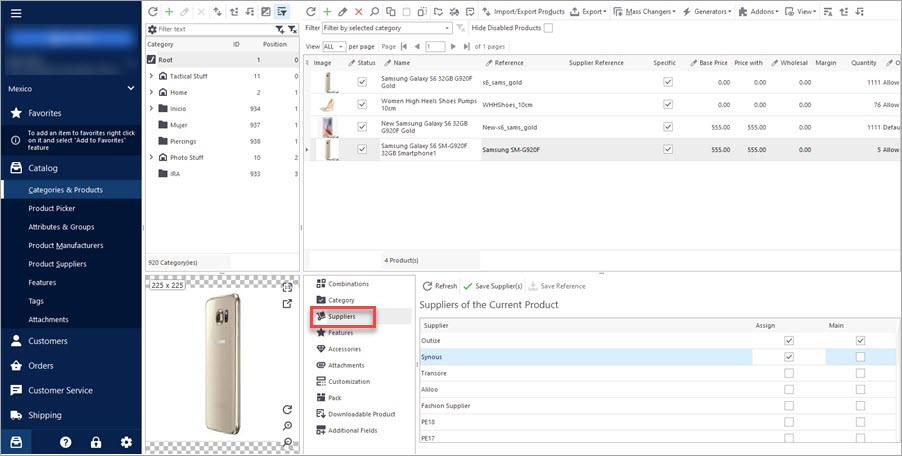 To assign this or that supplier to current product you need to check box in its row. Note, here you can add more than one supplier to one PrestaShop product and indicate what one is the main for this product checking "Main" box for it. Thus, now you can take advantage of multi-supplier feature and add as many distributors to one product as you need.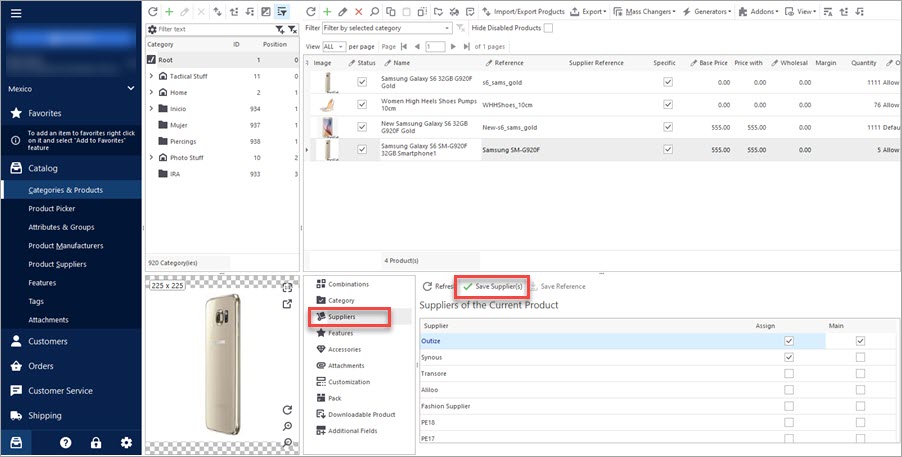 Once you click on "Save Supplier(s)", it will be associated with current product. There will appear "Product references" window to the right, where you can input reference for each supplier. Furthermore, you can add unit price excluded tax and currency (supplier currency). In case you have added several suppliers to one product, main PrestaShop supplier reference will be displayed in product grid.
In brief, PrestaShop acquired new possibilities concerning supplier management. Now you make use of multi-supplier feature and assign numerous distributors to your PrestaShop product. Accordingly, there were implemented changes to Store Manager for PrestaShop, in particular to PrestaShop supplier reference, that can be found in Quick Tab -> Suppliers.
Important:The latest versions of Store Manager for PrestaShop display supplier reference in grid. If products have several suppliers assigned, reference of default supplier will display. If products have combinations, no supplier reference will be shown.
Details on Store Manager for PrestaShop application are available at https://www.prestashopmanager.com
Download advanced PrestaShop data management tool FREE Get It Now


Related Articles:
COMMENTS
Roger • 10/23/2017
I try to update the supplier-referene by importing and selecting product ID as identifier. But no matter what I do, the supplier reference is not updated. Is this field impossible to update via import?