Starting from 1.7 version PrestaShop renamed the Manufacturers section to Brands. So, we will describe to you how to manage your Brands/Manufactures from the backend and Store Manager application.
When you are selling some branded products it's worth adding a brand/manufacturer name to them in your PrestaShop store. Firstly, when a manufacturer or brand becomes well-known, its name serves as an additional incentive for customers on your website. Secondly, it helps to get displayed in the search results when people are looking for some particular brand. And, lastly, it makes the navigation of your store more convenient.
Where is a Product's Brand/Manufacturer Reflected in PrestaShop
In the default PrestaShop installation, the Manufacturer/Brand name is not displayed on the product page. Brands are shown in the left column as a menu, so shoppers can filter products by a brand. Though, it is possible to add a brand's logo on the product page via customization or some module.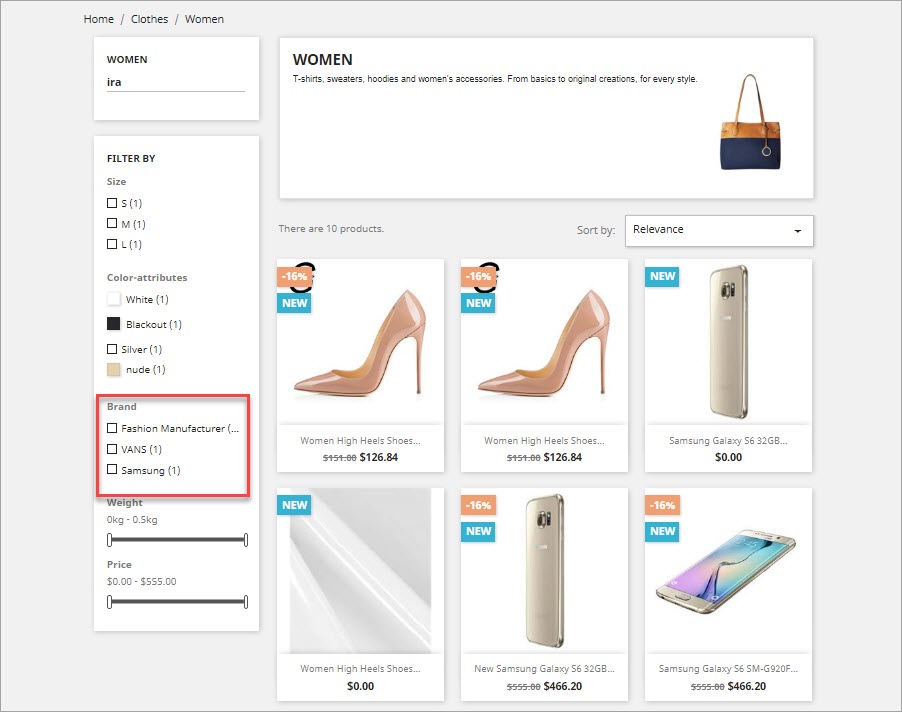 Important! On the front-end of your store, manufacturers are sorted alphabetically. You cannot change that order.
How to Add New PrestaShop Brand to a List
If you manage your catalog through the native PrestaShop back office, here are the steps to add a new brand:
Open Catalog -> Brands&Suppliers section. Here you can see 2 tabs to manage Brands and Suppliers. Stay in the "Brands" tab. Specify the brand's name and associate it to at least one shop (if you use the multi-store feature).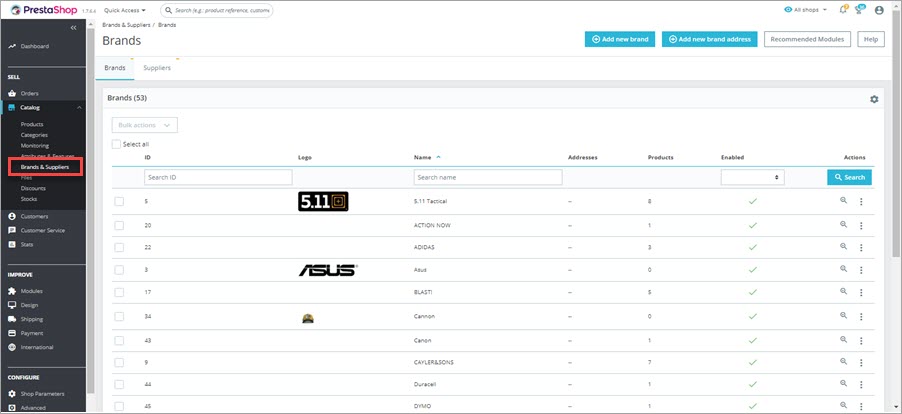 You can manage previously added Brands or add a new one by clicking the "Add New Brand" button.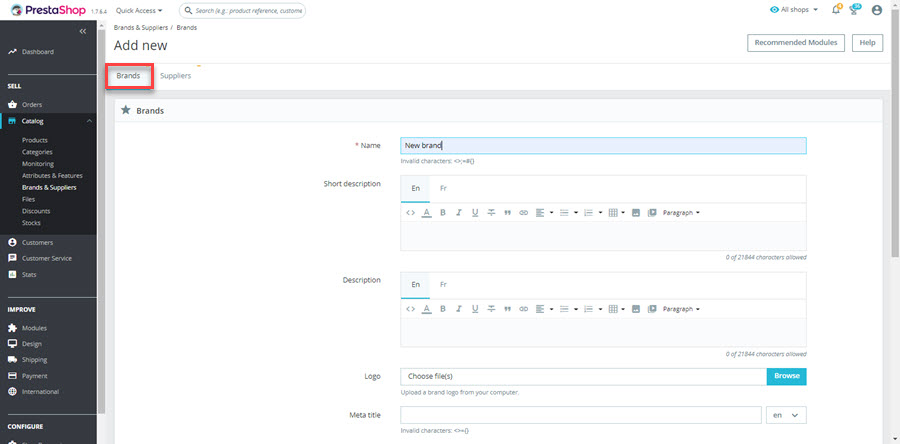 Here are also the following fields to fill in: logo, short description, description, meta information. These fields are optional but useful for better ranking of your website by search engines.
New Brands are automatically enabled. You may disable them if they do not contain any product yet.
Once a new brand is added, you have to "Add new brand addresses"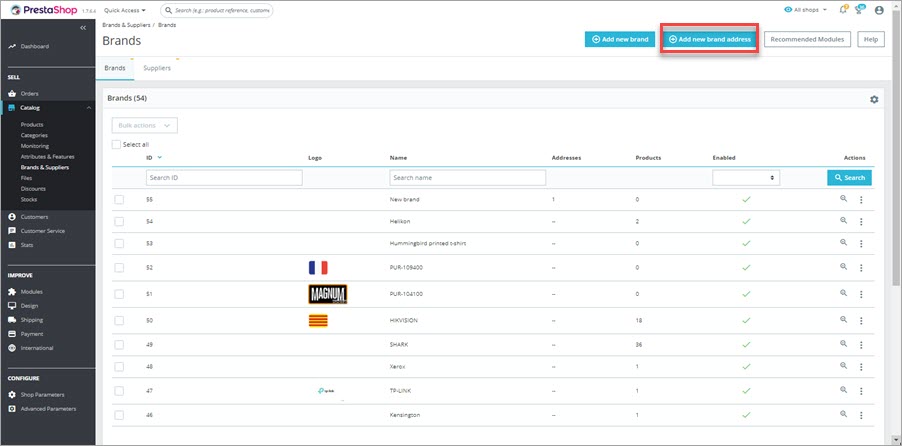 Under "Add new brand addresses" select the new Brand name from the drop-down list, and fill all required fields ( Last name, First name, Address, City, Country) and save it.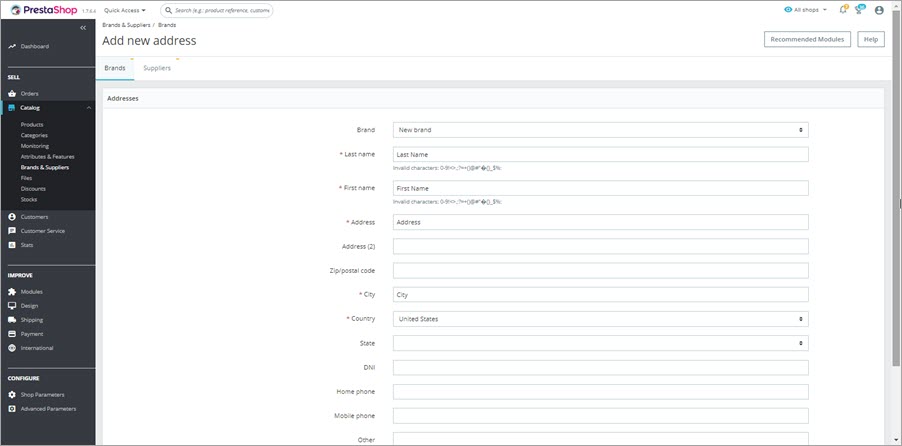 Now you can add new Brand to your product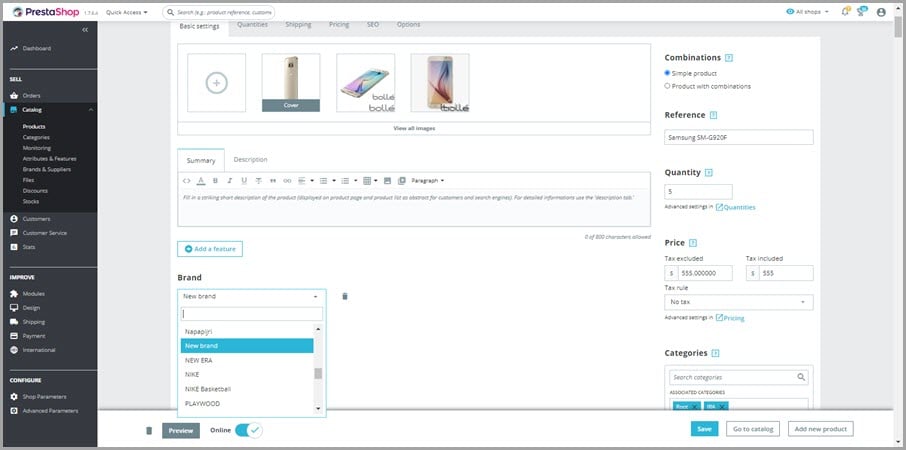 Operations Over the Manufacturer/Brand with Store Manager
Note: Store Manager is compatible with previous PrestaShop versions, so Manufacturer name is still used.
Store Manager for PrestaShop offers the possibility to work with Manufacturers/Brands performing the following actions:
Add a new Manufacturer/Brand.
Edit existing Manufacturer/Brand from the list.
Remove Manufacturer/Brand you are not working with anymore (in bulk).
Massively associate selected Manufacturers/Brands to a particular shop of your website.
Export Manufacturers/Brands info into Excel or HTML format.
Add a logo.
These operations are possible to call out with the help of buttons in the menu or in context menu appearing after right-clicking at any product.
If you haven't installed Store Manager yet, download the
free trial
and connect the application to your store database using the wizard inside. Read about other
Store Manager tools
to simplify and speed up PrestaShop store management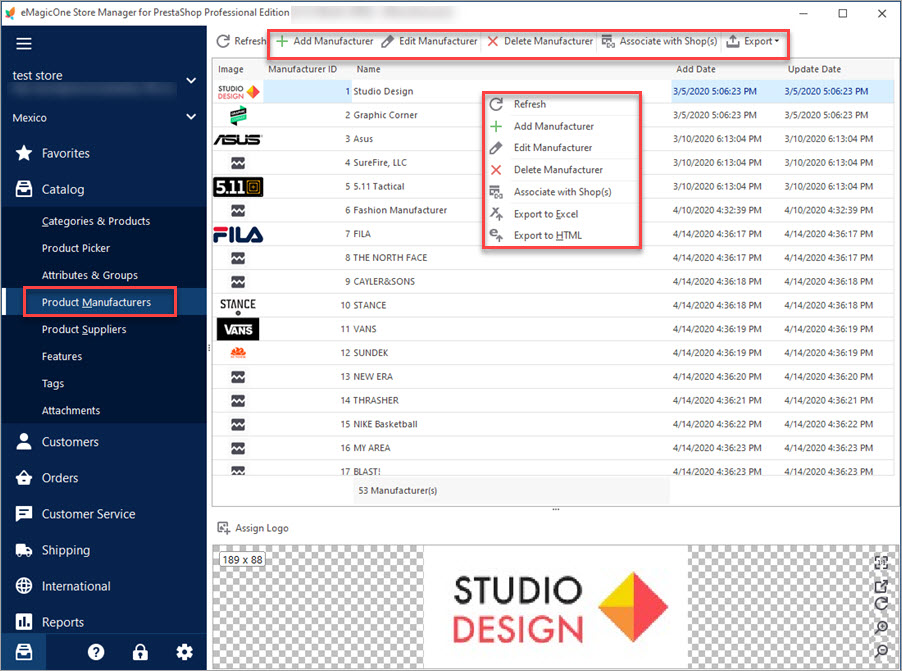 Associate Products with Manufacturer/Brand One-by-One
One-by-One
In the PrestaShop back office, to link appropriate products to Manufacturers/Brands from the back office, you need to go open each product's edit form and then select a suitable Manufacturer/Brand in the drop-down list. With Store Manager for PrestaShop, things are much easier since there is no need to open the edit product form each time. You can move through the product list and quickly assign a Manufacturer/Brand to each product: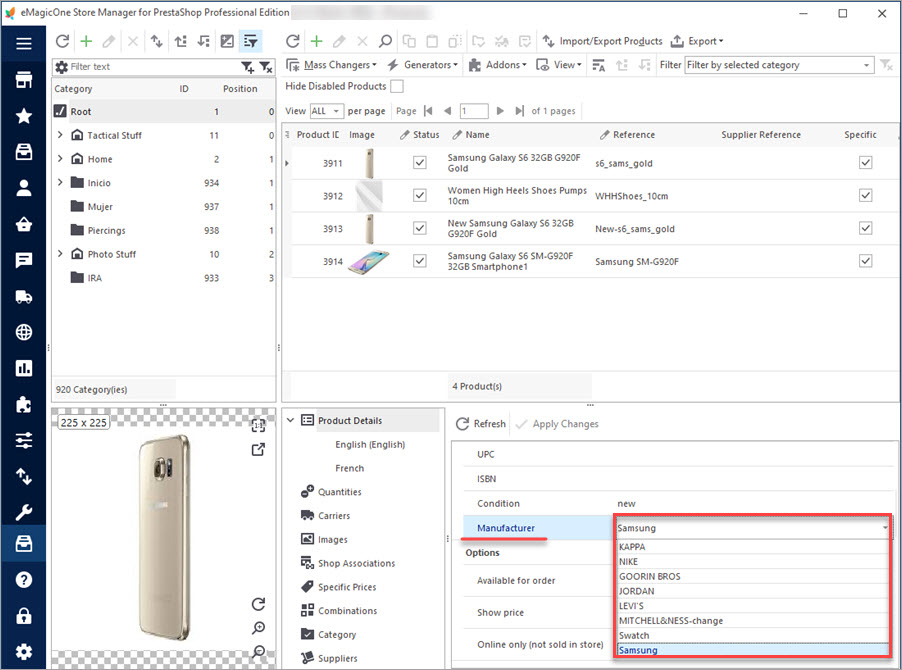 Associate Manufacturer/Brand to Multiple Products at Once.
Store Manager allows you to assign PrestaShop Manufacturer/Brand to multiple selected entities from your catalog in bulk.
Steps to Bulk edit PrestaShop Manufacturers/Brands:
Open Store Manager for PrestaShop. In the sidebar, under "Catalog" click "Products". In the product grid, select the products to assign Manufacturer/Brands to. Open the Mass Product Changer tool by pressing the button on the top menu or opening a context menu: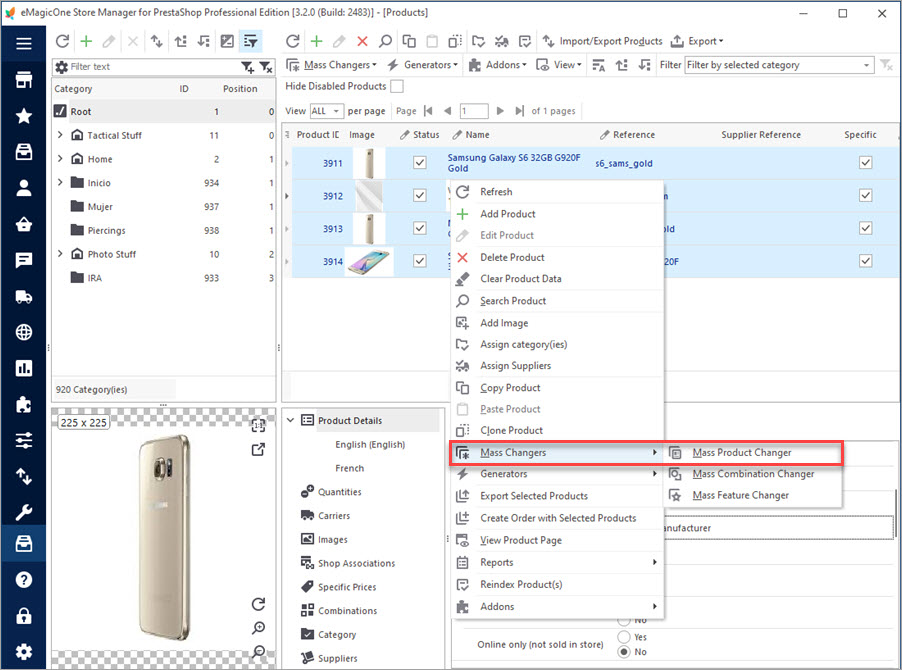 In the "Advanced Modifier" tab, pick a Manufacturer/Brand to be applied to the goods. Select the check box next to the "Manufacturer/Brand" field and press OK.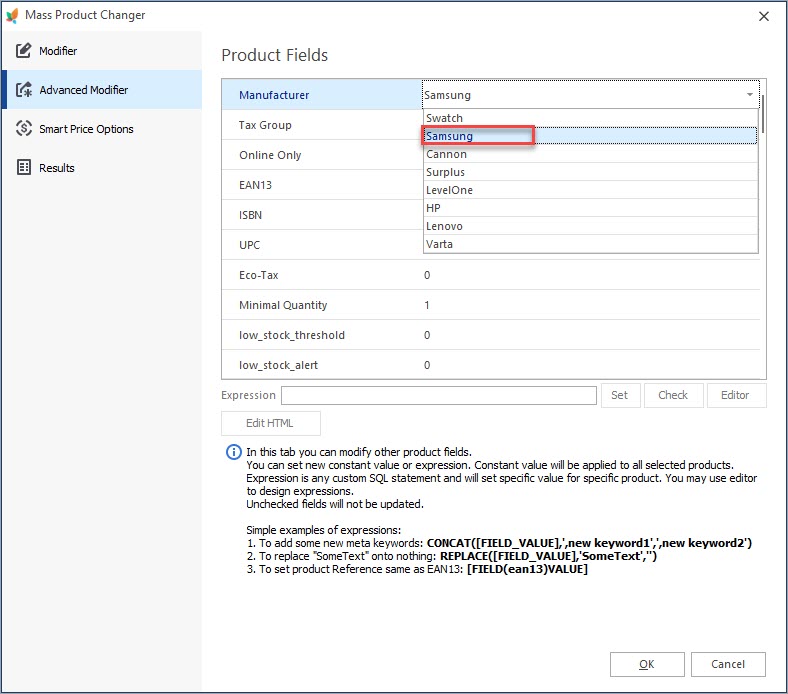 Note: You can add one only one Manufacturer/Brand to the PrestaShop product. By default, there is no possibility to add multiple Manufacturer/Brand to the same item
Use Store Manager for PrestaShop to manage Manufacturers/Brands one by one and in bulk!


Related Articles: