Numerous store owners decide to add PrestaShop combinations to create product variations and let shoppers customize the purchase by choosing a suitable one. With Store Manager for PrestaShop, you can create an abundance of variations within a short span of time by simply uploading them from the file.
PrestaShop import of combinations is being undertaken via product import wizard and, naturally, runs within several simple steps, within which PrestaShop user should configure import settings. The procedure seems to be understandable, although very often merchants claim that results are not successful.
What Is the Challenge?
Running an online store, you need to proceed with constant data manipulations to maintain the product catalog. There occur situations when you want to create new merchandise and their variations. You might also need to rearrange existing variations, simply update combinations (change, for example, quantity, price, etc.), or add new combinations to products that already have variations, which oftentimes fail.
The matter is that existing combinations are simply removed and the product acquires only those, provided in the import file, whereas combinations had to be added without delisting current ones.
What Is the Reason for Incorrect Combination Import?
If you uploaded the file with combinations that need to be added to products that already have variants, but the last disappeared, you, most likely, set an incorrect combination identifier or chose improper action.
In case you opt for the Regenerate product combinations option on "Assign .csv columns to database fields", existing combinations will be substituted by the ones .csv contains.
Solution
In order to properly add PrestaShop combinations you should consider:
a) spreadsheet data will be uploaded from
b) PrestaShop import settings
a) The file, used for the import, should be properly organized and must contain the required values. Each combination takes a separate row in the spreadsheet. You should provide the product (reference, name, ID, etc) and combination identifier (reference). Depending on variable characteristics, specify attribute values in corresponding columns of the .csv file. Take into account, attribute groups should be created in advance, since they can't be imported. You can upload attribute values, adding them to attribute groups in a such way.
b) Import settings greatly influence outcomes. It is important to select proper action and choose the correct identifier. Once you reach the Assign .csv Columns to Database Fields step, you should associate file columns with corresponding PrestaShop database fields. Depending on the product identifier, you have in the file, specify how merchandise will be recognized by selecting the same identification method in this window.
It is very important to correctly set a combination identifier. You have several options at your disposal.
Regenerate product combinations – if you select this option, existing product variants will be removed and only those, you have in the file, will be added to products, as it has been mentioned above




Skip combination import – once this option is selected, product combinations included in the file, will not be uploaded, simply skipped
Combination ID – if there is the necessity to update existing product combinations, for example, change quantity, you can use this identifier to update
In such a way, to add new product variants without removing existing ones, a Combination reference identifier is to be selected on this step.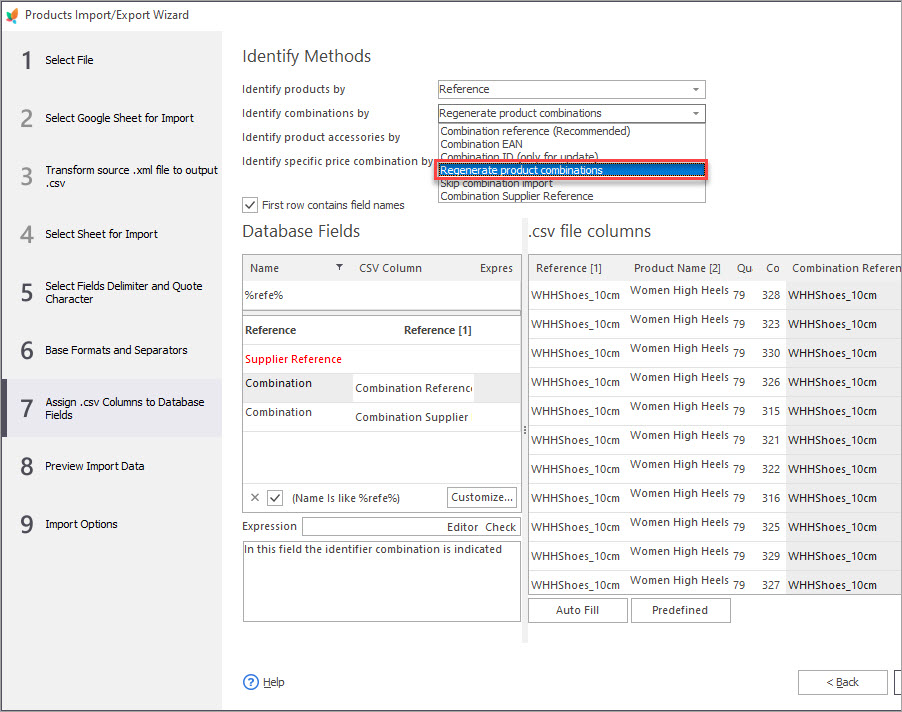 Store Manager for PrestaShop provides a flexible tool for combination upload that adapts to merchant's needs. If there are products that should come in variations, you may quickly add PrestaShop combinations to them. An existing combination might be renewed in a short span of time. The same concerns variations to be added to merchandise that already possesses variations. Nevertheless, you are supposed to watch over import settings and combination identifier, like it was described above.
Download Store Manager for PrestaShop trial and use fully-functional PrestaShop solution absolutely free 14 days – www.prestashopmanager.com/free-download/
Upload combinations at ease with FREE PrestaShop import tool Upload Now


Related Articles: