PrestaShop images diagnostics is the unique instrument that allows troubleshooting your store for issues with product pictures.
The Most Common PrestaShop Images Problems
missing product images (the images that do not physically exist on your server, but their image records are present in your database). This way you will have a broken image at the front-end.




items without photos (products that have no images added). 'Image not found' is common trouble that concerns all store owners especially if you add products in bulk.




pictures that are not linked to any products (images uploaded to FTP, but not assigned to any of the goods at your shop). They simply occupy space on your server.
In case you have thousands of products, it is much more convenient to automatically diagnose the state of images, getting the full list of pictures that correspond to above-mentioned criteria, rather than viewing each item one-by-one.
Automate the process of image checkup with PrestaShop Store Diagnostics Tool provided by Store Manager for PrestaShop. Get more control over your PrestaShop images!
If you haven't installed Store Manager yet, download the
free trial
and connect the application to your store database using the wizard inside. Read about other
Store Manager tools
to simplify and speed up PrestaShop store management
How to Run PrestaShop Store Diagnostics?
After you install Store Manager for PrestaShop at your computer and set-up a database connection you will see all your store data in the application. To troubleshoot your store for problems with images you need to open the Tools section of the ribbon menu and select the 'Store Diagnostics' option.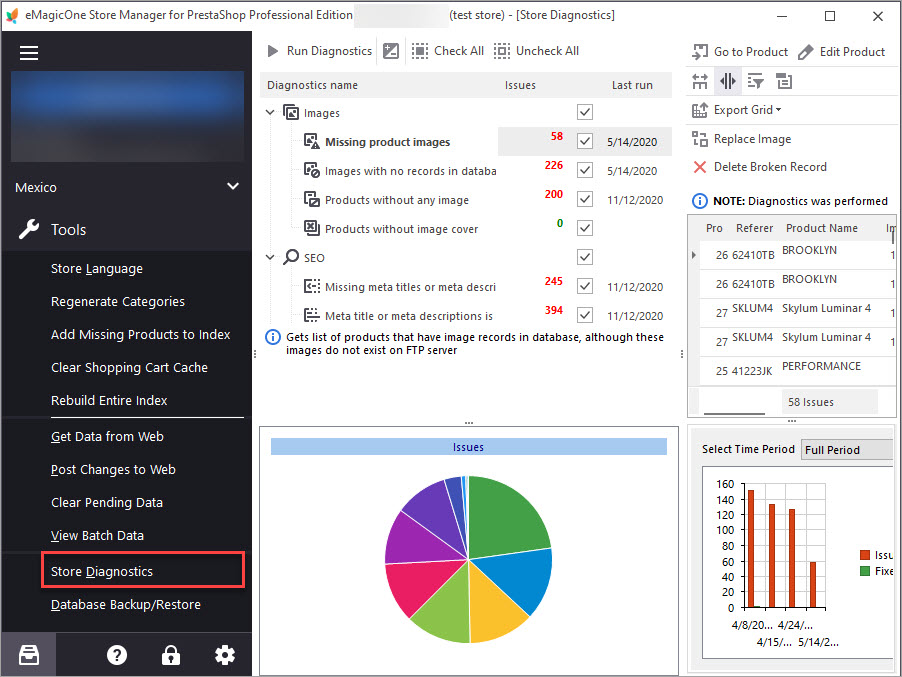 There you will see 3 image diagnostic types. You can enable all of them and use them together or use each one-by-one.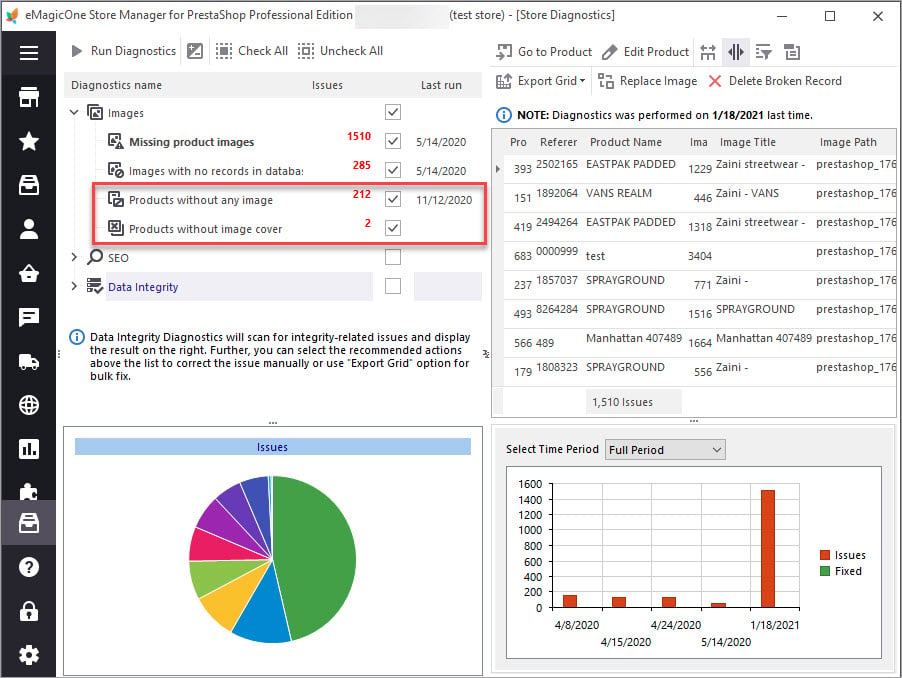 On the right, you will see results of diagnostics and suggested actions to fix detected problems.
More information on how to use PrestaShop Diagnostics of your images and what results you might get find here –
http://www.prestashopmanager.com/useful-articles/additional-features/keep-your-prestashop-images-under-control-with-store-diagnostics
How to Diagnose Images for Problems at Ultimate Speed?
Though, there is a small tip that can make your work with Store Diagnostics even more productive. Big stores with a great number of entities listed, will find this recommendation especially useful, since keeping up with it will allow getting results of diagnostics within a few seconds.
First of all, we are strongly recommending to run PrestaShop Store Diagnostics being connected to the database using Bridge type of connection. This way you will considerably speed up the procedure of getting listings of your images and you won't have to wait long hours to see the results.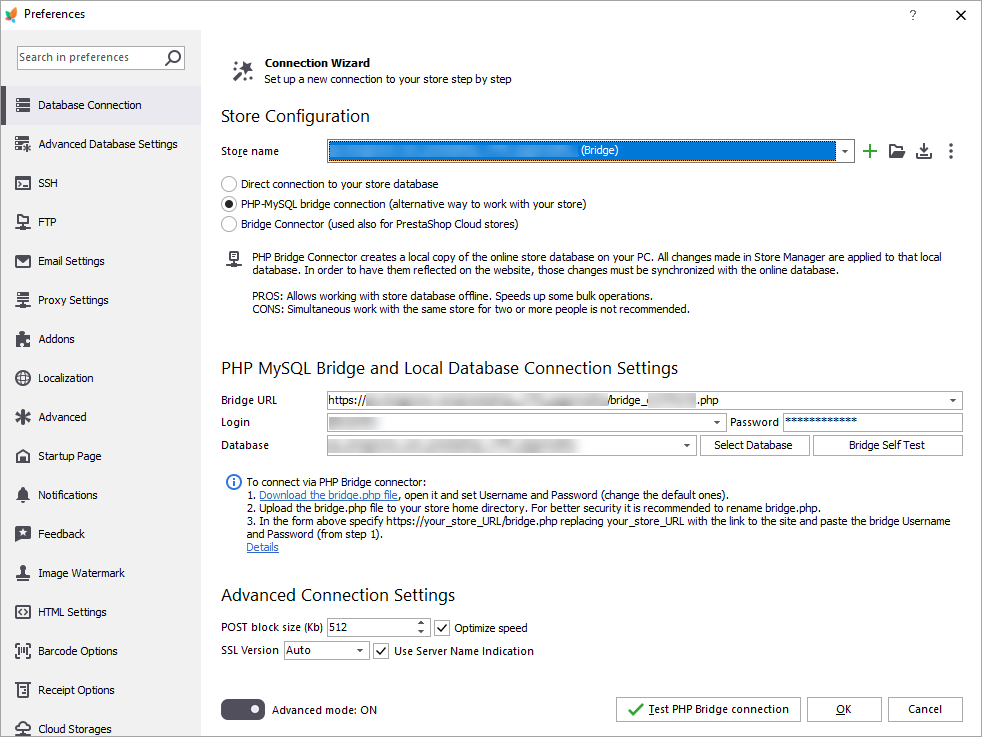 Secondly, make sure that you have the latest bridge version and Store Manager for PrestaShop version to get an ultimate speed of check-up.
If you have already used bridge connection, check if you have the latest version of Store Manager, and download the latest bridge version here –
https://emagicone.com/shared_files/bridge.zip
Unpack the file into your Store root directory and replace the current file with the one you have just downloaded. Do not forget to copy your current Login details.
In case you have a direct connection at the moment and need to run PrestaShop Store Diagnostics and get results almost instantly (instead of waiting endless hours), configure bridge connection and after the process will be to end, you can switch back to the connection type that fits you the best.
Summing Up
These simple actions will speed up your PrestaShop images diagnostics dozens of times compared to the same procedure performed via a direct connection. Why? Since working with images via FTP the more images you have the more requests to the server are made. With bridge connection, the procedure is performed directly at your server, so it speeds up the process multiple times.
Please note, that the bridge connection uses a local copy of the database and due to this fact, the procedures of change implementation take less time and do not overload your server with too many requests. Though, also you have to remember that it requires synchronization between your local database and the actual one, so to get the latest information from your shop, do not forget to press "Get data from web" and for the changes to be applied, press "Post Changes to web" button.
Get all the advantages of Store Manager Diagnostics FREE Get Now


Related Articles: