To perform the initial installation of PrestaShop, you need to proceed through a few steps assisted by the installation wizard.
If you want to have all possibilities available at the platform at your disposal, you should install the newest PrestaShop version. The download link can be found on the official site of PrestaShop.
Tutorial Contents
To put it short, PrestaShop installation comprises the following stages:
Downloading PrestaShop installation package.
Connecting to your hosting using the FTP client, in order to upload saved PrestaShop elements to your server.
Opening the files in the Local site grid.
Browsing in the Remote site grid to the place where you want your PrestaShop to be available for shoppers.
Pre-installation Actions
Get a domain name
Domain name is your website address. You can use the domain name provided by the web hosting you've chosen or purchase it from an independant domain name registrar. It is recommended to choose the second variant, in order to avoid any possible problems with keeping your domain name in case you decide to change your host.
Make sure you have the required elements for your PrestaShop
System: Unix, Linux or Windows
Web server: Apache Web server 2.0 or later.
PHP 5.4 or later.
MySQL 5.0 or later.
Not less than 128 Mb of RAM on your server.
Create an FTP client
FTP (File Transfer Protocol) is the usual way to transfer files from a computer (client) to a web host (server).
FileZilla is mostly recommended FTP server which works well with Unix, Windows.
Having installed the FTP client you have to set it up by specifying the connection parameters of your web server.
Installing PrestaShop
Downloading PrestaShop
Download PrestaShop installation package, save it on your computer (not on your web server) and unzip it;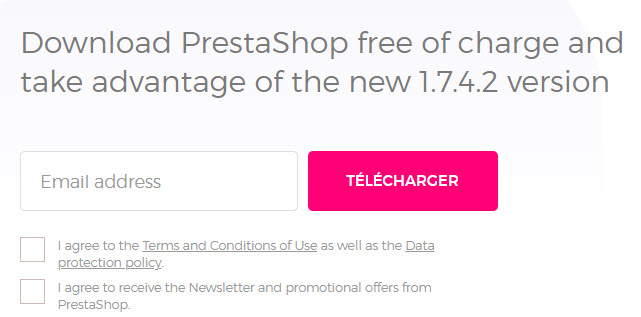 Generating store database
Use your host account credentials to connect to a database management tool. Clear out whether your host requires using some specific tools for administering mySQL databases.
In this tutorial we will show how to create PrestaShop database using phpMyAdmin (usually installed on most web-hosts by default) and c-Panel (graphic control panel often required by hosts).
Check your host's instructions to figure out if you can use one of the databases available on your mySQL server as the default one. If not, create a new database:
phpMyAdmin
Type its name into the corresponding form and press 'Create'.
C-Panel
Go to MySQL Database Wizard and input new database name and tap 'Next step'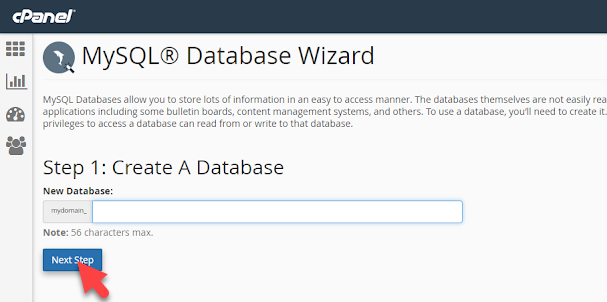 Installing PrestaShop
Going to your domain's location will take you to PrestaShop installer.
Select a suitable language and press 'Next'



Carefully read PrestaShop's license terms and conditions and if agree tick the box.



At this step PrestaShop will test its compatibility with your system environment.




In case you get some error messages, try to fix them to continue the installation.

Often the errors are caused by missing permissions to your files. To fix this, you can use your FTP client: just right-click on a file and configure the permissions.

Provide your shop's information and specify the required data for your account.



Before indicating your database server information like its location, name etc., check your web host's documentation provided for this procedure.



Browse to your domain with adding '/admin' to the address. You will get an error message asking you to remove installation files from your store's directory in order to ensure that the installation is secure. You can accomplish that using your FTP client and deleting the files right on your server.



In case you feel that these instructions are not enough for you, you can find more detailed guidance in the official PrestaShop documentation at http://doc.prestashop.com.
COMMENTS
Amy Brown • 11/23/2020
Hi, Recently I just wanted to open an e-commerce store on PrestaShop but I have not enough knowledge about opening a shop using PrestaShop. So I searched a lot for a step by step guide for it and finally, I got your article and you have described all the things that I was searching for. Thanks for your article and information.
PrestaShop Store Manager

Mod
Amy Brown
• 11/24/2020
Hello, Amy! We are happy to hear that. Wish you great success with your new store!