To combine selling on Etsy and PrestaShop website is a good idea if you want to double your online presence and drastically increase the growth of your business.
The are also many other benefits of Etsy into PrestaShop integration. For instance, beyond the basic Etsy setup, with PrestaShop you can gain more control over the way you sell and display items, you can get advanced reports and analytics on your sales and also update your catalog faster.
On the other hand, you may think that setting up and moving data to separate site should take a lot of time and efforts. Manually copying products from Etsy to PrestaShop can seem intimidating, though there actually is a bulk method for completing the process without any coding knowledge at all.
The basis of Etsy to PrestaShop integration relies on export and import procedures that can help moving all of your existing at marketplace items to PrestaShop store.
Here are a few steps you need to make to transfer product listings from source marketplace to target eCommerce platform easily.
Step 1: Export Products from Etsy
You can download a CSV file that includes the listing title, description, price, currency code, quantity, tags, materials, and image URLs for all of your active listings.
The CSV format can be easily opened in almost any popular spreadsheet application.
To download your Etsy product data, sign in and after that go to Your shop > Shop settings > Options and click the Download Data tab. Then, click the Download CSV button to save the file to your PC.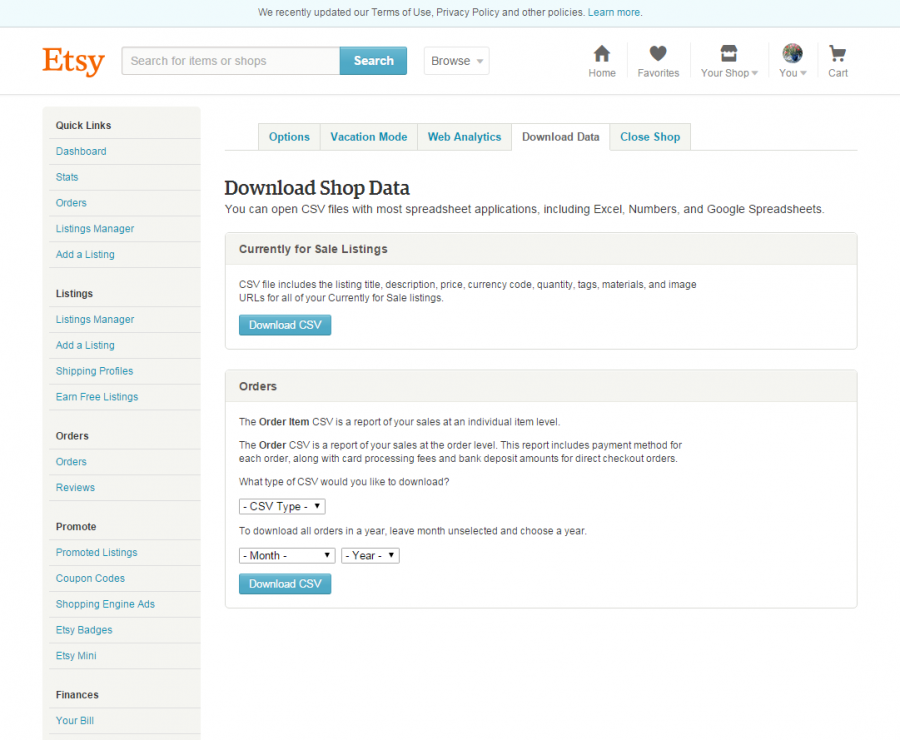 Step 2: Import File from Etsy to PrestaShop
Now you can use exported spreadsheet to import to PrestaShop.
In your back-office go to: Advanced Parameters – CSV import.
Next in the field 'What kind of entity would you like to import?' select 'Products' from the drop-down. Load the file you have exported from Etsy and indicate fields and multiple values separators.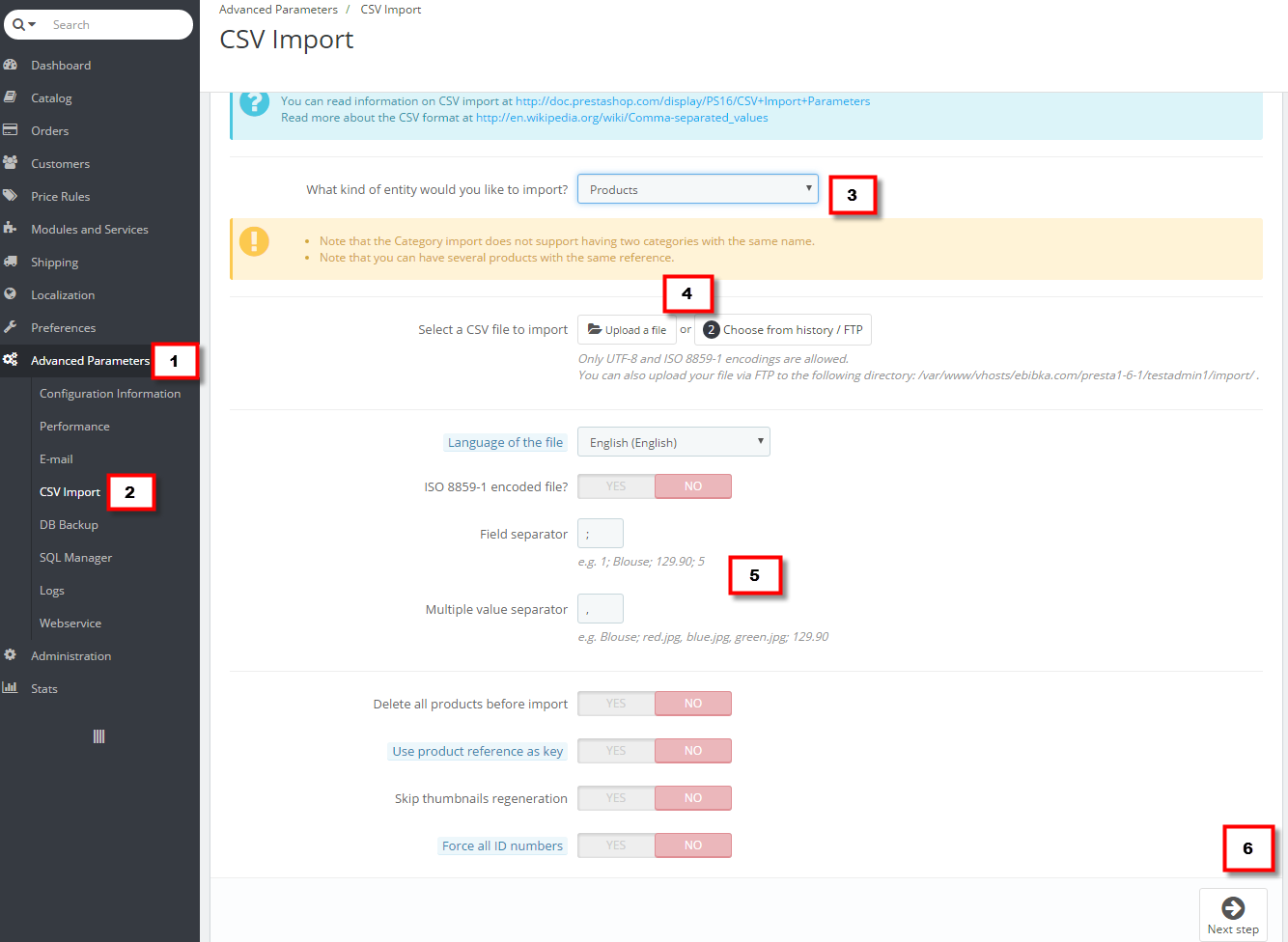 Proceed with import and at the next step you will be able to map file columns to PrestaShop database fields.
Note: As you see, you can map one CSV column to one database field only and we have in the file multiple images in separate columns. To import all of these images and data missing in the file (like category, status, etc) you need to modify your file before import.
In case you want to avoid manual file edits and would like to implement changes on-the-fly right during import, Store Manager for PrestaShop is solution for you.
Download 30-day free version and import from Etsy to PrestaShop FREETry Now!
We have prepared all the settings so basically you need download them, load in Store Manage and click a few times 'Next'. Import Wizard will walk you through every step.
Here is the process of Etsy to PrestaShop data import explained step-by-step:
Download pre-saved settings for Etsy to PrestaShop import we have set up for you, save and unzip it –
https://emagicone.com/file_examples/PrestaShop/etsy_to_prestashop.zip


There you will see .csv file with sample data exported from Etsy and .cfg file with settings configured for import in Store Manager.



From product menu of Store Manager run Import/Export Wizard and select import operation
Press 'Load settings' button. Use .cfg file with settings you have downloaded and press Browse button (the one with three dots) to select your own Etsy file from computer.
When you have loaded the configuration all the settings are set there, so basically you need to click a few times 'Next' till import process finishes and you see 'Finish' page.


Step 3: Check the Results
You will see that new category named 'Etsy' was added to your catalog and it contains newly-imported goods there. (If you need, you can re-categorize them using 'Assign Categories' option).
View the results at front-end right from the application.
Important: If you Etsy file contains goods with variations, they can be imported as combinations. Please, contact us and we will assist you with additional settings.
---
Sell more, in more places – in less time. Sign up for a 30-day free trial to import from Etsy to PrestaShop FREESee in action!
It's your turn to leave a line in the comments section below and tell us how this process worked out for you. If you have any questions or problems with the integration, feel free to share your thoughts as well.


Related Articles:
COMENTARIOS
Shamanic Harmonics • 03/15/2018
EDIT – so the first set of steps worked for me…

(my original comment was in regards to 2nd set of steps which i happened to try first) it is below
Well I went through the steps, and all seems good, but now that I got to the end I realized these steps don't walk you through the export to the Prestashop friendly file and then importing into prestashop. As someone new to both prestashop and this product, unfortunately following these steps did not end with my products migrated into ps from Etsy…