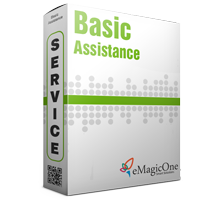 Basic Assistance covers one-time minor assistance provided by technical engineer related to products developed by eMagicOne.
Please order this service if you need assistance related to your previously-ordered product. It covers one of the following options:
Simple one-time import setup (you have to provide us with your .csv file, database backup and your requirements and tech engineer will provide you with .cfg file with import settings via e-mail)
Single one-time sql expression development/modification (you have to provide the exact requirements and tech engineer will supply you with the formula via e-mail)
Customer is responsible for communications with third-party companies, specific to each service request
Contact us before you proceed with the order to clarify all estimates! Detailed scope of work will be determined for each customer individually, you may be asked to purchase additional services!
You may be asked to provide the following information along with your order:
You may be asked to provide the following information along with your order:
FTP login details or database backup;
Hosting Control Pannel access details;
Store Admin section login details;
Detailed requirements in spreadsheet or file of text format.
You can include this information in Comments field during checkout process, alternatively you can send it via email to eMagicOne support.
You cannot use discount coupons/bonus points/bundles or any other reduction for services according to Support Service Terms.
Basic Assistance doesn't include:
Additional work related to third-party modules or Shopping Cart customizations
Products/customers/orders import
Report(s) development or modification including company information update, logo update or any other changes
Personal education session
Remote desktop assistance
We have more work to do for you:
eMagicOne is experienced in configuration services, report development and import setup for new and existing stores, and is available to assist store owners with their major tasks.