Integración Amazon para PrestaShop
La Integración Amazon es un módulo de Store Manager para PrestaShop que permite que exporte sus productos de su tienda PrestaShop a Amazon.
La última versión: v.3.16.0.2841 from 12/14/2022
La documentación en línea
Store Manager para PrestaShop es requerido. No se puede registrar el Módulo con la clave de Store Manager y vice versa
Se puede utilizar 1 clave de licencia Módulo para registrar el Módulo correspondiente en 1 PC y gestionar el número ilimitado de sitios web (sin incluir la versión estándar del Administrador de la tienda)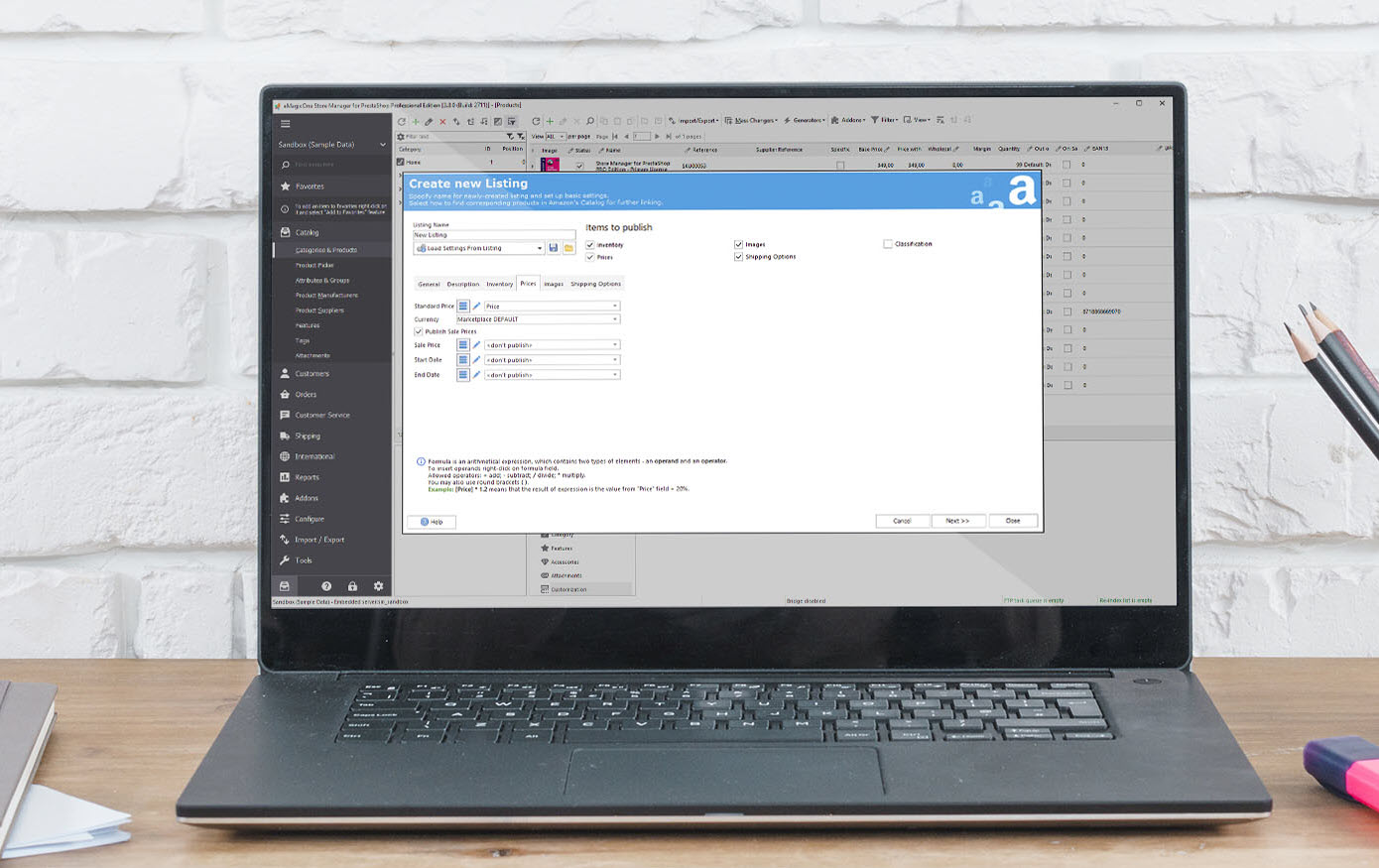 ¿No tiene tiempo para exportar cientos de productos a Amazon? ¡ Entonces el Módulo de Integración Amazon para PrestaShop es un producto para usted! Esta herramienta completa le ayudará a vender productos fácilmente en Amazon a través de Store Manager para PrestaShop, instalado en su PC. Le proporciona la capacidad de exportar lista entera de productos así como las descripciones de los productos, la cantidad y los precios, de su tienda en línea a Amazon.
NOTA: Módulo requiere Store Manager para PrestaShop. Para empezar a trabajar con el Módulo de Integración Amazon para PrestaShop es necesario registrarse en Amazon y utilizar el plan de venta de Amazon Profesional.

Integración Amazon le permite:
Exportar Productos en Amazon en una Región Específica
puede elegir una determinada región de Amazon para sus productos (Estados Unidos, Canadá, Alemania, España, Francia, Italia, Reino Unido)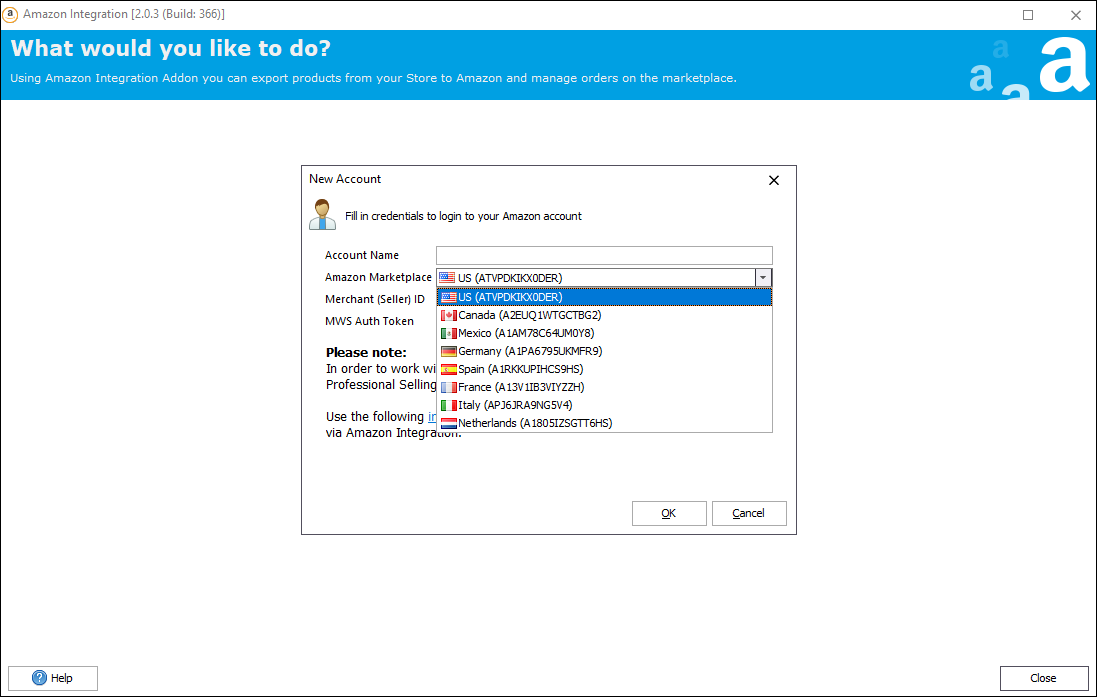 Asignar Productos a Amazon Automáticamente
puede asignar productos en Store Manager a Amazon automáticamente o mediante un modo manual



Establecer Opciones de Exportación de los Productos en pocos clics
puede seleccionar los productos que se exporten a Amazon de la lista de productos de Store Manager



puede asignar campos necesarios para sus productos: precios, cantidades, imágenes



Revisar Resultados de Сontabilización
puede controlar el proceso de contabilización en Amazon y ver los resultados de contabilización en el Módulo
en cualquier momento que desee cambiar o corregir información de productos puede volver presionando el botón volver
El Módulo de Integración Amazon trae ventajas múltiples para su negocio, permitiéndole:
Ahorrar el tiempo – El módulo le permite ajustar la configuración y realizar el derecho de exportación de Store Manager instalado en tu PC. Puede realizar la exportación en un período de tiempo breve.
Reducir los errores – El módulo garantiza y asegura la exportación perfecta de los productos, reduce los errores de entrada de datos.
Aumentar los ingresos – Puede ampliar sus ingresos corrientes vendiendo sus productos por todo el mundo.
Encuentrar a los clientes nuevos – Muchos clientes nuevos vendrán a su tienda de los enlaces de Amazon.
El módulo de Integración Amazon es un gran instrumento ahorrador del tiempo para su negocio que le ayuda a ampliar corrientes de ingresos y encontrar a nuevos clientes vendiendo sus productos en el mercado gigantesco.
Requisitos técnicos para Integración Amazon para PrestaShop:
Opiniones de usuarios sobre Amazon
Absolute game changer!!
★★★★★
I ran prestashop for years using only the back office. After a while once i had alot of products, managing them became a nightmare. Any change accross multiple products became a chore that took hours. I tried the demo of store manager and the mountains of work that would take hours or weeks became tasks that could be done in 2 minutes or less. This software absolutely amazing. Extremely powerful and full of features to make managing your shop and products much faster. As an important bonus the tech support team is extremely helpful and responsive.
"
Amazon Integration review
★★★★★
Amazon integration fits me as I'm in dropshipping for a year and use the addon for price and quantity editing in the listings. Very convenient and quick.
"
I'm selling on spanish and german marketplaces, and the addon allows me switching between them in a blink of an eye, that of course saves my time.
"
Amazon Integration review
★★★★★
I ordered Store Manager and to my surprise the Amazon addon was free, so I took advantage of it. Already published some listings (not without the help of support) and everything seems to be working file at the moment.
"
SImple Module and Great Customer Support
★★★★★
We've been in business since 2006 and we sell on eBay, Amazon and our own website. We've used a lot of extensions and worked with many companies, honestly, no other company compares to eMagicOne, their products are excellent, out of the box perfect. The support team always reply in a timely manner, and if you need any customization work done, they understand your needs and get the work done right the first time. I strongly recommend eMagiOne products to anyone.
"
Thank you for Amazon extension
★★★★★
We run a medium sized online store that needed an E-Commerce solution that could integrate with Amazon. Store Manager for PrestaShop and Amazon addon were easy to setup, taking only a couple of hours to install, configure, and import our 1500 items. Our online sales and customer satisfaction scores are markedly higher than with our previous software.
"
Des fonctions uniques sur le marché
★★★★☆
J'ai deux boutique en ligne de mode. Avant j'ai été utilisé une autre solution et une autre plate-forme de commerce électronique, mais je me sens plus à l'aise avec store manager pour prestashop et son module amazon. J'ai été très satisfait de mon choix. Je n'ai eu q'un problème technique qui a été réglé sous 2 jours. C'est il est vrai un peu cher au premier abord mais j'ai doublé mon chiffre d'affaires notamment grâce à Amazon Integration addon ! Je suis donc très satisfait !
"
I needed something to bridge the gap between my store and my supplier
★★★★★
We have nearly 10,000 products in our store. I have managed big ecommerce sites for my entire career. This site is the first that was all mine. So I knew I needed something to bridge the gap between my store and my supplier. Every quarter a new price and promotion update is released to us and without this tool we would have to update thousands of products by hand, or write our own SQL code for it. Now that we are adding in integration to to Amazon and NewEgg, this will become invaluable.
"