PrestaShop Inventory maintaining is a many-sided process which embraces appropriate product assortment selecting, it's regular updating, stock management and other store administration tasks.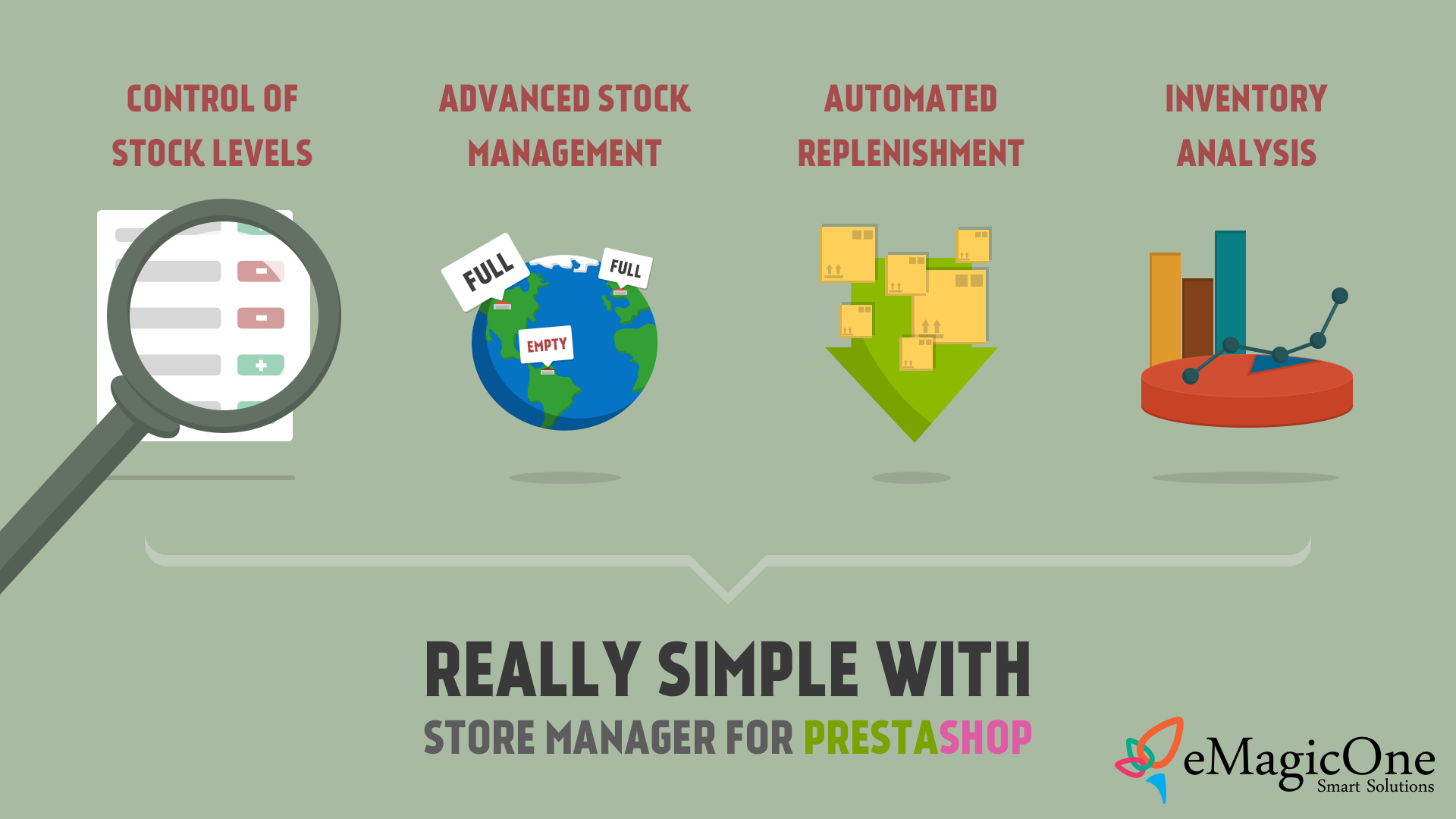 Let's see what should be included in your checklist to effectively control your inventory:
Control of Stock Levels
One of the toughest parts of running an eCommerce store is updating the merchandise. Especially, you should constantly keep an eye on the quantity level of those products that are in high demand, and replenish it before they are out of stock. PrestaShop allows to view quantity of goods in several ways. You can specify available quantities yourself or in case of many locations and distribution channels you can smartly manage inventory depending on warehouse they belong to.
Advanced Stock Management
In order to have better insight into selling supplies, you can overview the warehouses and can get real-time changes available for number of items. This way you will have visually represented the history of stock changes for products available in different warehouses.
PrestaShop Inventory Analysis
What products bring most of revenue and what items are not in high demand? What suppliers worth cooperating? Reports help to make right business decisions in order to develop profitable web store and keep inventory on sufficient level. They will give you a snapshot of your current inventory and its approximate valuation.
Automated Replenishment
Inventory has a changing nature, so you cannot simply set it once and then forget about it. The best way to ensure that you didn't forget to update PrestaShop stock is automate this task, for example by setting up direct integration with your suppliers.
Inventory Management System
Proper PrestaShop inventory is not an easy task, but there is definitely the way to make it less tedious. Smart management system will definitely help you better organize your e-business, cut all unnecessary costs and bring all shipment delays on minimum.
Handling it via Store Manager for PrestaShop can be really helpful. Using it you will benefit from the following advantages:
the application is extremely useful, since it offers the tool for quick implementation of stock and quantity changes to selected products – Mass Product Changer;
inventory listings received can be applied via import procedure let's say with just 2 fields – reference and quantity;
more than 9 built-in and custom reports available;
moreover, in case you would like to automate replenishment of your stock, you can do it using Store Manager and its addon called Automated Product Import, setting up cron inventory updates.
Download Store Manager and start saving up to 95% of your time on inventory management in your store today!


Related Articles: