PrestaShop data import is a vehicle for enabling e-store growth and thriving outcomes. That's why successful PrestaShop import from file course and results are uppermost for experienced online merchants as well as newbies.
PrestaShop is a mighty shopping cart, which endows online entrepreneurs with a variety of tools necessary for building a full-featured online shop. But very often store owners face difficulties and obstacles while accomplishing PrestaShop data import and look for some helpful pieces of advice.
If you haven't installed Store Manager yet, download the
free trial
and connect the application to your store database using the wizard inside. Read about other
Store Manager tools
to simplify and speed up PrestaShop store management
Recently we helped the client, offering a key solution, which, as was expected, cleared things up. This case study illustrates good practice and proves that we try for all – we are worth to help our clients.
Topic
PrestaShop import products, images, and categories.
Purpose
Having analyzed the situation and taking into consideration all the possible failure reasons to provide PrestaShop user with an optimal way out, so that PrestaShop import products from .csv will be performed on the high-standard level.
Problem
"Here is my dilemma.
I was trying to upload a spreadsheet of about 1000 products and their images to my PrestaShop store. If I upload just one product it works fine, however the whole file import takes ages. The first time when I tried the process froze and stopped at line 370.
I have uploaded all the entities after long hours, it gave me no errors, and said it was successful. But… when I go to the actual product list, the products are not there.
Moreover, I need to upload my products to appropriate categories and subcategories. My import fails and I need help.
Thank you in advance."
Resolution
PrestaShop import products from .csv is a significant part of the win-to-win PrestaShop store management system so that it should be performed accurately and well-timed. To make the process of PrestaShop import from file more flexible and approachable you can rely upon the Store Manager for the PrestaShop desktop application. This all-in-one solution will help you to sort out the situation.
We will try to provide you with the full scope of actions you need to do to succeed in PrestaShop data import.
First of all, you need to check your .csv file in any text editor like notepad or notepad++, find line 370 and check what symbol is blocking your products to be uploaded. In most cases, a linebreak or some special character is preventing products from being uploaded. Once localized, you will be able to resolve the problem with some replacement rules.
Once your fine is ready to do you need to make a few more actions to achieve the results:
Action 1
PrestaShop import products from .csv results depend greatly on how data are organized in .csv file. Maybe your .csv file does not contain columns that are responsible for product representation at the front end or inappropriate values are indicated in these columns. For example, if you have a value 0 in the "Status" column of certain products or do not have such a column at all, your products won't be seen at the frontend.
With the Store Manager the update of your store content is much more convenient, as the application does not have strict requirements to information in the uploaded file: only product characteristics that needed updating and identification method (e.g. reference) should be indicated. In case you are missing some data .or need to add values to some columns, then if you have great amounts of products to import, most likely you won't be sitting and changing values manually. With Store Manager for PrestaShop, you can use the Expression rule and change or add missing information on the fly.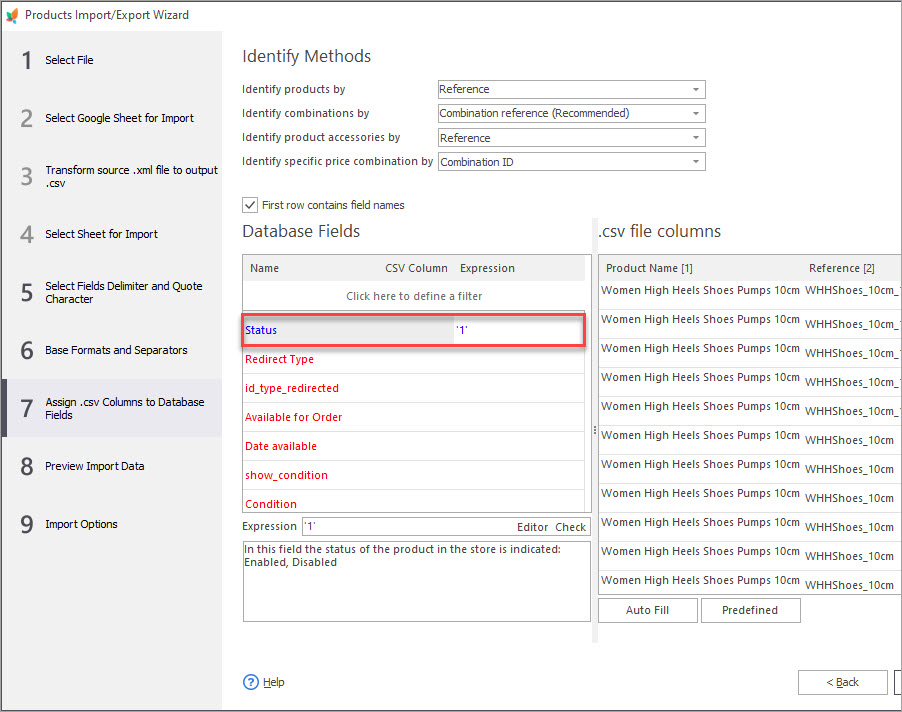 Action 2
With Store Manager for PrestaShop you can upload local as well as remote images. To import local images you have to indicate image names in the appropriate column of .csv file. Moreover, you can add several images to one product, separating them by comma. If you need to upload remote images in the process of PrestaShop data import indicate images URL in the file.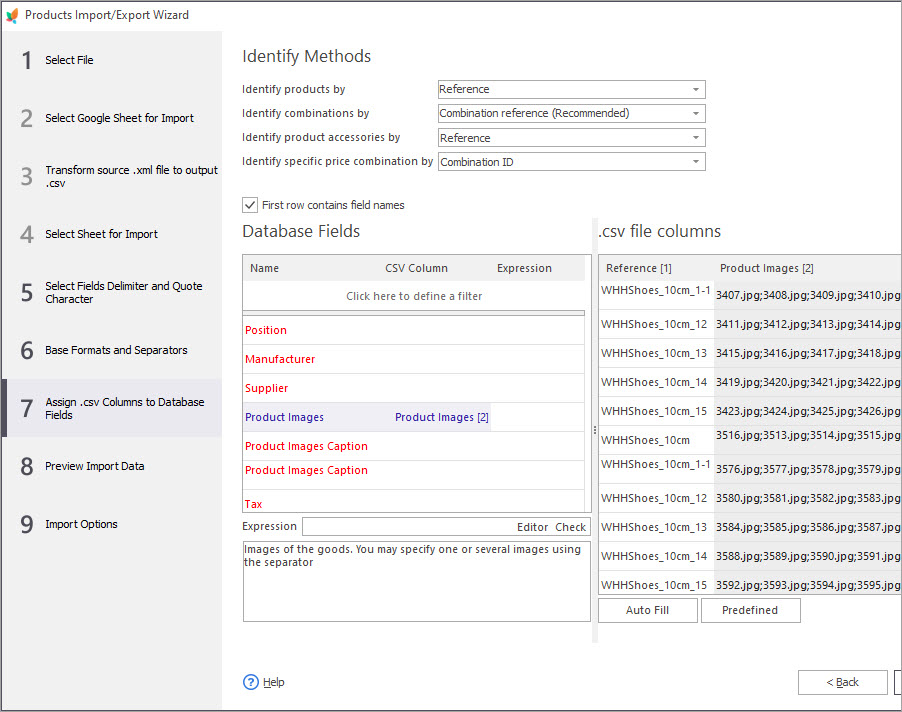 Action 3
To place products in appropriate categories and subcategories with Store Manager for PrestaShop is not a task beyond one's strength. There should be a column in the .csv file where you have to indicate products category path. For example, if you have category "Home" and subcategory "iPods" and you need to place the products in both, you have to indicate this image path – Home|iPods||Home, where pipe symbol (|) serves as separator of parent category and subcategory and double delimiter separates different categories (in case you are planning to assign product to more than one category).
Store Manager is a paid solution, but you can check its possibilities without paying as there is a free trial version available for 14 days. Visit https://www.prestashopmanager.com and find detailed information on its functionality.
Outcomes
Our client sent us testimonial with warm thanks for our help. This solution helped him to sort things out. Here it is.
"Many thanks for your help! This software really functions excellent and improves my matters with data updating. I could not imagine that products import can be performed within so short time.
The process does not freeze and is being accomplished smoothly.
I'd like to advise Store Manager for PrestaShop every PrestaShop store owner. Smart tool!"
We put clients' needs at the first place. Our goal is to widen PrestaShop store running possibilities, taking into consideration your requirements and needs. Entrust your e-store development to Store Manager application!
Use advanced PrestaShop import tool to simplify data upload Upload Now


Related Articles: