Using the right eCommerce software is an important part of tackling eBay business. Nowadays you can take advantage of more flawless and approachable PrestaShop to eBay integration via new Store Manager addon.
<
Recently we have released completely refurbished, enhanced PrestaShop eBay Integration module version 3.0.3.379, that is accessible for download and testing. Please note, the module is compatible with Store Manager starting from version 2.28.2.1655. In order to update the addon to version 3.0.3.379, update the Store Manager first.
Starting from Store Manager ver.2.59.0.2257 Professional and Business Editions, eBay Integration is available FREE
and does not require registration. For users who work with Standard Edition, the addon can be purchased additionally –
https://www.prestashopmanager.com/order/
Important! Please note that eBay limits the number of free monthly listings. Therefore, if you perform sample export from Store Manager to eBay we recommend you to do it with 1 product (or few products). Thus you will be able to test the addon and avoid exhausting your free seller limit.
The release delivers a good number of significant changes, new features and improvements. Look through the coverage of main changes, this version is associated with, before updating the module.
LIST OF PRESTASHOP EBAY INTEGRATION ENHANCEMENTS
Configuration and Listing Setup
Old export/synchronization profiles have been retired and now addon offers comprehensive system for data integration setup.
Configuration management has also been improved. You can create multiple configurations on the basis of necessary product listings.
Configurations can be created, renamed, removed, saved or restored.

It is possible to arrange products into multiple listings and use listings in configurations. One and the same listing can be assigned to more than one configuration.
Products can be added to eBay listings directly from Store Manager grid ("Add to eBay Listing" option has been added in the context menu).
Combination Export to eBay
Products, that come in variations at your PrestaShop site, can be exported to eBay via the addon (list of categories, eBay allows to sell variations within, can be checked by this link – http://pages.ebay.com/sellerinformation/sellingresources/multiplevariationslist.html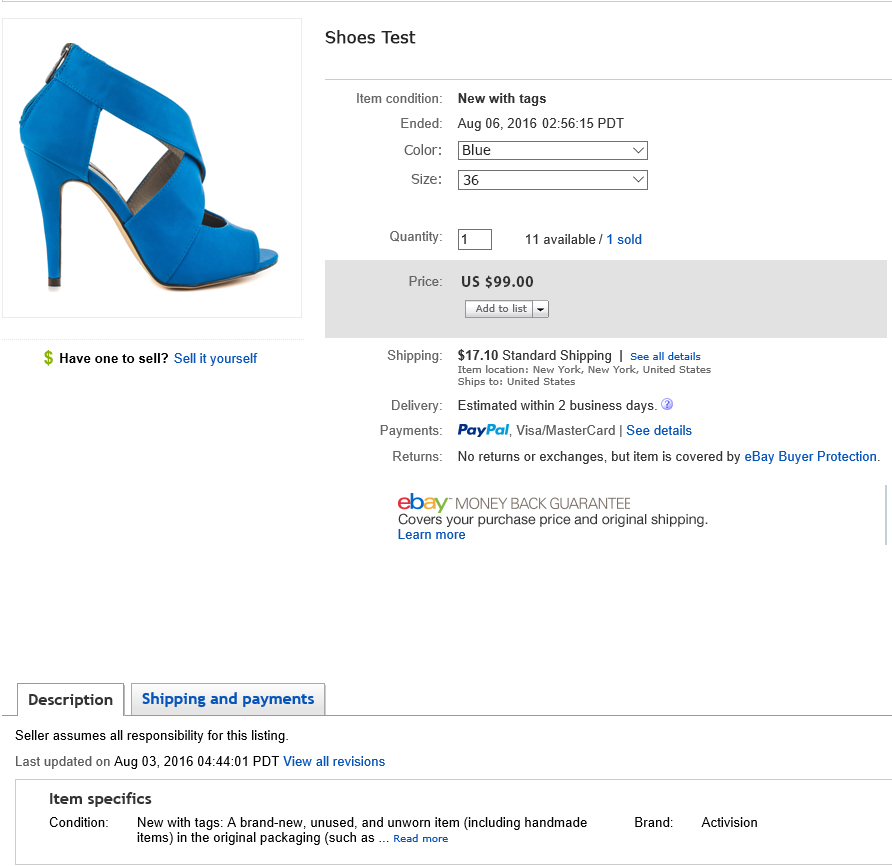 Improved Display of Menus and Options
Refurbished interface and option display gives a modern look to PrestaShop eBay Integration addon.
Last Activity Logs
Recent operation logs summarize export, synchronization, mapping results, show date, when the operation was performed, display status of each performance. Previously data export/synchronization terminated if an error happened. The logics has been changed in new version. PrestaShop product export/synchronization will not be interrupted if some error occurs. All the mishaps will be recorded to the report, which can be accessed afterwards.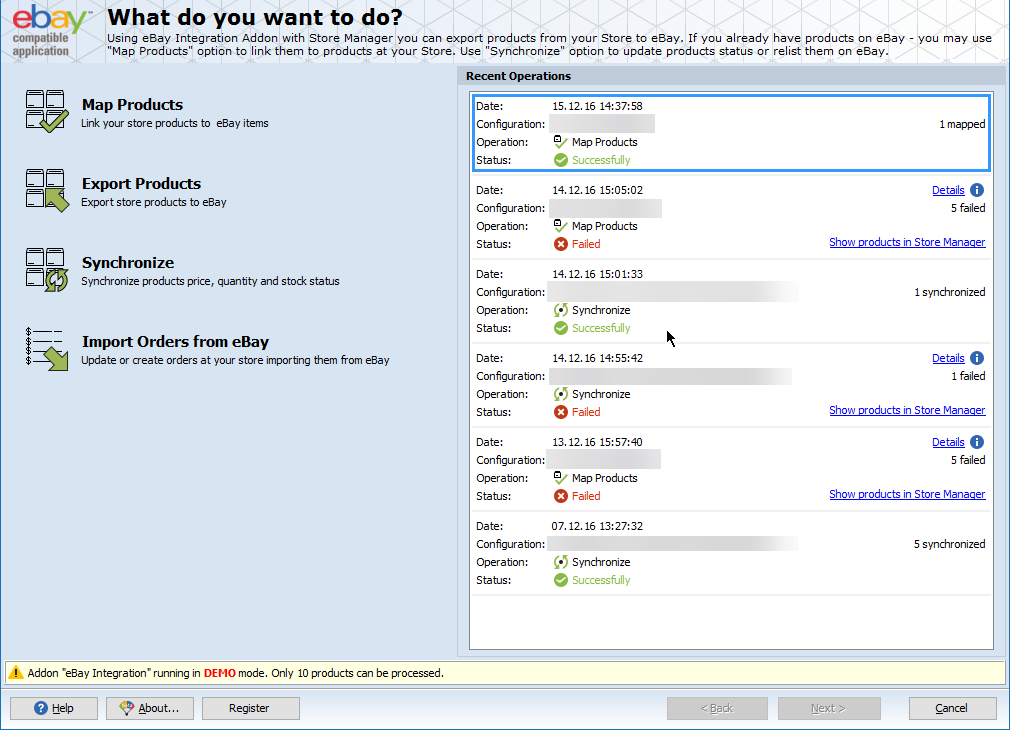 In case product export or synchronization fail, the addon allows you re-export or re-synchronize products.
HOW TO UPDATE PRESTASHOP EBAY INTEGRATION TO THE LATEST VERSION
Important
First of all, we recommend you to backup all active configurations in case you need to roll back to older addon version. Save mapping, export and synchronization profiles pressing "Save all Configurations" button.
You need also to backup eBay Integration .dll file to be able to return to previous version. Before updating to this version navigate to C:Program Files (x86)eMagicOneStore Manager for PrestaShopPlugins and copy eBayIntegration.dll file to some local folder.
Once you have backuped configurations, proceed with the update in this way:
Contact us via the Live Chat or contact form to receive PrestaShop eBay Integration installation file for download.
Run installation within several steps of installation wizard.
Read and accept License Agreement.
Specify what application the addon should be updated in (Store Manager for PrestaShop in this case).

Complete installation and launch the module in Store Manager Addon section respectively.
All of your existing main configuration data will be saved and upgraded according to new standards. To see your configurations, press "Export Products" or "Synchronize" button on the first addon page. All you need to do is to set listing for current configuration and add products to it. You can do it automatically (by pressing "Next" button you will be redirected to the "Listing edit" step) or just set configuration as active (if you have more than one configuration) and press "Modify listing" button. After that you can continue working as usual. The same steps are true for eBay product synchronization.
*eBay Integration addon runs in Store Manager in Demo mode and allows to manage limited number of records. Order License key to unlock the functionality and export/synchronize products in any quantities.
How to Roll Back?
What to do if you, for some reason, want to revert back to the old version? Downgrade is quite easy. Close Store Manager and copy .dll file of eBay Integration addon you have been using previously to C:Program Files (x86)eMagicOneStore Manager for PrestaShopPlugins.
Then open Store Manager and launch eBay Integration addon. The addon will be downgraded to older version and you should now restore all settings from saved configuration.
*Known issues
Payment methods do not display correctly during orders import from eBay for PrestaShop v. 1.7.X
Price formula used on "eBay Listing Options" step in the addon does not apply to PrestaShop combinations.
**eBay Integration is Store Manager for PrestaShop addon and can't be used as a standalone product. If you still do not have Store Manager, run free trial to experience eBay Integration addon and other Store Manager functional possibilities.
Download FREE Trial Version of Store Manager for PrestaShop Get Now
Related Articles: