Creating lookbooks has become a fashion in recent years. No wonder! These catalogs are a very aesthetic and persuasive way of attracting customers to buy your products.
With the advent of digital lookbooks, your audience can do more than look. Modern, intuitive and functional PrestaShop lookbooks with products will help you rise your revenue, thanks to attractive presentation of items. Moreover, these collections in PDF can be placed everywhere: from your partner sites to social networks, linking viewers directly to your website or online store.
Do Lookbooks Fit for Your Business?
Lookbooks are usually associated with designers, fashion industry and shops selling clothes on a seasonal basis. So lots of you might be doubting whether this is a suitable solution for you.
The answer is: definitely! A lookbook is a catalog with products, basically used as an advertisement. So while you are selling something that people can see on a photo or experience, lookbooks are a good fit. You can create industry-specific lookbooks for lingerie, jewelry, beauty products, baked goods, crafts, pottery ware, tools and furniture, etc.
>How to Create LookBook with PrestaShop Products?
LookBook (PDF) Catalog Creator addon along with Store Manager for PrestaShop application allows creating PrestaShop PDF catalog with products, ready for print or as a digital catalogue.
Creating a lookbook with this tool is very simple and it doesn't require special tech skills. With the help of smart Catalog Wizard, you can ensure out-of-the-box representation on your products in a few clicks.
You just need to:
Add catalog details, like online store URL, it's address and input lookbook title.
Select categories containing products to be added to catalog.
Design the way your catalog will look like, selecting lookbook layout.
Generate PDF or print out your PrestaShop lookbooks.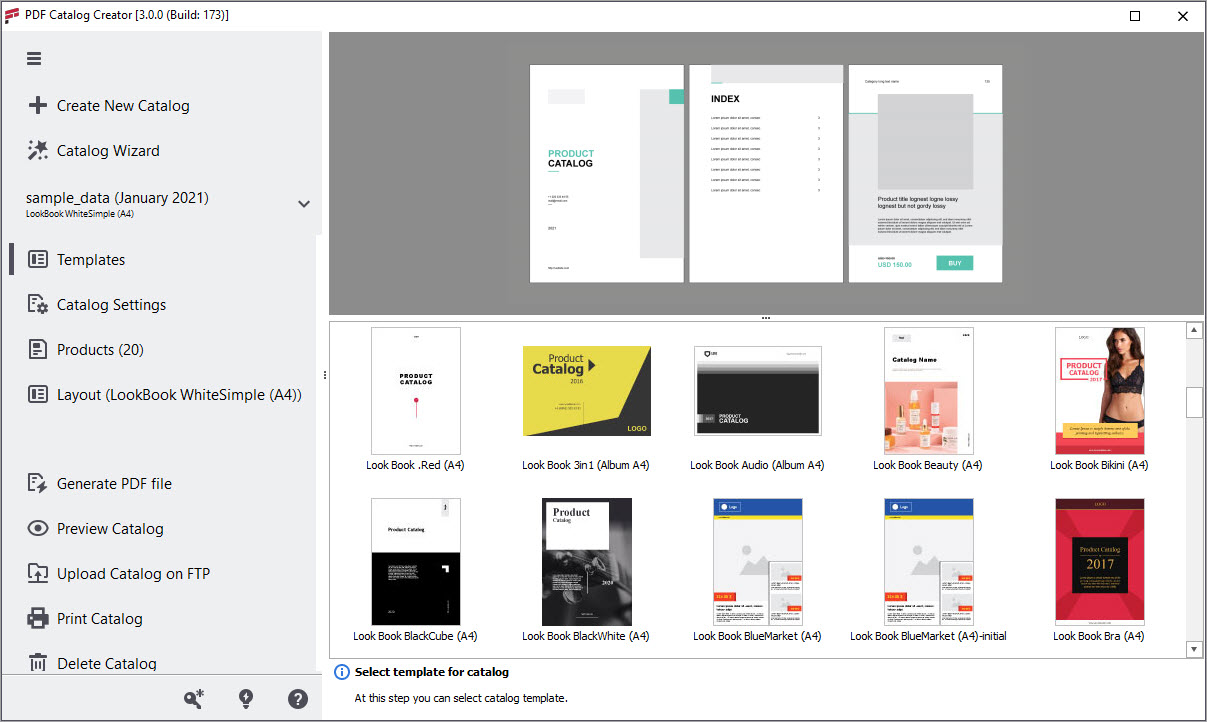 Creating lookbooks with PDF Catalogue Creator addon you can experience the following benefits:
Make customers' purchasing decisions easier, effortlessly grabbing the attention of your site visitors.
Be in trend, ensuring modern representation of your goods.
Personalize catalog according to your taste and industry needs to better showcase your items.
Create and present any amount of lookbooks, images and assign as many products as you need (no limitations!).
Sell more, attracting new customers and retaining the existing ones!
Industry-Specific PrestaShop PDF Catalogue At Your Choice!
Delight and inspire your customers by presenting your collections in the most attractive way. The latest version of PDF Catalog Creator offers various layouts for your lookbooks. Among the available templates you can find:
Clothes, shoes, cosmetics and lingerie lookbooks



lookbooks for audio, phones, computers, and other digital tools



lookbook catalogs to showcase kitchen suppliers, furniture and pottery ware



and many more to suit the needs of the most demanding sellers!



Make an elegant flipping magazine with PrestaShop LookBook Creator!
Try FREE


Related Articles: