Oftentimes web store owners find it practical to set some PrestaShop categories as grouped-restricted. What does it mean? You may have numerous categories, embracing different products and various PrestaShop customer groups. Groups allow to categorize shoppers, provide privileges for some, set price off or something of that kind. Respectively, you may want to grant access to these or those categories for some shoppers, whereas access to these very categories will be blocked for customers that belong to other groups if needed.
PrestaShop provides you with such an opportunity. You can create as many PrestaShop customer groups, as needed and assign necessary buyers to them. One and the same customer can be assigned to different groups. To create it, you need just to add its name in corresponding field, designate discounts if required and decide on price display method. After the group is created you are supposed to add necessary customers to it. When configuring category details, you will find Group Access field, listing all the available at your store customer groups. Logically, to allow access for current category, you just need to check box for desired customer group.
Everything seems to be simple, although how to cope with this task if you eventually need, let's say rearrange group access or add new PrestaShop categories? It can really steal more time, since you should designate or change group access for each category manually.
With Store Manager for PrestaShop you will short out some time-consuming tasks and quickly configure PrestaShop customer groups access to specific merchandise. Store Manager comprises separate wizard for category upload. Once you have created necessary categories, you can fill them with necessary products.
If you haven't installed Store Manager yet, download the
free trial
and connect the application to your store database using the wizard inside. Read about other
Store Manager tools
to simplify and speed up PrestaShop store management
Here is the short overview of what should be done in order to quickly assign shopper groups to target product categories or limit access respectively.
Perform PrestaShop Category Import Operation
As it has been mentioned above, you can create categories and subcategories of different levels importing them from the file. In such a way you can define group access for them. Although, you might need to change group access for already existing categories, might you not? Both cases should be considered.
Whenever you upload new categories, PrestaShop import file should incorporate maximum details, namely, category name, position, category image, meta information and other details. In the import file you can specify what customer group or groups each of categories will be accessible for. Provide them in separate column for each category or subcategory. If there are several PrestaShop customer groups provided for a category, detach them by appropriate delimiter.
You may change group access for existing categories also. Export category ID or name and group name to the file, input necessary groups to this column and import file back to PrestaShop. Pay attention to category identifier – choose the one indicated in the file and correctly link file columns to database fields.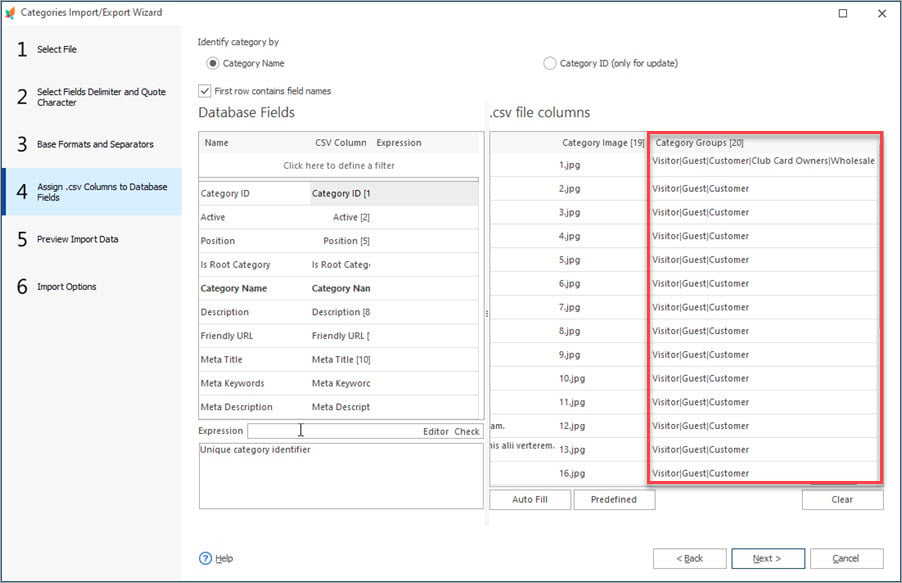 Assign Products to Categories
If you have just added new categories, you accordingly need to populate them with merchandise that will be open for clients belonging to groups you have specified. Abundance of commodities can be analogically appended to categories using product import wizard utility. It is obligatory to determine what category this or that product will be added to, that is, input appropriate category path for each product.
Moreover, you can transfer existing products from current category to other ones by means of specific functionality. Simply select required entities, launch Assign Category window (either from toolbar or context menu) and check box for categories to place products into them.
To sum up, it should be said that with Store Manager for PrestaShop you can in short span of time configure PrestaShop customer groups access and make products displayed for desired groups of shoppers.
Get FREE Store Manager for PrestaShop and use it to enhance catalog management Get It Now!


Related Articles: