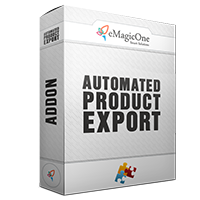 Automated Product Export addon addon is included in Store Manager for PrestaShop.
You need to regularly provide your suppliers information on changes of your inventory to further fulfill it? Or send to your partners the datasheets with the same goods to sell in the other store? Maybe you need to create feeds with your products to submit to some third-party systems? What if you simply want to archive product data to have traffic information?
In any of the mentioned cases you might need the means of automation for handling product export procedures from your PrestaShop.
With the help of Automated Product Export you can schedule regular creation of products data file in CSV, TXT format or to Google Sheets each recurring period you decide. Cut down time on repetitive manual exports, accomplishing the task without special technical skills and with no changes of core shopping cart files! NOTE: Automated Product Export is built-in Store Manager for PrestaShop software, іso it cannot be used as stand-alone product.
If you haven't installed Store Manager yet, download the
free trial
and connect the application to your store database using the wizard inside. Read about other
Store Manager tools
to simplify and speed up PrestaShop store management
What you can benefit from exporting via Automated Product Export?
You will always have accurate information included in the spreadsheet received, since the procedure eliminates data entry errors common during manual data handling.
The data can be pulled automatically any time you decide, without the necessity to keep an eye on the process or do something manually.
Always have actual data listings due to the fact that data are taken directly from database.
The possibility to set up multiple exports scheduled in different times (the next task will not be started until previous one is fully completed).
Addon's Features and Management Possibilities:
Export to an unlimited amount of different local/remote destinations setting up separate export configurations.
Possibility to customize fields to be brought to the file, accommodating data in CSV to whatever needed format. This is simple way to export inventory to a file that can be used offline.
Schedule export to run on a daily/ hourly basis (any predefined time period).
Flexible filtering system available for setting up PrestaShop export of, for example, only filtered goods (that meet some criteria like quantity is bigger than some predefined value or price is higher than some price level), products from category X or entities with specific condition.
Format of exported file perfectly suits for uploading it back into PrestaShop for implementing changes.
Basically, you just need to make settings once and the next time you want to export the same kind of data, the task will already be created and it will be started automatically at time period you indicate.
NOTE: Addon cannot be used as stand-alone product and works only in combination with Store Manager for PrestaShop application
Automated Product Export is built-in Store Manager for PrestaShop software.
Read the documentation and get export done for you today and every day/hour/week/month!
You may need to export data to Google Base, Shopzilla, GetPrice, PriceRunner or any other Comparison Shopping Engine that requires data not included in shopping cart itself. Our addon allows you to input any missing data you need.
Help me to set up export settings!