In the new release of Store Manager for PrestaShop we have made a lot of useful improvements and corrections.
Check out these new enhancements that allow you to make your work with PrestaShop more convenient!
Mass Combinations Changer:
– The ability to perform mass changes of product combinations using Mass Combinations Changer has been implemented. This feature is useful for changing such combinations as: quantity, price, wholesale price.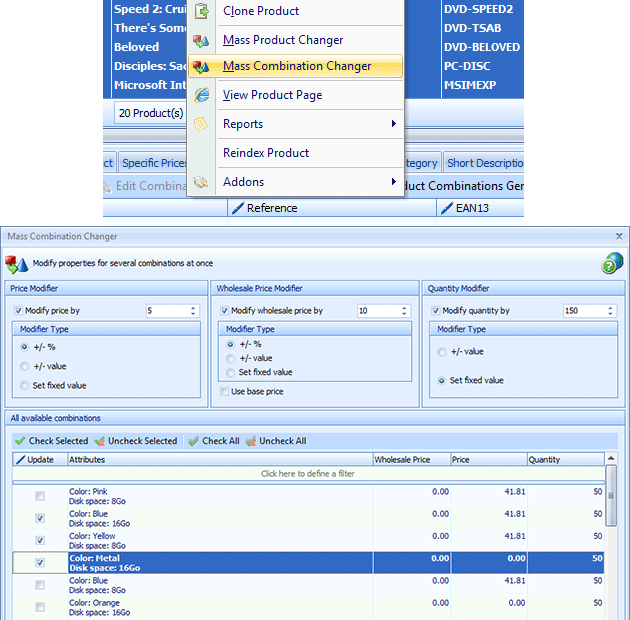 New Order Filters:
– 2 new order filters – "Last 7 days" and "Last 30 days" have been added. They can be found in drop-down list of Orders Section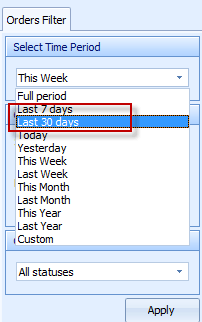 Cache import of products:
– We are glad to announce that the feature "Cache import of products", which we promised to integrate previously, has been implemented in this release of Store Manager for PrestaShop. This feature is especially useful for Direct and HTTP Tunnel connections. With this feature, the speed of import will increase tenfold due to the fact that import now will take place on your machine and the server will get posted results only at the end of the process. Also the speed of import will be less dependent on the speed of your connection, and more dependent on the speed of your computer. For example: on average computer we've made import of 10,000 products in almost 10 minutes (for Direct Connection) and in approximately 40 minutes (for HTTP tunnel connection). And this is not the limit. Further, we are planning to optimize import process.
This feature is available at the last stage of PrestaShop Import Wizard (Import Options section). Please tick "Cache import data" check box to speed up import process.

Clear Product Data: Accessories and Attachments
– The possibility to remove Accessories and Attachments from products has been added to "Clear Product Data" tab. Now you can select necessary variant by ticking the corresponding check boxes.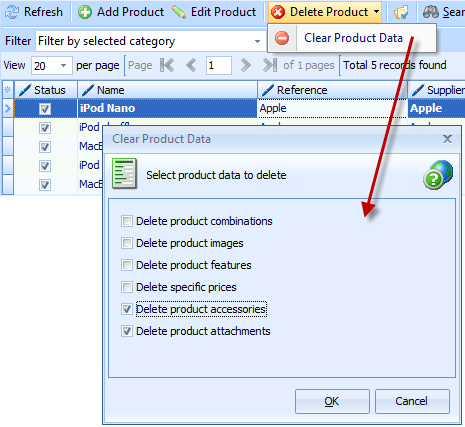 Enable Resizing of Watermark
– New options "Enable Resizing of Watermark", Vertical and Horizontal align to Center were added in Watermark section (see Preferences Window). Now you can change the size of watermark and it's position.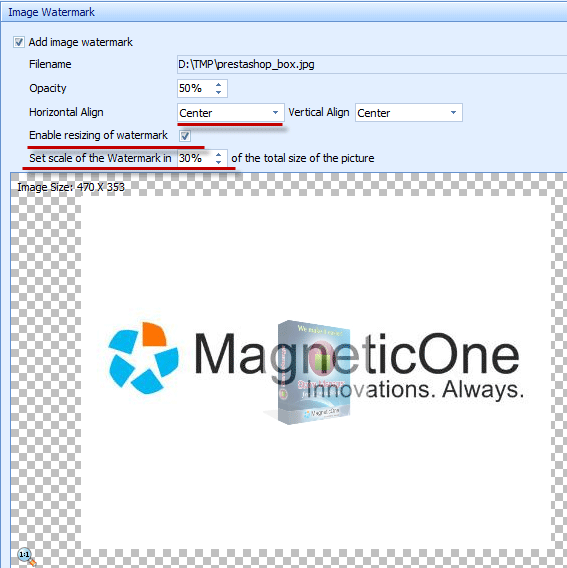 Bug Fixes:
– The following issues with product combinations in Orders section have been fixed:
– Previously, if the product had some combinations, the product itself could not be found in the dialog search form (it was possible to find the combinations only).
– If certain products or combinations have been added to the order earlier, they also could not be seen in the dialog search form.
– Now in order to add the file to Downloadable product, you need to have FTP configured.
– Page Titles in Preferences Window were not available for translation. Now you can translate them.
– The bug with user's password has been fixed. Previously, it was not possible to edit user's password. Now you can edit password without any difficulties.
– "Move product(s) to a category (create new default category)" option did not work correctly if the product had only one category. Also, the association to the old categories could not be deleted. Now you can drag&dpop products without any issues.
– Friendly URL's have been generated incorrectly, when non-standard characters were used. In this release of Store Manager for PrestaShop, transliteration for special symbols has been implemented. Now Friendly URLs are generated properly.
– Formerly, if Watermark was added to the picture of the real size, it led to the fact that the Thumbnail Images Watermark could not fit its place. The necessary changes at Watermark section have been made and now it works fine. Please, have a look at new resize watermark feature.